11 Heartwarming Stories That Helped Us Through 2021
With what's happened this year, it's easy to have a glass-half-empty look at life, but positive stories help remind us that there is more than just some good in the world—it's in abundance.
From family pets being found a decade on to babies hearing for the first time, these stories are sure to make you feel better about the world.
A complete decade after he went missing, an elderly dog named Razzle was miraculously found in California, 1,600 miles away from his Arkansas family.
Thanks to his chip, a very matted Razzle was able to be tracked back to his family after being found and handed to the San Joaquin County Sheriff's Office.
It's unknown exactly how he managed to embark on the long journey to California, but he found his way home thanks to a pilot. Jeremy Wade picked up the pooch on the West Coast to return him to his family and shared the process to Facebook.
"It's a nice day for a 1,600-mile roadless road trip. It's also a big day for this little dog called Razzle," he wrote. "10 years ago, the then 6-year-old dog was lost from his family until he turned up over 1,500 miles away in California and his microchip led back to his family. The amazing dog transport folk out in California knew I sometimes fly to Heber Springs, and now he's getting a ride with me back to his family after all these years."
Wade continued: "He's now a very old dog, but now he can have the sunset of his life back home with his family in the Ozarks. We're stopping in Santa Fe for fuel and bathroom, and then next stop is Heber Springs, Arkansas."
Tony Rojas' life was flipped upside down when he ran into Charlie "Rocket" Jabaley and The Dream Machine Foundation in the parking lot of a Walmart in October.
The charity organization was on a tour of the U.S., on a mission to make dreams happen thanks to online donations. When Jabaley found out that Rojas lost his job in the pandemic and was now living in his van, he promised to do something for him.
With the help of donations after a viral TikTok, Jabaley was able to buy him his very own food truck and set up a fundraising event, where people turned up in their hundreds.
Since then, Rojas has been able to move into an apartment with the donations too.
"We were at a Walmart parking lot and he walked up to the bus crying. He saw the bus and the 'dreams' written on it, and he just started crying. We started talking to him right there, and when I saw his eyes, or just like, saw his purity, is when he told me his dream. I was just like, 'Okay, we got to help this guy,'" Jabaley told Newsweek.
"Even though his dream was to have a food truck, as a foundation, we tried to set everybody up for success, not just for that moment or for that video of his dream coming true, but for him to be successful for the rest of his life."
In December, an adult day center nurse in New York came to the rescue of her patient after deciding to adopt the dog he could no longer look after.
John Burley, 60, was a daily patient at the Adult Day Healthcare program at The Grand Rehabilitation and Nursing at Rome, where Jennifer Smith works. Just before Thanksgiving, he was hospitalized, leaving him unable to look after his 13-year-old dog Boomer.
Smith knew exactly what to do—she visited the humane shelter and adopted him herself.
"She went right to the Rome Humane Society that day and paid the adoption fee, took him to the vet, and went on a shopping spree for food, crate, toys, and doggy clothes. He is very spoiled," Kimberleigh Hare from The Grand Rehabilitation and Nursing at Rome told Newsweek.
Now Burley is a rehabilitation patient at the center, he is able to receive daily visits from Boomer who has become the "mascot of the adult day program."
"Once John was settled in his room, Jennifer and Boomer made their way over to his nursing unit—but I told her to stay out of sight. I asked John if he was feeling up to a surprise visit and he said yes," said Hare.
"When he saw Jennifer and Boomer come around the corner, he just burst into tears and reached for his pal. There was not a dry eye in the room between residents and staff. He was so happy to see the dog and so thankful to Jennifer for saving him."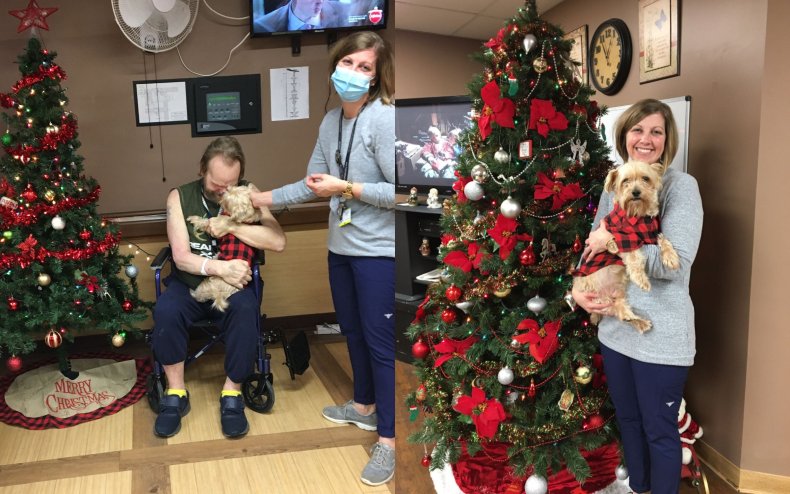 In a piece for Newsweek's My Turn, Mike Moffitt detailed how a call from a wrong number spanned into a 20-year-long friendship with a woman from Florida.
"I was in my mid 20s, living in Rhode Island and I had just gotten a cell phone; one of those old flip phones. Out of nowhere, I started getting calls from a Florida number," he recounted.
"The person on the other end had a very southern, sweet voice and she would realize that I wasn't who she was looking for, so she would hang up. I didn't even get as far as saying who I was at first, she would just say sorry and hang up.
"I could tell she was really sweet, so after a few calls over the next week I finally said: "Hey, if you're going to keep calling me, why not tell me your name, where you're from and who are you looking for?
"Her name was Gladys and she explained she was trying to look for her sister in Maryland, because her son had died. I don't remember exactly when, but within the first year or two, she started calling just to say hi. She would ask how my family were, what the weather was like and how life was.
"We have probably talked every two or three months, although there have been stretches of six months where I realize I haven't heard from her so I'll call her to see how she's doing and what's going on. We both call each other. It's almost like having a 'new school' pen pal, she has always been genuinely interested in me.
This year, Moffitt and his family visited Florida for a Thanksgiving trip and the stars aligned, allowing him to finally meet Gladys aka "Florida Lady."
"Gladys came walking through from the kitchen, so I said: 'It's Mike from Rhode Island!' She threw her arms up and said: 'I'm so blessed!'
"I stayed for five or ten minutes and she gave me a tour of her house, told me what she was doing for Thanksgiving and who was coming over. Then we talked about what I was doing there, the weather and took a photograph together in her dining room. I had no idea what she looked like before I met her but she looked exactly like she sounds. It totally fits. She's very genuine."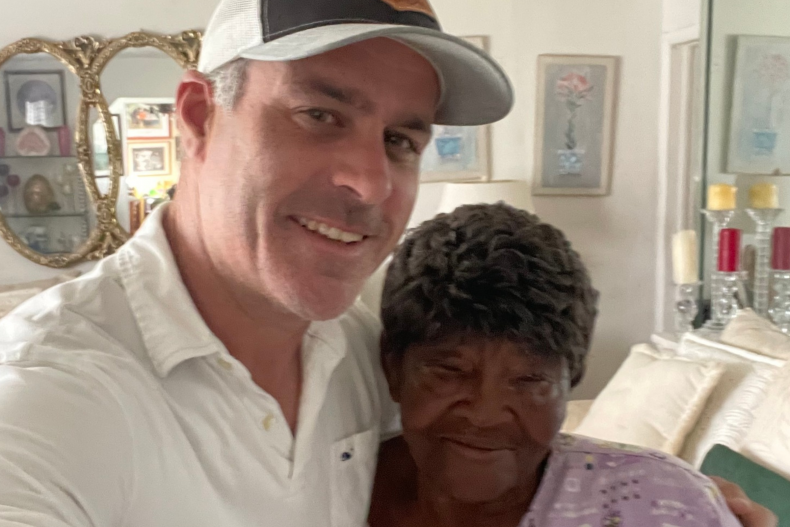 Mom Vanessa Guedert, who lives in Orlando, Florida shared a video of her son Bernardo adorably greeting Disney princesses in a parade.
Bernardo waved and tipped his hat to every princess that passed, receiving a curtsy from each of them in return.
Even Disney's official TikTok account was amazed by the interaction, writing in a comment: "Oh my goodness. A true prince! This is adorable."
"Bernardo has a pure and sweet soul," Guedert told Newsweek. "The video only shows what he really is: a true prince."
Dog owner Aaron Morris was left heartbroken when his dog Jolene was stolen in a North Carolina car theft. The Labrador and pit bull mix was in the air conditioned car while Morris went into a store.
A "person of interest" was captured on CCTV following Morris and his car beforehand.
In the days following, Morris took to social media to plea for any kind of help finding his much loved pooch, even offering a $1,500 reward with no questions asked upon her return.
"It was heart wrenching, my best friend was gone, my whole life ripped from me," Morris told Newsweek.
Four days later, Tennessee animal shelter Morristown Hamblen Humane Society shared a Facebook post seeking the owner of a dog that had been brought it. It was Jolene.
With Morris' phone being stolen with the car, he was unable to be contacted from Jolene's collar. Thanks to the power of social media, however, the pair were connected and reunited.
The emotional moment was caught in a video shared by Morris online, in which Jolene literally climbs into his arms.
A mom named Christina shared the emotional moment her baby girl could hear for the first time, after receiving her first hearing aid.
"I debated on whether to post this video of my deaf daughter hearing for the first time," she wrote on-screen in the TikTok video. "Hearing aids are not some magical 'fix' for deaf people. Deaf people don't need to be fixed. They're just a tool to access sound but this was a pretty cool moment for us."
Christina then begins speaking to her child, saying "Yes, hello. I know it's weird."
The little girl looked stunned at the sound of her mother's voice for the first time with her face displaying a range of emotions. The baby then smiled, with her mom asking: "Is it funny? Yeah, it is funny."
Christina then repeatedly tells her daughter: "I love you."
Brittany Callan of New York has six Dobermans, including Ruby who in September was a new mom to a litter of six puppies.
While cleaning her aunt's gutter, Callan discovered the sound of meowing from next door's garage. It turned out there was a newborn tortoiseshell kitten. They waited for the kitten's mom to arrive, but she simply never did.
After bringing the kitten in, new mom Ruby surprisingly "took her in right away" and accepted her as one of her own. "She used to carry the baby bunnies in her mouth around the house. So I figured I'd see how she did with the kitten," Callan told Newsweek.
"I hooked the kitten up to Ruby's nipple to nurse and she started suckling and ruby laid her head back down like nothing ever happened," Callan said.
"Now Ruby is obsessed with the kitten and carries her around the house and tends to her more than her own pups."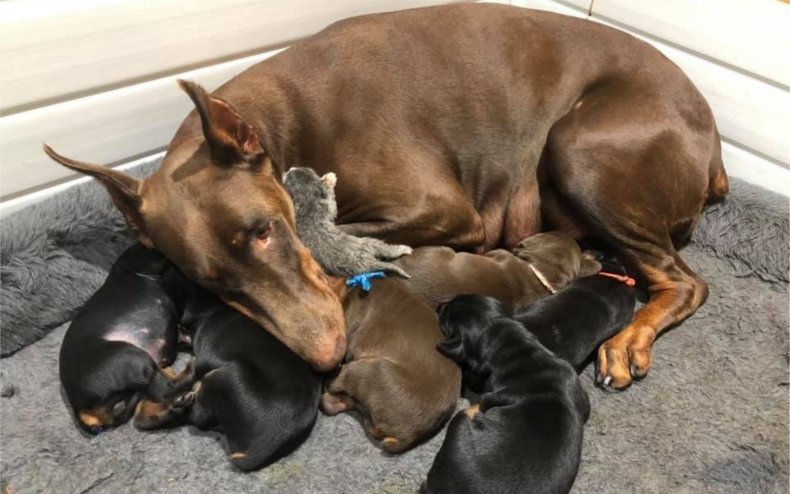 A man's first time meeting his three sisters went viral in June after his daughter shared the heartwarming moment.
Alana Johnston's dad had never met his father and was unaware he also had three sisters for his whole life, until his daughter discovered their long-lost family on Ancestry.com.
After meeting, the four immediately shared a heartfelt hug, which viewers dubbed "the best hug I've ever seen."
In a hilarious touch to it all, the sisters showed up in novelty mustaches, to match the real one of their new-found brother.
"The mustaches were a great ice breaker and I loved that they did that," noted Johnston in a comment. "They do look alike and even act alike too," she added.
In a far more novelty story, the footage of a tiny, sleepy duckling took the internet by storm. Two-day-old duck Doo was filmed tucked up and snoozing in a adult sized bed, gaining over 6 million likes.
"She was hatched in one of my incubators with another two ducklings," owner Antonia Shago told Newsweek. "When they were hatching, thousands of people were watching my live stream on TikTok. People are so happy that I shared this on social media and they became so attached to these 3 ducklings."
Melissa, 53, and Gary, 69, had a casual working relationship with one another, simply exchanging a few "hi's" and "bye's" over the years in corridors.
Gary worked as the vice president of sales and marketing at an automotive aftermarket accessory company which was part of the same LLC as Melissa, where she worked in customer service. It wasn't until a pandemic struck and an at-home office messaging system was introduced that the pair found love.
"We actually started chatting via the interoffice memo board," Melissa told Newsweek. In April 2020, Melissa's work became a skeleton office, leaving it to her to wipe down surfaces with an antiseptic wash every day.
"Gary sent me an interoffice memo telling me to be sure to be careful, because if I breathe too much Clorox, it can be a danger," she said.
"And so Gary and I would chat privately and I'd say, 'checking in to see how you're doing, yada, yada, yada,' and it was all completely professional. There was still no hint of what was to come. And we would text in the mornings when I got into the office. You know, 'Hi, how's your day,' and that was it."
In July, their extremely online relationship went IRL, when Melissa offered to take his unwanted Monet poster. Wondering who to give it to, he asked Melissa: "You don't know anybody that likes Monet?"
Monet is Melissa's favorite artist. "I'll take the poster," she said to him.
After their first date in a sushi restaurant, their relationship went from strength to strength. In July, the pair shared their story to Reddit and gained over 60,000 votes on the post.
"1 yr ago during the height of the pandemic, this co-worker and I began keeping tabs on each other while working from home. We fell madly in love. He is THE MOST INCREDIBLE man I've ever known. We now share the same address and he just took me to my first MLB game. I'm a baseball fan. He is learning," Melissa captioned the image.
https://www.newsweek.com/heartwarming-good-news-stories-2021-positive-1662920 11 Heartwarming Stories That Helped Us Through 2021