2022 Fantasy Football Draft Prep: One heavy sleeper from all 32 NFL teams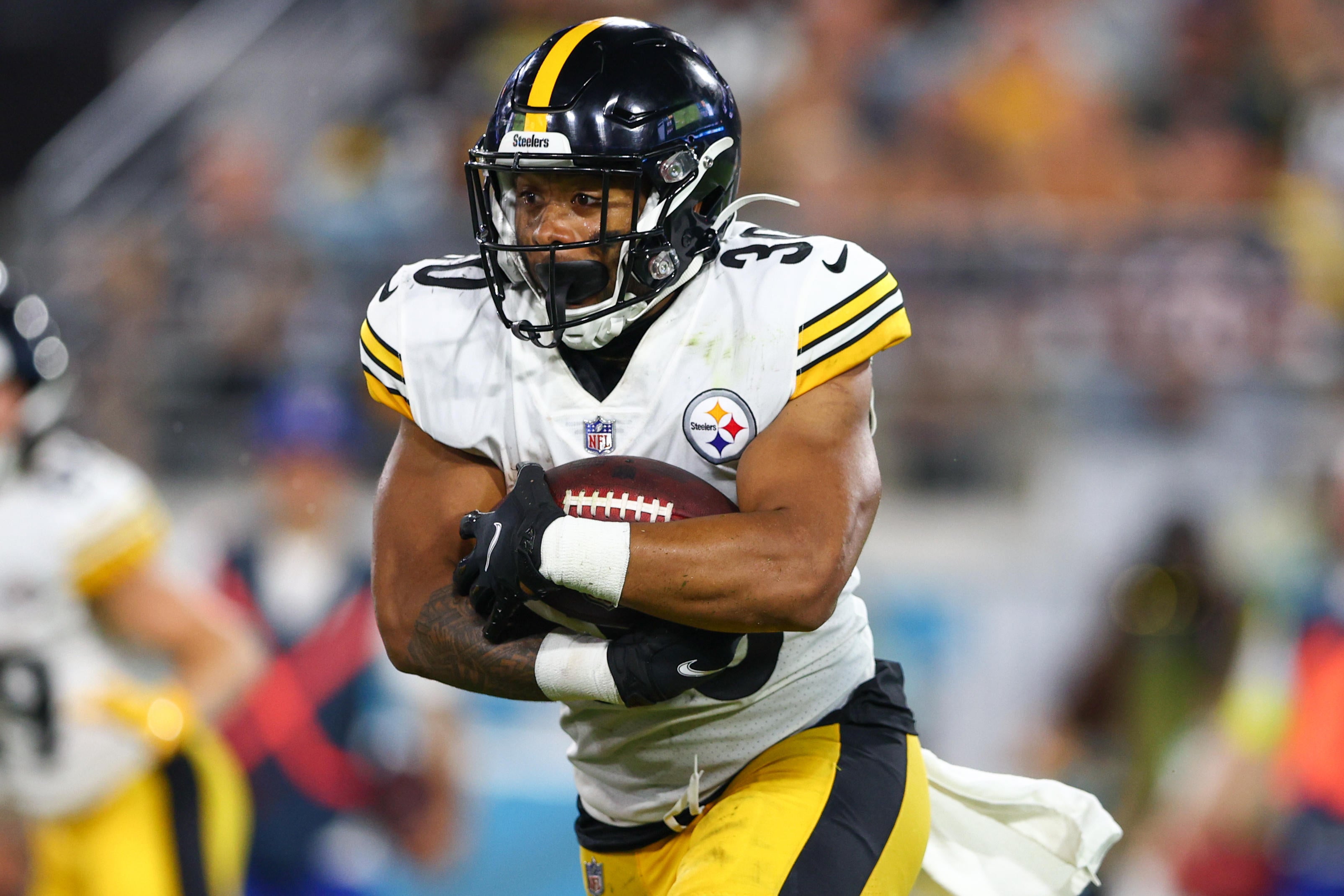 There are few things more satisfying than watching everyone rush to the Waiver Wire at the start of the season, only to find that the man they expected to be available is already on your list. Fantasy managers who have drafted James Robinson or Elijah Mitchell in the last two years know exactly what I'm talking about.
I hope there are a few surprises from Week 1 in the list below, but that's not all you'll find. You will find at least one player that I expect to start the year on the PUP list but could be a league winner in the second half. You'll find several running back handcuffs, a few late-round tight ends, and even a quarterback or two.
So what does this hodgepodge of players have in common? Well they all have one consensus ADP on Fantasy Pros outside of the top 180 and they will all be drafted after the first 10 rounds on CBS on August 25th. I've sorted them by genre, with a few words about my favorites in each genre.
I'm expecting some objection that a few of these guys are too well known so I'll be updating in September for the final draft weekend when ADP changes that much.
The NFC Nord has a huge advantage over everyone else in this regard. While Herbert is my favorite in the group and Doubs was the talk of training camp, Jameson Williams is actually one of my favorites for the late round as long as you have an IR slot in your league.
Even in industry drafts, Williams often makes the final round because he's already on the PUP list and will miss at least the first four weeks of the season. My expectation is that Williams will return following the team's departure in Week 7 and I'm totally fine with drafting him, stashing and then having a spare roster slot for that first set of waivers.
With perfect help, Williams could have been the WR1 in this class, and if he's back at 100%, he might just be the #1 wide receiver in this class for the 2022 Fantasy Playoffs. Williams ran a 4.30-40-yard dash at the combine and churned out more than 1,500 yards as a 20-year-old in Alabama. He's an incredible talent who just needs to heal and learn the system.
Dontrell Hilliard isn't my favorite, but he seems to be the handcuffs for Derrick Henry, so if that's your style, he should be on your radar for the final round. Ditto for Evan Engram, who appears locked up as TE1 in a Doug Pederson offense.
My favorite is Nico Collins. Collins struggled as a rookie but he's 6ft 4 and ran 4.45-40 on his pro day so I'm willing to give him a pass in this poor rookie year. Collins has virtually no competition for goals behind Brandin Cooks, and I expect both an increase in passing volume and passing efficiency in Davis Mills' sophomore year as a starter. Collins is profiled as a borderline flex with healthy Cooks and a potential top 25 wide receiver if anything happens to Cooks.
We include Collins in our mocks as early as round 10, but his ADP doesn't reflect that at all. I wouldn't be surprised if he's one of the picks in the last two weeks of the draft.
Isiah Pacheco and Zamir White are two defenders I was shocked to have qualified for this list. Pacheco, in particular, was drafted into Round 8 in some of our industry drafts. While I think that's a mistake, letting him last past round 12 is also a mistake.
Both of these backs are in teams that we're not sure will be sold by their starters. According to reports we heard during camp, these two defenders could be goal-line defenders. And both of these defenders are newcomers to teams that could have fireworks on offense. On the other hand, if the starter fails, those two backs will likely be shared with someone. I prefer white somewhat, but in round 11 I'm good at both.
While Sterling Shepard surprised me when he came out of the PUP before the start of the year and all the other Giants receivers appear to be injured, he's not my favorite on this list. At least not until I hear he's back to 100%. My favorite is Jalen Tolbert and he could have a big chance with the recovery of another injured receiver, Michael Gallup.
Tolbert was the Cowboys' Round 3 pick from South Alabama, where he thoroughly dominated smaller competition and averaged 122 yards per game. Its 51.2% Dominator Score ranks in the 97th percentile for receivers entering the NFL and has received good reviews this offseason in Dallas.
It's always difficult to judge small school types like Tolbert and the fact that he's already 23 makes him even more suspicious, but that maturity combined with this opportunity could mean a very quick start. If Gallup can't return to 100% earlier in the year, Tolbert could get a longer run than WR2 in an offense that we expect to be well above average, if not explosive.
As you might be able to tell, the quality starts to drop at this point, especially as we get past my favorite in each division. However, I will say that I think the chance that NFC South's four players in particular will play a role this year is underestimated. Mariota runs enough to be a borderline starting QB in a one-quarterback league, Robbie Anderson is likely the No. 2 wide receiver for the Panthers, and Kyle Rudolph could have the gronk role. But I don't like any of them as much as Mark Ingram.
Ingram played two games without a camera last year and averaged 20 touches, 110.5 yards and 19.1 PPR fantasy points per game. This makes Ingram one of the most attractive handcuffs and it is not designed as such at all. I also think there's a chance he'll be like a poor man's Kareem Hunt without a Kamara injury, especially if the Saints remain as run-heavy as they were last year. I actually projected Ingram within Hunt's reach, but I'm ranking him a lot lower because you don't have to drag him nearly as high.
Eno Benjamin is a nice handcuff and Geno Smith could be a sneaky QB2 in leagues where you can start more than one, but Tyler Higbee is the star of the NFC West Deep Sleepers and I'm not sure why he qualifies.
Last year, Higbee finished the year as the TE14 overall, beating Mike Gesicki, Hunter Henry and Pat Freiermuth per game. He's been even better in his last four games, averaging 13.8 fantasy points per game. Now we've seen a big finish from Higbee that wasn't translated the following year, but I think this is different.
For one, Higbee hit target percentage last year, his efficiency just fell off a cliff, and I don't think there's any reason to think he'll continue to be less efficient with Matthew Stafford than he was with Jared Goff. He's got 100 goals on his head on what we think might be the best offense in football, and the top two scorers on the team are both 29-year-old receivers with extensive injury histories. He's just one injury away from being the second target on offense and a potential league winner at that. Even without an injury, I predict Higbee will be a top 12 tight end and he rarely gets drafted in our drafts.
Yes, it's getting worse. Isaiah McKenzie is right behind Corey Davis here, but both are wide receivers who probably need some help to really make a difference in fantasy. Keeping Garrett Wilson away can be so easy for Davis, which none of us really want. For McKenzie, all he needs to do is retain the role of Cole Beasley and be more efficient.
Beasley has averaged seven goals per game over the past three seasons. McKenzie could achieve those goals, but that means Gabriel Davis and/or Dawson Knox won't make the move forward they're being drafted for. Considering I didn't rank Davis or Knox as high as consensus, that seems possible.
The other advantage McKenzie might have over Beasley is in the running game. He has 19 carries for 56 yards and a touchdown over the past two seasons and 10 rushes for 66 yards and two scores in 2018. If McKenzie could add a point per game on the ground, even more would be possible.
Here we are again with Mike Davis. Gus Edwards has already been added to the PUP list. JK Dobbins is still not fully resolved. Mike Davis could very well be your starter in Week 1 against the New York Jets.
I know you feel like you've been fooled by Davis before, but I have to remind you that Latavius ​​Murray had four touchdowns in the first six games of 2021 for Baltimore and Devonta Freeman from Week 9 through 14 averaged 14.2 PPR Fantasy points per game. If these guys can be fantasy relevant in this offense, almost anyone could.
Davis probably won't be a big part for long, but if you can find a Week 1 starter in the double-digit rounds, it's something you should go for, especially if you've settled on a zero-RB approach.
https://www.cbssports.com/fantasy/football/news/2022-fantasy-football-draft-prep-one-deep-sleeper-to-target-from-all-32-nfl-teams/ 2022 Fantasy Football Draft Prep: One heavy sleeper from all 32 NFL teams