A few evening showers on tap as the balmy week begins
A few chances of rain in the coming days but the pattern remains fairly calm…
TODAY: Cloudy and windy, evening showers. Hi 47. Winds: SE 10-15 mph. Gusts to 25 mph.
TONIGHT: Mostly cloudy, showers. lot 38
WEDNESDAY: Partly Cloudy, Mild! hello 52
Last night the skies were clear and as a result temperatures dropped into the early 20's in the early morning. It's a frosty start in many places… so get your scraping elbows ready! Despite a sunny and cool start, today brings plenty of cloud and temperatures back into the mid 40's by this afternoon. During the day it will remain dry, but in the evening there will be a few showers. It will remain wet overnight and into the early hours of Wednesday morning. It won't be much rain, just enough to wet the sidewalks.
The highs will continue trending higher this week as we hit the 50's tomorrow! Wednesday will be dry with clearing skies making for a comfortable afternoon. The next best chance of rain comes Thursday when an area of ​​low pressure rides passes through the Ohio Valley. Scattered showers are likely throughout the day, but again, it doesn't look like a ton of rain. The low will be west again, meaning Central PA will be on the warmer side of the storm. 60° is possible for some of our southern counties by the end of the week! Where's the cold air? Bottled near the Pole – certainly not here!
Behind this facility we will cool down a bit at the start of the coming weekend. A weak coastal low could bring us some rain showers through Saturday, but it doesn't look like anything significant at the moment. Highs will be in the 40s for the weekend, still above the seasonal average. To reiterate… no snow in sight either. We will continue to monitor but next week is also looking mild with highs in the 50's! Sorry Phil, even if winter does return eventually we certainly won't get 6 weeks of it. You were wrong!
-Meteorologist Brett Thackara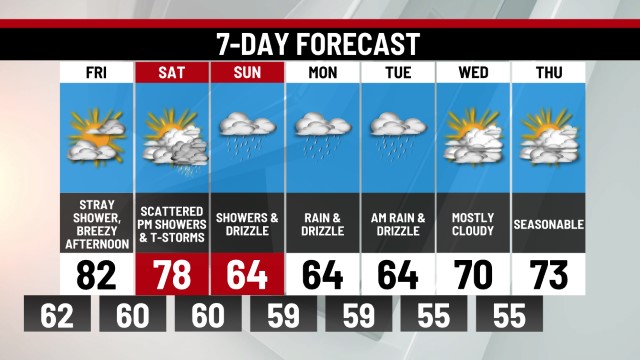 https://www.abc27.com/weather/forecast/a-few-evening-showers-on-tap-as-mild-week-ramps-up/ A few evening showers on tap as the balmy week begins