Aerial footage of Superior, Colorado fire shows 'appalling' scale of devastation
Aerial images of the fire engulfing Boulder County, Colorado, have gone viral on social media.
The video was taken from an aircraft and shows areas that glow orange as smoke rises into the sky. The video has so far been viewed more than 380,000 times.
The video was shared on Twitter and was described as "terrifying" by former Black Crowes drummer Steve Gorman.
The woman who first posted the footage, Gretchen Rosenberg, captioned the video: "My son flew back to Seattle tonight. Here's the video he shot of the Superior/Louisville fire from the plane at 5pm.
"Our hearts go out to our neighbors in the fire's path and first responders working to save their homes and businesses."
She also tweeted about a platform her company has to help people in need.
She tweeted: "Our company's foundation, the Kentwood Cares Foundation, was created to take care of our neighbors in times of need.
"We're going to make an impactful donation to the fire victims. Donate if you want to help and thank you."
Boulder County residents have been told to evacuate their homes and to safe areas to evacuate due to the intensity of the wildfire.
The Boulder Office of Emergency Management has also advised residents to exercise caution and not return to their homes.
In a tweet the Office wrote: "Residents who have evacuated/have property in the evacuation area, please do not return to that area.
"We know you're worried about your home/furnishings. First responders are working relentlessly to keep everyone safe, even if they don't know the condition of their homes in the area. ."
Governor of Colorado Jared Polis retweeted this message and also issued his own warning.
He tweeted: "Don't walk towards the fires to see them.
"We're getting reports of congested roads from onlookers. Also, it's very dangerous.
"Stay away from fire areas and let our firefighters and first responders do their job."
Several fires were caused in the area by downed power lines and strong winds.
The first fire is believed to have broken out just before 10:30 a.m. Thursday. According to Boulder County Sheriff Joe Pelle, it was "attacked fairly quickly and laid down later in the day and is currently being monitored."
He added a second bushfire started at 11 a.m. and "exploded strongly and spread rapidly to the east."
"This is the kind of fire that we can't confront head-on," he added. We actually had sheriffs and firefighters in areas that had to pull out because they had just been overrun. "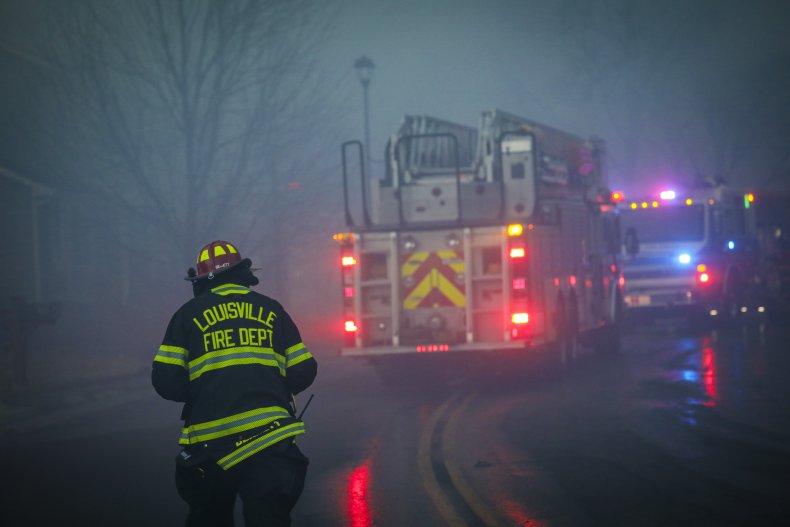 https://www.newsweek.com/aerial-camera-footage-scale-wildfire-superior-louisville-colorado-boulder-county-1664624 Aerial footage of Superior, Colorado fire shows 'appalling' scale of devastation