Aging in Puerto Rico is a struggle as migration fragments families
SAN JUAN, Puerto Rico – A healthcare worker becomes the bridge between a father with dementia here in San Juan and his daughters on the mainland United States. A church starts a charity to coordinate emergency and long-term services for the elderly. A 74-year-old woman can only watch as her once-busy hometown, which has one of the highest concentrations of older adults on the island, begins to fade.
Puerto Rico is aging faster than most places on earth. According to Amílcar Matos-Moreno, a postdoctoral researcher at Pennsylvania State University's Population Research Institute, the pattern is being exacerbated by the outflow of more than 700,000 working-age Puerto Ricans, ages 20 to 64, over the past 15 years.
According to Matos-Moreno, the US Territory is the first place where the population is aging so rapidly due to recent migration.
Older adults who have traditionally relied on intergenerational family networks are now alone, have fewer or no close relatives, and are more reliant on caregivers and social services. The biggest challenge is figuring out who controls and coordinates essential services for aging Puerto Ricans when they cannot represent themselves.
Mayra Ortiz Tapia, a clinical gerontologist, believes that "95% of families in Puerto Rico are struggling with it right now."
According to US Census data, nearly 741,000 Puerto Ricans are age 65 or older. That's about a quarter (22.7%) of the island's total population, making it the 10th highest percentage of older adults in the world, according to Matos-Moreno.
"Puerto Rican society was unprepared to deal with such a significant increase in the number of elderly people and also that our elderly are living longer," said Carmen Sánchez Salgado, Puerto Rico's Elderly Ombudsman, in Spanish. "Our government does not have enough resources to meet their needs."
Care from abroad is "difficult"
Almost half of adults over 65 on the island (48%) had at least one adult child living outside of Puerto Rico in 2007. That number is likely much higher now, Matos-Moreno said, after a cascade of turmoil including a financial crisis, hurricanes, earthquakes, political unrest and the Covid-19 pandemic have prompted more islanders to migrate to the mainland.
The situation is compounded by a number of additional challenges stemming from lower birth rates and longer life expectancy, Sánchez Salgado said.
"While living abroad, it's difficult to take care of your parents," said Yarín Mera, 40, a product designer from San Francisco.
Over a year ago, Mera's 85-year-old father called her after becoming disoriented while driving in San Juan. The alarming call sent Mera on a frantic search of the internet to find out what she could do for her father from more than 3,000 miles away.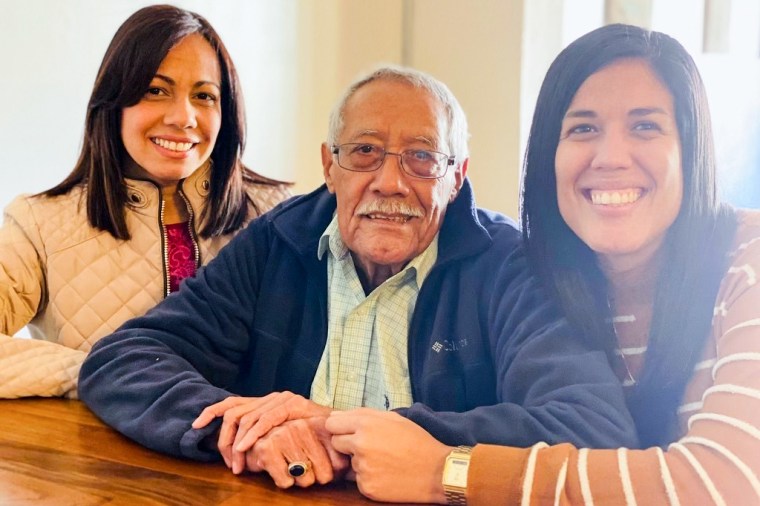 The frustrating experience quickly made her realize that she was dealing with a disjointed service landscape that is often difficult to navigate as people are forced to switch between government agencies, health insurance companies and private organizations, Mera said.
Dealing with the pressure of making sure her father is well taken care of "is very complicated," she said.
Ortiz Tapia, the gerontologist, helped Mera devise a short-term plan to address her father's immediate needs. The first step was to take him to a neurologist. Mera's extended family on the island accompanied him to the first appointment. Eventually, Mera and her older sister, who lives in Georgia, took turns traveling to the island for his other doctor's visits.
"It was obvious that he couldn't be alone," Mera said.
To avoid long waiting lists for housekeeping and other services at home, Mera started asking the nurses at the cardiovascular hospital where her father does his checkups if they knew anyone who could help her father at home . She managed to hire two part-time carers in rotation, five days a week.
Mera's father was recently diagnosed with early-stage Alzheimer's, prompting the sisters to begin devising a long-term plan.
"We know that at some point my father will have to move to a nursing home," Mera said. "But right now we're trying to take it month by month."