Arsenal's Matildas duo Steph Catley and Caitlin Foord defeat Sam Kerrs Chelsea in the Women's League Cup Final
Matilda's Steph Catley and Caitlin Foord have won their first silver award for Arsenal after beating Sam Kerrs Chelsea 3-1 in the 2023 Women's League Cup final to a packed house at Selhurst Park on Monday morning.
Core items:
Arsenal beat Chelsea 3-1 in the Women's League Cup final
It's her first major trophy since 2019
Sam Kerr gave Chelsea an early lead but the Gunners scored three unanswered goals in the first half, with fellow Australians Caitlin Foord and Steph Catley influential
The Gunners fell behind early after Kerr put Chelsea ahead in just the second minute and nodded home after a curled cross from winger Guro Reit.
That goal brings Kerr's personal tally to 82 in 101 games, including seven in the last three in this particular competition. It is also the fifth consecutive English Cup final in which the Australian captain has scored.
Despite that early hiccup, Arsenal rallied to turn a frenetic first half, with Kerrs Matildas team-mates Steph Catley and Caitlin Foord being key to many of the Gunners' deadliest attacks.
The two Australians regularly combined down the left flank, forcing Chelsea to defend deeper than usual.
That pressure resulted in Arsenal's equaliser, with Kerr scoring to make it 1-1 in the 16th minute after a weak defense from Swedish striker Stina Blackstenius.
Just 10 minutes later, the Gunners won a penalty after Chelsea midfielder Sophie Ingle tripped over Katie McCabe in the box, and captain Kim Little converted to give her side the lead.
Kerr had a handful of chances to put Chelsea back up but she was dealt well by Brazilian centre-back Rafaelle Souza before missing the target of another Reit cross.
Arsenal were rewarded for their growing dominance just before half-time when Catley smashed in a corner which Chelsea defender Niamh Charles parried to give the Gunners a two-goal buffer.
Chelsea came out stronger in the second half but it was Arsenal instead who could have extended their lead even further after Foord was tripped up by Canada's Kadeisha Buchanan on a counterattack in the box, only for her screams to be waved away by the referee.
Despite some tactical and personnel changes, Chelsea were unable to find a way back into the game as Arsenal's rock-solid defense kept Kerr and her team-mates at bay and the final whistle sounded at 3-1.
While it is a record-breaking sixth League Cup title for the Gunners, it is the first time they have lifted silver at all since 2019, with Chelsea and Manchester City dominating all cup competitions in the last four years.
It's a particularly nice win for Foord, whose second game for Arsenal in 2020 was the League Cup final, where she lost to Kerrs Chelsea before the Blues beat her again in the 2022 FA Cup final.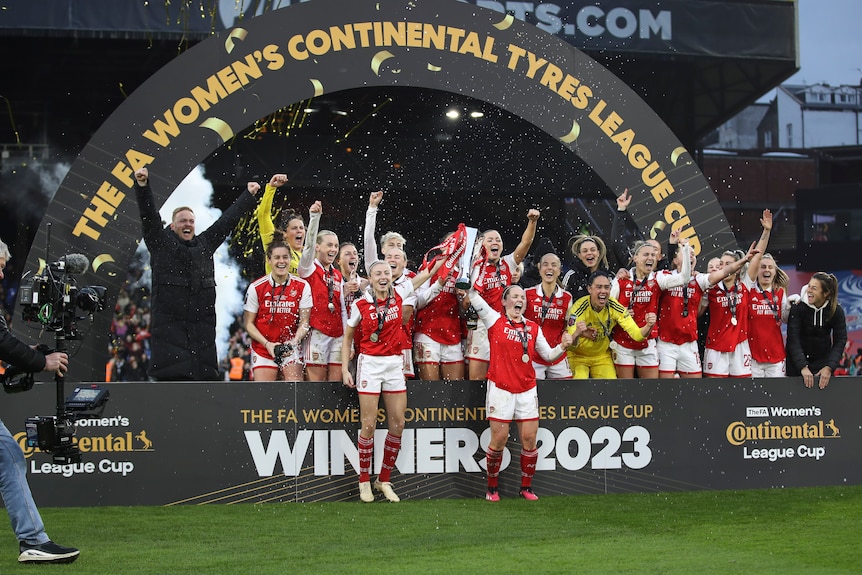 "It's incredible to finally win a trophy with this club," Foord said afterwards. "It's something special.
"It's been four years since we won a trophy and it's long overdue. We wanted to put everything out there and show what we can do and we intend to keep doing that.
"That's our goal: win trophies. It's worth freezing in the champagne shower. No complaints, super happy."
The three Australians are gaining momentum at just the right time as preparations for the 2023 Women's World Cup reach their final stages and the Matildas are due to take on England's Lionesses in Brentford in April.
There will be several rivalries within the club in this game as Foord and Catley will take on Arsenal team-mates Leah Williamson and Lotte Wubben-Moy while Kerr will take on fellow Chelsea players Lauren James, Millie Bright and Niamh Charles.
A second national team is expected to be announced during that April international window before the Matildas return to Australia in early July for a final farewell game against France, hosts of the 2019 Women's World Cup.
https://www.abc.net.au/news/2023-03-06/arsenal-s-matildas-duo-defeat-sam-kerr-s-chelsea-in-league-cup-f/102057394 Arsenal's Matildas duo Steph Catley and Caitlin Foord defeat Sam Kerrs Chelsea in the Women's League Cup Final