Assassin's Creed Valhalla and Destiny 2 crossover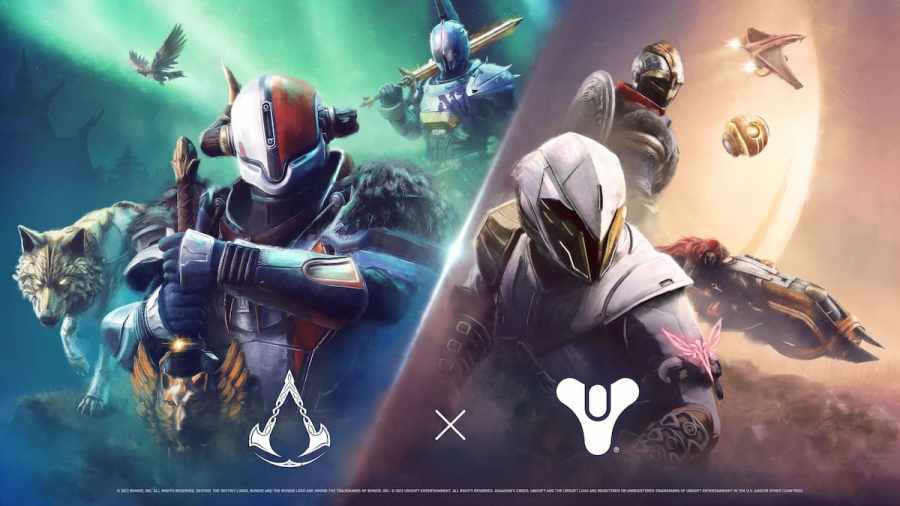 Image via Bungie
It's the best time of the year. Or at least it will be on December 6, 2023. What started as a datamined leak in the wee hours of the morning has become confirmed truth by Bungie and Ubisoft, the publishers of Destiny 2 and Assassin's Creed Valhalla.
In a tweet from official Bungie Twitter account, the crossover was confirmed. This isn't Destiny 2's first collaboration with other franchises. For the past few months, it's dropped into Fortnite and Fall boys, each with three skins. So while this Assassin's Creed collaboration may have seemed like an assassin in the night, it's starting to set a precedent for Bungie opening up its sci-fi shooter to more crossovers.
Related: Destiny 2 Season 19 Prep Guide – How to prepare for the next season
The exchange will begin on December 6, 2023. Assassin's Creed is getting skins for Lord Shaxx and Saint-14 alongside what looks like a wolf and a raven. Shaxx looks like he's wielding an Iron Banner sword, while Saint-14 will fight with his partner Osiris' sword.
Destiny 2's side will receive three skins, one for each of its classes. Titans seem to be adopting the Norse Viking look, Hunters are getting the Mediterranean garb, and Warlocks are dressing in classic Middle Eastern attire. Also coming is a new ship, a sparrow, and a spirit shell inspired by a piece of Eden. Also of note for Destiny 2 is that Season 19 also begins on December 6, 2023, so there's plenty to look forward to for Guardians. Prepare your wallets!
For more Destiny 2 goodies, check out the Destiny 2 Eliksni Community Event Tracker and details in the Pro Game Guides.
https://progameguides.com/destiny/assassins-creed-valhalla-and-destiny-2-are-crossing-over/ Assassin's Creed Valhalla and Destiny 2 crossover