Australian air skiers Danielle Scott and Laura Peel win gold and silver at the World Cup event in Switzerland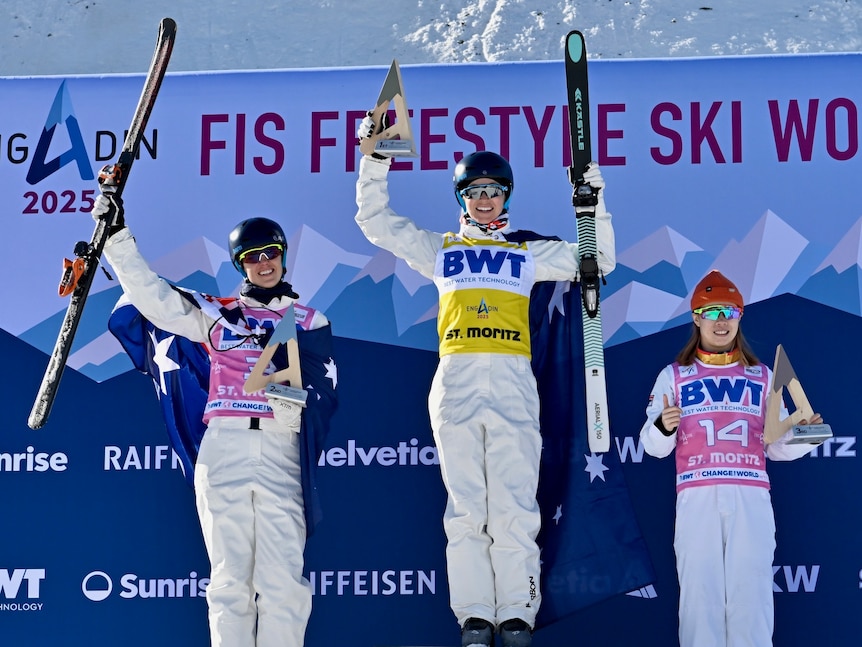 Australian air skiers Danielle Scott and Laura Peel have won gold and silver respectively at the World Cup event in Engadine, Switzerland.
Core items:
The win marked Danielle Scott's third win of the World Cup season
She took silver at last month's World Championships
Laura Peel now has two World Cup medals this season
In sunny conditions, Scott and Peel got off to a great start, qualifying first and third for the finals.
Later in the day, the wind picked up, with Peel being the only athlete to opt for the spectacular triple backflip, advancing into the Superfinals first with 99.42 points while Scott was second (88.83).
In the Superfinal, Scott added an extra twist by performing a high-scoring double full full (triple twist double backflip) to score 98.70 points and her third World Cup win of the season and eighth of her career gain
The 32-year-old's success contributed to the silver medal at the World Championships she won last week in the best season of her career.
Peel finished the race with silver after scoring 94.65 in her high difficulty lay-full-full, sadly dropping points on her landing to secure her second World Cup medal of the season.
Fanyu Kong of China took bronze with 92 points.
With one event remaining, Scott has extended her lead in the World Cup standings to 382 points, 92 points ahead of Canada's Marion Thenault.
She only needs to finish 22nd or better at the final event to win her first World Cup Crystal Globe title as the overall winner of the season.
Peel is third with 262 points.
The World Cup final will take place on March 19 in Almaty, Kazakhstan.
AAP
https://www.abc.net.au/news/2023-03-06/world-cup-aerial-skiing-danielle-scott-laura-peel-switzerland/102058636 Australian air skiers Danielle Scott and Laura Peel win gold and silver at the World Cup event in Switzerland