Banner declaring Ron DeSantis 'missing' as Florida 'on fire' flies over Miami
A banner reading "Florida is on fire and Ron is missing" over Miami and South Beach on Thursday, appearing as the state's Republican governor, Ron DeSantis, has faced criticism for reportedly making little public appearance amid the COVID-19 spike.
Video of the banner, paid for by the political advocacy group Remove Ron, and went viral Twitter by individuals like Occupy Democratic Party member executive director Grant Stern and fellow Federation of American Scientists and former congressional candidate Eric Feigl-Ding, showed the message being flown in black lettering against a bright blue sky.
Criticism of DeSantis has grown as the COVID-19 surge in his state has reached highest number of reported cases on Thursday with 77,848 people — at a time when an average of 1 in 4 Miami-Dade County residents has tested positive for coronavirus.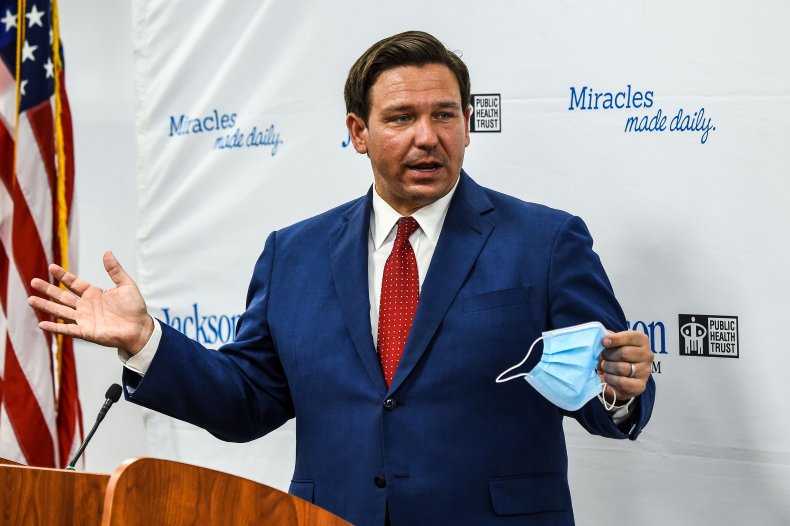 The last time DeSantis is said to have held a press conference was on December 17 and has not appeared in public any time since, sans a FOX News position, according to Florida Politics. This drew criticism from Democrats over his handling of the pandemic in Florida.
"He signed legislation that prohibits local governments from being able to take responsibility and lead in our fight against Covid-19," Democratic Mayor Jerry Demings of Orange County said at a news conference. recent press conference, NBC News report. "Our residents, all Florida residents should be outraged, and they should be asking the question, now, where is our state? Where is our governor? Where is Ron DeSantis now? Last time?" Did you see the governor doing a press conference on COVID-19?"
The governor's press secretary, Christina Pushaw, issued a tweet on Thursday saying that DeSantis' wife is battling cancer and has three children aged 1 to 5, adding "no surprise However if he wants to take a few days off on Christmas to spend time with his family."
The matter came under greater scrutiny after the official DeSantis Twitter account posted photos of the governor taken a few days earlier without noting the difference between when the photo was taken and the date it was posted. It led the Occupy Democrats' Get serious with tweets: "Ron DeSantis is still alive on December 17. #WhereIsRon."
Meanwhile, the governor's website has issued press releases describing his activities since December 17, such as the December 22 announcement that DeSantis has had 14 appointments with the Council Florida community and faith-based mentoring.
Newsweek contacted DeSantis' office for comment but did not receive a response within time of publication.
https://www.newsweek.com/banner-declaring-ron-desantis-missing-while-florida-fire-flown-over-miami-1664742 Banner declaring Ron DeSantis 'missing' as Florida 'on fire' flies over Miami