Bill Maher warns RFK Jr. of the need to address the anti-vax stance
Bill Maher elaborated on Robert F. Kennedy Jr.'s stance on vaccines in a sit-down interview for the Club Random with Bill Maher podcast.
Kennedy's anti-vaccine stance has become a talking point in his campaign as Maher tried to warn him by shouting that he must get his views across to voters.
"They will all ask you. That's all they will ask you about. Are you serious?" Maher said after Kennedy said he won't be talking about vaccines during his campaign. "Do you think it's your friends who want to help you? They want to get to the most vulnerable point, which is, 'They are a weirdo because you don't believe in vaccines." That's not me talking."
Kennedy answered "no" and then explained what makes him skeptical about vaccines. He urged scientists to test them the same way other drugs are tested – with placebo alternatives to compare with the actual drug.
"Every drug has to do placebo-controlled trials. This is science. They give the medicine to a group of people – a cohort. And then you give an equal cohort of people the placebo, and then you get health results over a period of four or five years. Because many of the results will have a long diagnostic horizon during the incubation period, so you won't see them right away," Kennedy said. "You have to do it – Anthony Fauci said eight years – for a vaccine. You have to watch them for a while. The only drugs that never get tested are vaccines, and that's what I oppose."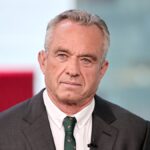 "All I'm saying is, let's test them the same way we test other drugs," RFK Jr. added.
Maher replied that this argument was not unfounded.
Watch the full video here: