'Billions' Offers First Look at Holland Taylor in Final Season (Exclusive Video)
Before the first episode of Holland Taylor "billions" TheWrap has a first glimpse of the Emmy-winning actor's role in the Showtime series, which is set to premiere Friday.
Taylor will appear in a recurring role as Dr. Play as Eleanor Mayer, a highly acclaimed psychiatrist known for her modern Freudian approach. In this clip, she confronts Maggie Siff's highly motivated psychiatrist/performance coach Wendy.
"It's no secret that you're extraordinary, Wendy. But I think you can still get better," says Dr. Mayer in the clip. "I want to help you with that."
"Thanks, but I'm not looking for a performance coach," Wendy replies.
"I suggested therapy. Isn't that why you're here?" asks Dr. mayer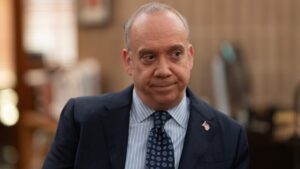 Watch the full clip above ahead of Friday's streaming premiere of "Winston Dick Energy" on Paramount+. The episode will then premiere linearly on Showtime this Sunday at 8:19 p.m
During her successful career, Taylor has been nominated for eight Emmys and won Best Supporting Actress in a Drama Series in 1999 for her role as judge Roberta Kittleson on the ABC series The Practice. She also received a Tony nomination for "Ann," a one-woman play about the life and work of Texas Gov. Ann Richards in the '90s, which Taylor both starred in and wrote.
Taylor is known for her roles in Two and a Half Men, All My Children, Bosom Buddies and The L Word. The esteemed actor's more recent roles have included portraying Cybil Richards on Apple TV+'s 'The Morning Show' and Joan Hambling in Netflix's 'The Chair,' the streamer's academic drama starring Sandra Oh. She also starred in the Netflix series Hollywood and the US series Mr. Mercedes' and FX's 'Better Things'.
As for her film roles, Taylor has starred in Romancing the Stone, The Truman Show, Legally Blonde, George of the Jungle, and The Stand In.
It makes sense that Taylor would join this Showtime classic known for its strong cast. This year marks the series finale of Billions, the cat-and-mouse drama from Brian Koppelman, David Levien and Andrew Ross Sorkin about a US lawyer and a hedge fund manager. The series first premiered in 2016 and made history as the first American television series to feature a non-binary character: Asia Kate Dillon's Taylor Mason.