Black colleges have a history of addressing safety concerns after the Jacksonville shootings
Before the fatal shooting of three black residents in Jacksonville, Fla. over the weekend, the shooter, a young white man with swastikas on his rifle, pulled into an Edward Waters University parking lot and began donning tactical gear. Students reported him, a campus police officer approached, and he sped away in his vehicle without identifying himself.
The shootings brought back memories of another notorious racist attack in the city nearly 60 years ago, known as Ax Handle Saturday. In that incident, a horde of Ku Klux Klan members armed with ax handles stalked and beat 17-year-old Nat Glover after he quit his part-time job as a dishwasher at a local restaurant.
Glover, who graduated from Edward Waters and later served as its president, is saddened by the shootings and also by the shooter's appearance on the campus of his alma mater, founded in 1866 as Florida's first historically black college.
"We're just in an environment right now that's racially toxic," said Glover, also a former Jacksonville sheriff. "That notion of us versus them, black versus white, is encouraged."
While the shootings took place at a Dollar General store in the black-majority community of New Town less than a mile (just over a kilometer) away, the gunman's earlier appearance at Edward Waters has raised new public safety concerns for African Americans and African Americans awakened educational institutions that have long served them.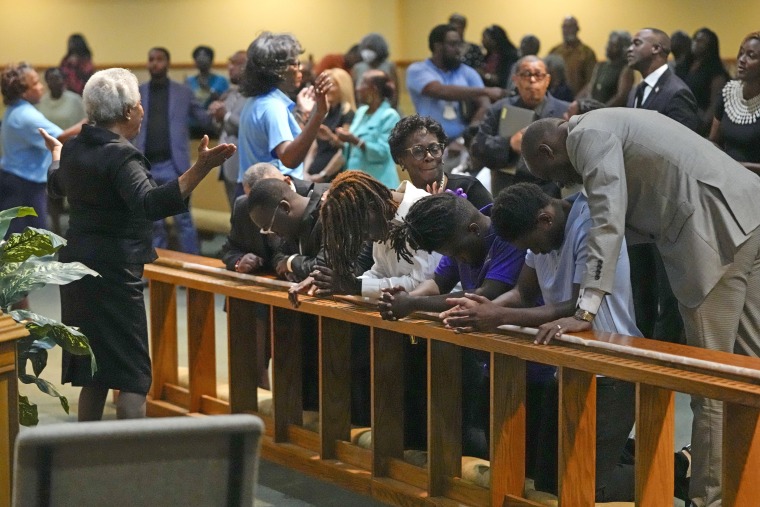 This comes amid a spate of new threats against historically black colleges and universities across the country — in the last year alone, the FBI investigated bomb threats against more than 20 HBCUs in states including Alabama, Arkansas, Delaware, Florida, Georgia, Kentucky, Louisiana and Mississippi.
Before the September 11, 2001 terrorist attacks, universities were easily accessible to the public, but many schools now require ID to pass through campus gates and enter buildings. Following last year's bomb threats, some universities have increased the presence of police officers, social workers and counselors to address safety and health concerns.
Earlier this year, Howard University in Washington, DC was one of four black institutions to receive more than $200,000 from the university US Department of Education to deal with security. Howard said it would fund two case managers to conduct health visits and a field service specialist who will provide safety training to staff.
On Monday, FBI Director Christopher Wray and other agency officials held a phone call with HBCU and faith and civil rights leaders and law enforcement partners to discuss the shooting, which is being investigated as a hate crime because of the shooter's racial motives. The bureau, which opened a civil rights investigation, declined to provide a list of the call participants.
Though it remains unclear whether Edward Waters was an intended target of the shooter, University President Zachary Faison Jr. said during a news conference Monday the school community is grateful that security thwarted "what we believe were the original targets of this white, supremacist domestic." Terrorists were "to come into the state's first historically black university and wreak murderous havoc."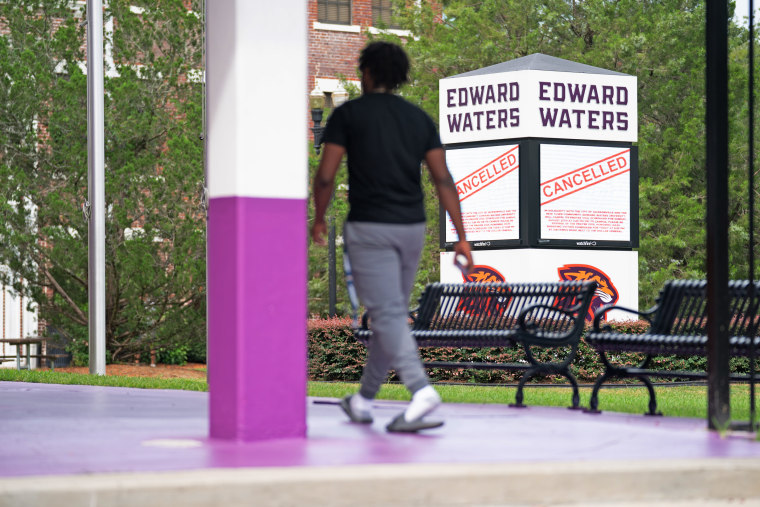 "It was no coincidence that he came here. He could have gone anywhere," Faison said. "Couple that with the fact that he said he wanted to kill N———. He got where he thought African Americans would go. It also caught my eye that he came into the New Town community, the heart of Jacksonville's black community."
The shooting happened on Saturday as thousands of people gathered in the nation's capital to commemorate the 60th anniversary of the March on Washington in 1963. It was only in recent years that black people were explicitly targeted, including last year at a supermarket in a predominantly black neighborhood of Buffalo, New York.
Houses of worship, grocery stores, and other public spaces have historically been the target of domestic terrorist attacks against Black Americans.
"Targeting a college, a university, a church, a synagogue … that's a pattern," said Marc Morial, president of the National Urban League. "University campuses, like many campuses, are open spaces that welcome the community and students. And now, in the face of this threat, everyone needs to be more vigilant and increase security."
Glover agreed with this opinion, saying: "It would be almost criminal if we didn't look out for this and make sure that we do everything we can to give the impression that these places where black people congregate are safe." are."
When he was President of Edward Waters from 2011 to 2018, he said he tried to do just that, working with the Jacksonville Police Department to set up an on-campus substation full of officers.
According to the HBCU Law Enforcement Executives and Administrators, most campus police departments at black colleges are certified law enforcement agencies with sworn officers. Officers are certified by their respective states, as are other local law enforcement agencies.
Lieutenant Antonio Bailey, who approached the 21-year-old Jacksonville gunman, reported his license plate number to the city police and was hailed as a hero by Faison, has attempted to distance himself from the designation.
"I'm not a hero. … It was the act of the students that figured out why I could do what I did that day," Bailey said Monday.
Bailey added that he wished he had had more powers to apprehend the shooter before proceeding to Dollar General. At the time, he did not see a gun on the man who had previously posted racist writings online and killed himself after the shooting.
Florida Gov. Ron DeSantis, the Republican presidential candidate who has been widely criticized for his antagonistic rhetoric on issues of race and social justice, has denounced the shootings and Offered $1 million to Edward Waters for safety, along with an additional $100,000 to the families of those killed.
But State Assemblyman Angie Nixon, whose district includes Jacksonville, said DeSantis can't just spend money on a problem he helped create.
"Let me be very clear: No amount of money can take away the pain caused by years of marginalization and oppression," she said in a statement posted Monday on X, the social media platform formerly known as Twitter was, was published. "It's time he really addressed the harm he's done, apologized for the harm he's done, and taken an active role in destroying the racist system he allowed to perpetuate and grow." ."
The DeSantis campaign defended the governor, saying he had "repeatedly condemned these racially motivated killings in the strongest language possible."