Boris Johnson's worst week ever?
The resignation of a senior member of the British Prime Minister Boris JohnsonThe one-week limit cabinet saw his Conservative Party suffer a staggering election defeat amid weeks of pandemic scandals Christmas party breaks the rules and COVID-19 cases skyrocketed.
In his resignation as Brexit Secretary, Lord Frost said he hoped Johnson would not be "tempted" by "coercive measures" to tackle COVID-19.
Frost's decision was prompted by the introduction of new pandemic restrictions, including requiring people to present proof of vaccinations or a negative coronavirus test to enter nightclubs and other crowded venues. follow Mail on Sunday The newspaper first reported on his resignation.
It comes after Johnson faced the biggest rebellion of his term as prime minister when Nearly 100 Conservative lawmakers voted against his proposal for measures. Scientific advisers have warned that more sweeping restrictions are needed to prevent overcrowding of hospitals.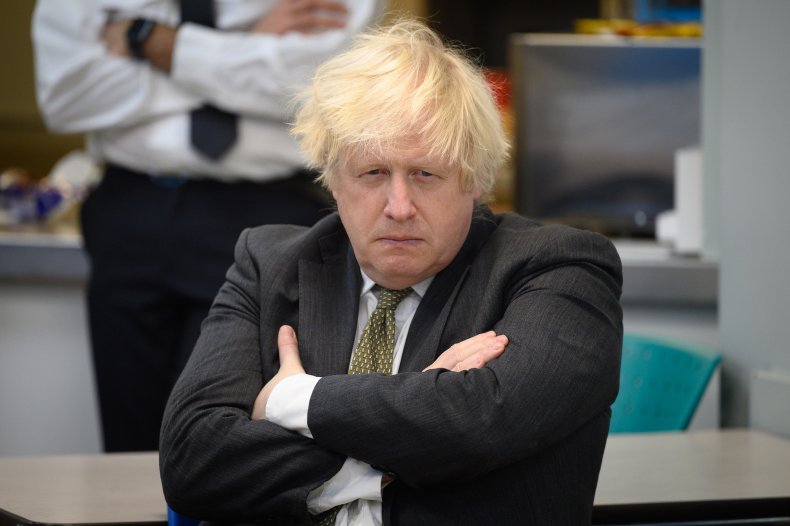 It comes as the UK continues to see record COVID cases, with more than 90,000 won confirmed on saturday alone. At least 10,000 people are confirmed to have Omicron infections.
Frost's resignation also comes after a crushing defeat to Johnson's Conservatives in the parliamentary election in North Shropshire, which was once a safe-haven seat for the Conservatives.
Loss to the Liberals Democratic Party member billed as a referendum on Johnson's government, has also been countered by reports that officials held a Christmas party last year when rules banned such gatherings.
The scandal erupted after a video emerged showing some of Johnson's employees appearing to be joking about a party that broke the rules at a fake news conference. Prior to that, Johnson repeatedly denied government officials had broken any lockdown rules.
On Saturday, Cabinet Secretary Simon Case, who was chosen by Johnson to investigate the claims, was forced to step aside after it was reported that an event was being held at his own office when the rules that forbid them apply.
The Website Guido Fawkes first reported Friday that Case's office hosted two parties in December 2020.
Johnson is also facing claims that he joined staff at a Downing Street party during the UK's first national strike.
The Prime Minister spent about 15 minutes at the meeting supposedly on 15 May last year, where sources said around 20 staff members drank wine and spirits and ate pizza, Guardians and Independent reported. Johnson is said to have told an aide they deserved a drink for "hit back" to the coronavirus.
Johnson's reputation has also been tarnished in recent months by a scandal over expensive Downing Street apartment renovations and a lobbying lobby, sparking speculation that he may soon face a legal challenge. leadership challenge.
"A Government in complete disarray as soon as the country faces a few weeks of unrest," said Angela Rayner, deputy leader of the opposition Labor Party, tweeted on Saturday.
"@BorisJohnson doesn't do his job well. We deserve better than this stationery item."
Downing Street has been contacted for comment.
https://www.newsweek.com/boris-johnson-worst-week-ever-1660926 Boris Johnson's worst week ever?