"Burning Man" ends with a traffic jam that lasts for hours
Thousands of stranded Burning Man-goers finally had to make their way home in hour-long queues Monday and Tuesday when the Nevada desert finally dried out enough for roads to reopen.
As CBS reported, organizers urged people to reschedule their departure to avoid further delays. News footage showed thousands of vehicles lined up in what appeared to be eight lanes of traffic, slowly driving out of the desert. A CBS reporter It is estimated that some travelers could take 12 hours to exit the country.
A man told CBS it took him four hours to get out.
Some burners stayed to watch as the man was eventually set on fire, but thousands made their way as soon as they were allowed off the muddy site. Today reported on Tuesday.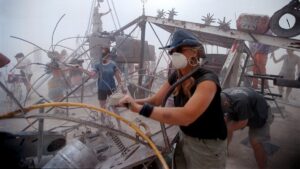 Among those who left early despite the cementitious mud were DJ Diplo and comedian Chris Rock. They were picked up by fans and shared their story on social media.
One person died during the nine-day festival. His cause of death is still unknown. On Monday, the Pershing County Sheriff's Office in Lovelock, Nevada, identified 32-year-old Leon Reece as the deceased. He was pronounced dead at the scene.
Sergeant. Nathan Carmichael told NBC News that there were no obvious signs of trauma. "No indication it's the weather," he said, debunking the notion that Reece's death was linked to the torrential rain that hit the festival. The results of a toxicological report are not yet available.
According to NBC News, three people have already died at Burning Man: in 2017, a man died after jumping into a campfire; In 2014, a woman died after being hit by a bus. According to this, a friend of one of the founders of the festival had a fatal motorcycle accident in 1996 Reno Gazette Journal.