Capitol Police evacuated DNC after pro-Palestine rally turned violent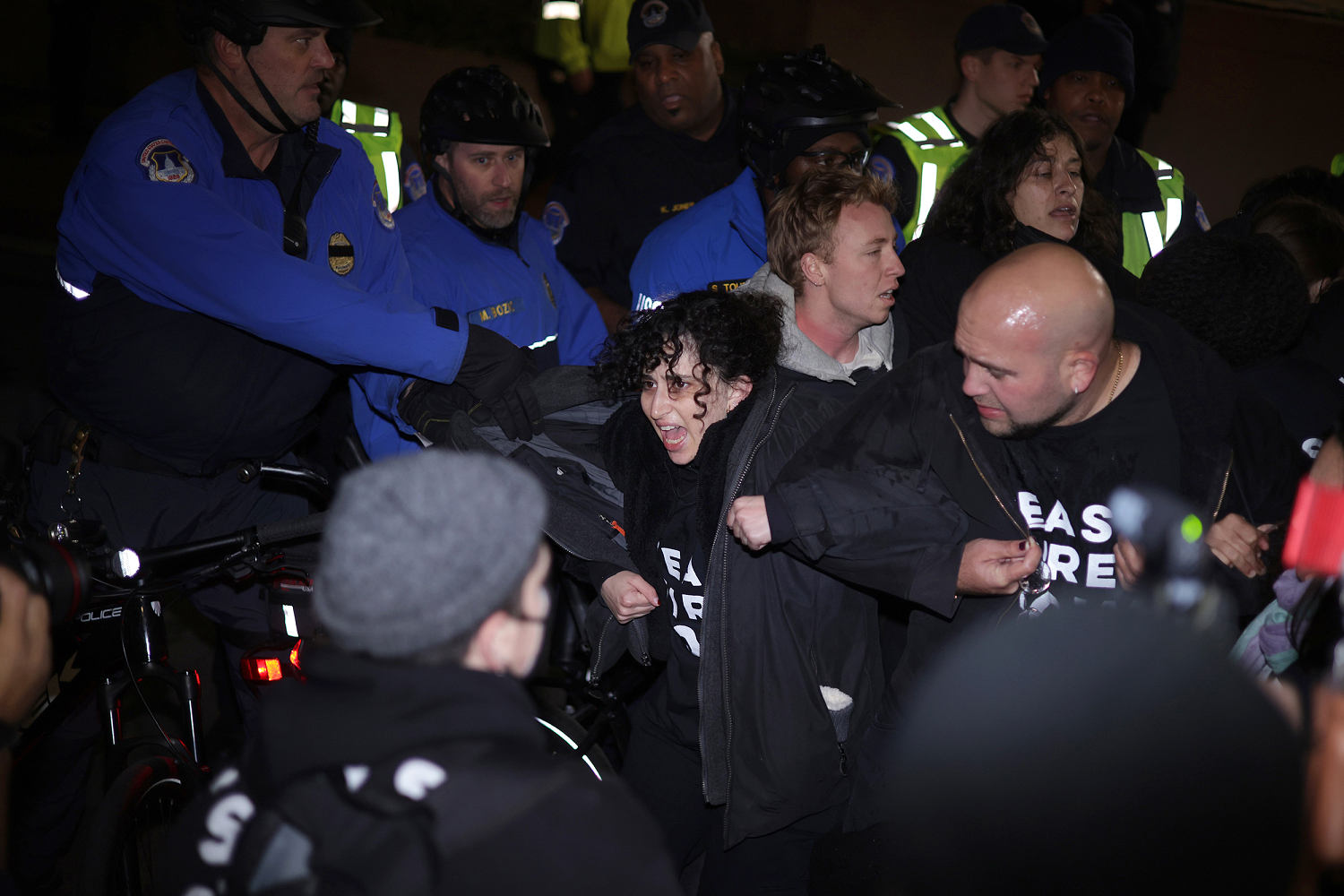 Police said they evacuated the area around the Democratic National Committee headquarters in Washington, DC, after making arrests at a chaotic pro-Palestinian rally on Wednesday evening.
US Capitol Police said on X that a "large group of illegal protesters…have withdrawn, but USCP officers will remain on site out of an abundance of caution." They The number of demonstrators was previously stated at about 150 and said they were "protesting violently in the area."
Six officers were treated for injuries resulting from the demonstration, and one person was arrested and charged with assaulting a Capitol Police officer said on X.
Capitol Police told reporters in a separate statement that they had restricted entry and exit to nearby House office buildings.
"We are monitoring the situation outside the DNC and are in contact with the USCP and Metro Police, who are leading security efforts," a DNC spokesperson said in a statement.
When the protest broke out, numerous lawmakers were at DNC ​​headquarters.
According to a source familiar with the group of lawmakers attending the DNC event, the top three House Democratic leaders were all at DNC ​​headquarters when protests began outside this evening.
According to a source familiar with the group of lawmakers attending the DNC event, Minority Leader Hakeem Jeffries, caucus chair Katherine Clark and caucus chair Pete Aguilar were among other Democrats at a top reception for the Democratic Congressional Campaign candidates Committee (DCCC) in the building.
The source did not say how long the lawmakers were inside.
Spokespeople for Jeffries and Aguilar did not comment on the members in attendance, and Clark's office did not respond to a request for comment.
Capitol Police said all lawmakers were evacuated from the area for their safety.
IfNotNow, a group that describes itself as "American Jews organizing our community to end U.S. support for Israel's apartheid system," said it was at the protest and accused officers of violence toward protesters.
"BREAKING: Police use extreme violence outside @TheDemocrats headquarters" The group posted on X. "We join arms, threaten no one and implore our politicians to support an end to the killing and suffering in Gaza. They are peacefully begging for a ceasefire. And that is the answer."
Rep. Brad Sherman, D-California, Posted on X that he was evacuated from the DNC "after pro-terrorist, anti-Israel protesters became violent, pepper-spraying police officers and attempting to break into the building."
NBC News has not independently verified Sherman's characterization of the protest. The Capitol Police did not immediately respond to a request for comment on his comment about police use of pepper spray. The Metropolitan Police Department also did not immediately respond to a request for comment.
IfNotNow spokeswoman Eva Borgwardt said in a statement that Sherman's report was inaccurate, adding that the congressman "spread dangerous and reckless misinformation about our nonviolent movement."
"I call on hundreds of progressive Jews who are fighting for peace, many of whom have family in Israel."Pro-Hamas"is over the top and the congressman should apologize for his comments," Borgwardt said.
She added that the protest was "non-violent" and a "moral act of civil disobedience" to call on Democrats to support a ceasefire and an end to our government's funding of violence against Palestinian civilians by Netanyahu's far-right government.
Rep. Sean Casten, D-Ill., Posted on X that he was "rescued" from the DNC building by "armed officers" who "did not know the protesters' intentions; All they knew was that members of Congress were inside, couldn't leave, and that the protesters wouldn't let the police through."
"Forcing police to guess intentions is irresponsible and dangerous" Casten added.
Video Videos posted on social media appeared to show protesters wearing T-shirts that read "CEASE FIRE" clashing on the steps of the DNC with officers who appeared to be working to remove the protesters from the scene.
The protest comes a day after thousands gathered in Washington for a March for Israel rally against anti-Semitism.
The security level for Tuesday's event has been raised to the highest level. There were no immediate reports of arrests or counter-demonstrations.