Cooler and breezy this weekend but dry
The remainder of the month looks cool with another coastal storm being tracked next week…
TODAY: Partly sunny, breezy. Hello 38. Winds: W 5-15 mph. Gusts to 25 mph.
TONIGHT: Partly cloudy. lot 25
SUNDAY: partly sunny, breezy. Hello 37. Winds: W 10-15 mph. Gusts to 25 mph.
We officially set a new daily record rainfall on Thursday with 1.38″! Although some of us experienced ice and snow, this storm was primarily a rainmaker. The rain continued into Friday morning before yesterday became reasonably decent. The maximum temperature was 46° with some afternoon sun. Not bad for mid-December! The region could use some time to dry out and the weekend will help further. Saturday, Sunday and Monday all feature similar weather patterns with seasonally cool days (upper 30s) and colder nights (mid 20s). A steady north-west breeze also blows each day, adding to the chill. Apart from a passing early morning snow shower, this will be a rain-free route.
Next week remains cold as we watch as another large storm forms towards the end of the week. We are confident that the storm will develop, but the type of precipitation is very uncertain. Some model data is pointing to a wintry mix again, while other guides are flooding in warm air and the region is getting another rainmaker. The latest data is trending towards rain, but it's early days. All we can do is watch and wait for the storm to actually develop and hit the western United States early next week. Until then, enjoy the dry track and sunshine early next week. This will do Central PA good!
-Meteorologist Brett Thackara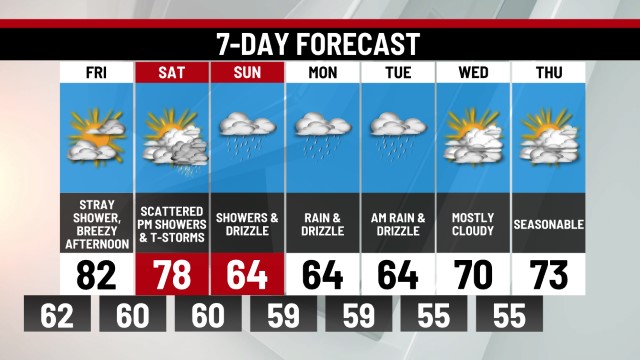 https://www.abc27.com/weather/forecast/colder-and-breezy-this-weekend-but-dry/ Cooler and breezy this weekend but dry