News
Crossing borders like our country has never experienced before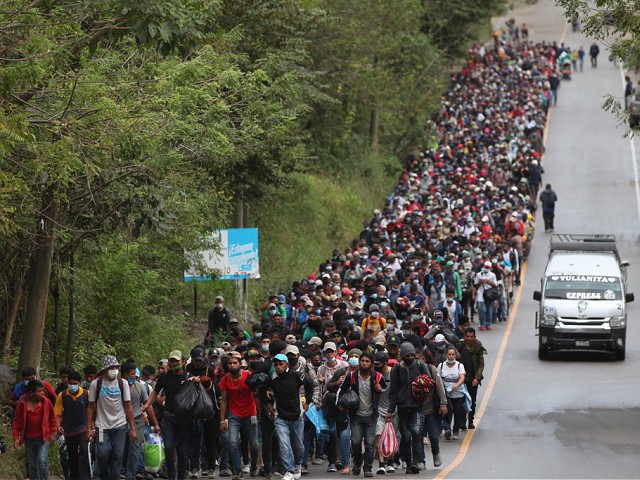 Open border advocates — including those serving in the Biden administration and on Capitol Hill — have been demanding that President Biden end Title 42 since the day he took office during a full-blown pandemic.
Title 42 is a public health provision invoked by the Trump administration in 2020 at the dawn of the COVID pandemic, allowing for expedited deportation of people illegally crossing our borders.
While it is impossible to quantify a negative outcome, it is reasonable to assume that preventing a significant number of people, traveling in large groups and coming from countries where vaccination rates have been low to non-existent, has saved many lives . Despite its success, many in the Biden administration have always viewed Title 42 not as an essential public health policy, but rather as a barrier to mass migration. That's all they care about – public health, safety and national sovereignty, damn it.
Based on the Centers for Disease Control (CDC) assessment that the public health threat posed by COVID has diminished, their wish has finally been granted. It has just been announced that Title 42 has ended effective May 23rd. Now the Biden administration will focus its efforts on dealing with a massive wave of illegal immigration that they plan to unleash on the American public.
Aside from the fact that declaring complete victory over COVID may be a little premature – new outbreaks are popping up around the world – Title 42 is the last remaining mechanism allowing for control of our borders, which already host unprecedented levels of illegal immigration Experienced . Title 42 was never intended for that, as its critics are willing to point out. However, considering that the Biden administration has burned down pretty much every mechanism used to deter and control illegal immigration, the only thing that stood between us was Title 42, total chaos on the border.
The total chaos at the border is no mere conjecture. This is exactly what the Biden administration is planning. The Department of Homeland Security (DHS) has already established a war room that is enlisting the help of a number of federal agencies to help them deal with an unprecedented wave of migrants crashing our borders once Title 42 is abolished . Absurdly, the government is preparing for a disaster that is entirely preventable. According to Sen. James Lankford (R-Okla.), the DHS Intelligence Office has warned the administration that a million migrants could cross the border within the first six weeks after Title 42 ends.
Alarm bells have also been ringing from members of the president's own party, particularly those representing states and districts on the front lines of a crisis that will get much worse on May 23. Arizona's two (very nervous) Democratic Senators, Kyrsten Sinema and Mark Kelly, wrote a letter to President Biden last week urging him not to rescind Title 42 without a viable plan that will control the border in his absence .
Likewise, members of the Democratic House whose districts border in Texas joined Republican colleagues in their delegation and sent a similar letter urging DHS and the Department of Health and Human Services (HHS) to address the implications consider what the termination of Title 42 would have on their communities. "We urge that the CDC Title 42 order remain in effect and that DHS continue to use it until the number of arrests along the southwestern border has decreased to manageable levels," they wrote. Of course, her plea to the Biden administration assumes facts that are unproven — namely, that the people making the policy actually want illegal immigration to return to "a controllable level." Note: they don't – it's all by design.
Luckily, May 23 is almost two months away, and there are supposedly one or two semi-rational White House politicians when it comes to immigration. That begs the question for them – do they want this presidency to be ruled by chaos and lawlessness on the southern border? If not, they must undo the completion of Title 42 and return to the drawing board.
RJ Hauman is Director of Government Relations and Communications at the Federation for American Immigration Reform (FAIR).
https://www.breitbart.com/immigration/2022/04/01/exclusive-hauman-get-ready-for-a-border-surge-the-likes-of-which-our-country-has-never-seen/ Crossing borders like our country has never experienced before