Dead by Daylight Forged in Fog Chapters – Killer, Survivor and more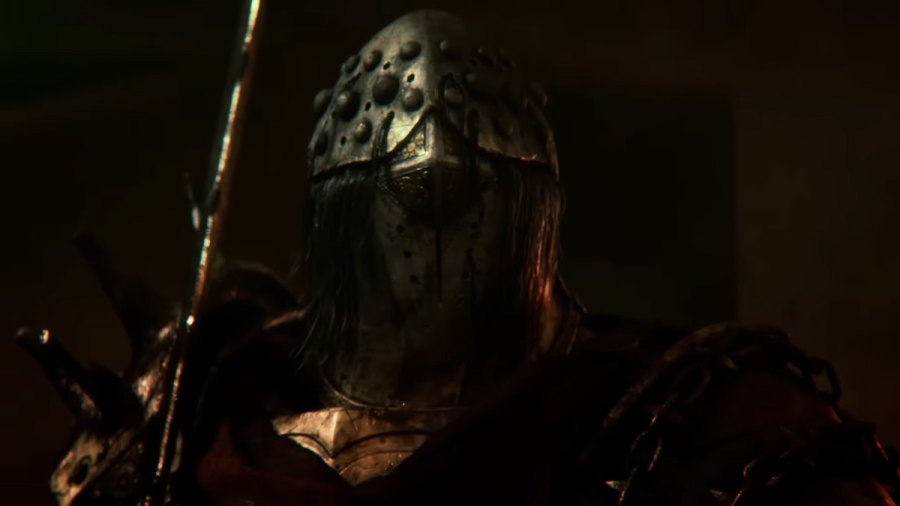 Image via Dead by Daylight YouTube
After months if not years of speculation, The Knight finally comes to Dead by Daylight with the Forged in Fog chapter. While not the warmongering of For Honor as many expected, The Knight looks more than capable of slaughtering survivors like Vittorio Toscano. Here's an overview of what's coming in Chapter 22.
Dead by Daylight Killer – The Knight
The Knight Perks
Guardia Company

Special Ability: Guard Summon

Tap the power button to activate Guardian Summon mode. Once activated, move around to create a patrol path. In Guard Summon mode, you can target a running generator, a fallen pallet, or a breakable wall and tap the attack button. This will summon a guard to perform an interrupt action on the selected item. You can also tap the power button or completely drain the power meter to exit Guard Summon mode. This will summon a guard to follow and patrol the created path. There are three Guardians that can be summoned in the same order each time: The Carnifex, which can break or damage items faster; The assassin who moves faster while hunting; and The Jailer, who patrols longer and can be better spotted.

Guardian's Special Ability: The Hunt

While a guard is patrolling, they can spot and spot survivors. When a survivor is spotted, the guard moves to their location, leaves a standard on the ground, and begins hunting the survivor for a period of time. The survivor can escape a guard by unhooking another survivor, grabbing the standard, or surviving until the hunt timer runs out. If the Survivor is successfully attacked by The Guard or The Knight, The Guard will disappear. If a guard knocks down a survivor, the knight will receive a Killer Instinct notification.

nowhere to hide

Whenever you damage a Generator, reveal the aura of all Survivors within 24 yards of your position for 3/4/5 seconds.

Hex: Face the darkness

If this hex is inactive and you injure a survivor, a blunt totem will light up and hex that survivor. When the Hex is active, all other Survivors outside of your terror radius have the ability to intermittently scream and reveal their locations and auras for two seconds. Other survivors also see the cursed survivor's aura for 10/10/8 seconds. When the Cursed Survivor is knocked down or returned to full health, the Hex is removed and the Hex Totem expires. Purifying the Hex Totem permanently disables Hex: Face the Darkness.

hubris

Whenever you are stunned by a Survivor, that Survivor suffers the Exposed status effect for 10/15/20 seconds. Hubris has a 20 second cooldown.
Related: How to Play Dead by Daylight PTB (Public Test Beta)
Dead by Daylight Survivor – Vittorio Toscano
Vittorio Toscano discounts
potential energy

After working on a generator for 10/10/8 continuous seconds, press the second active ability button to activate this perk. If this perk is active, repairing the generator will charge this perk instead of advancing the generator. For every 1.5% of generator repair, the benefit gains one token, up to 20 tokens. While this perk has at least one token and you are working on a generator, you can press the second active ability button to consume all tokens and instantly advance the generator by 1% for each token. This benefit will then be disabled. If you lose a health condition while this perk has at least one token, the perk loses all tokens and becomes disabled. Missing a skill check also causes some charges to be lost.

foggy

Passing a Great Skill Check while repairing a Generator reveals the Killer's Aura for 4/5/6 seconds.

Fast Gambit

If you are chased within 24 yards of a Generator, any other Survivor working on that Generator will receive a 6/7/8% Speed ​​Boost for the Repair Action.
When will Forged in the Fog be released?
Chapter 22: Forged in the Fog will be released on November 22, 2022. It entered PTB on November 1, 2022.
Related: All Dead by Daylight Halloween 2022 Event Outfits
Dead by Daylight Forged in the Fog Trailer
The trailer itself features new survivor Vittorio Toscano doing relatively brief work with a hex totem before being surrounded by The Knight and his entourage. It's short, sweet, and sets the sinister tone of this medieval killer.
For more Dead by Daylight goodies, check out the Pro Game Guides for Dead by Daylight Haunted by Daylight – Release Date, New Event, Archives and more.
https://progameguides.com/dead-by-daylight/dead-by-daylight-forged-in-fog-chapter-killer-survivor-more/ Dead by Daylight Forged in Fog Chapters – Killer, Survivor and more