Diamond Sports Group files for Chapter 11 bankruptcy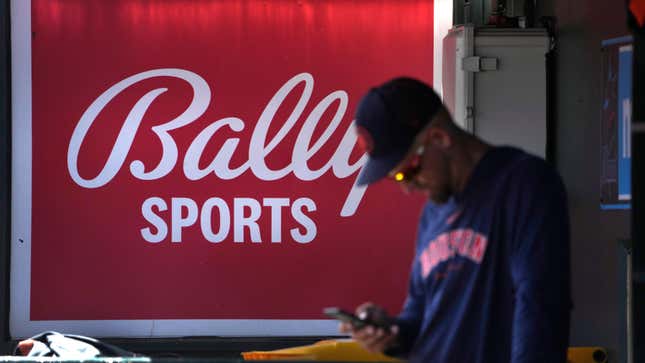 Much of local sports coverage is in jeopardy, according to Diamond Sports Group, which is responsible for nearly half of local MLB, NHL and NBA games under the Bally Sports brand, filed for bankruptcy protection in Texas on Tuesday. The conglomerates' financial woes stem from expensive broadcast rights deals and the string-cutting behavior of sports fans.
Diamond Sports is a subsidiary of Sinclair Broadcast Group and listed its assets and liabilities in its Chapter 11 petition as "between $1 billion and $10 billion each," according to Reuters. Diamond CEO David Preschlack said the series of networks will continue to broadcast games while the company goes through the bankruptcy process. The company's finances stand at $425 million in cash but it owes $9 billion to lenders. Diamond could repay less than five percent at that value. By filing Chapter 11, Diamond agreed to transfer ownership of the company from Sinclair to the lenders in exchange for paying off $8 billion of its debt. Diamond broadcasts games for 42 professional teams in the four major sports leagues.
Updated: Last week, the Texas Rangers told DSG: "it would terminate its media rights contract with the parent company of Bally Sports Regional Networks in the event of their bankruptcy, which could trigger the company's bankruptcy filing." according to The Athletic. Diamond objects to the move, the Athletic reports, citing a Wednesday court records.
"We anticipate there will be no interruptions in televising Texas Rangers games for the upcoming season," the outlet's team said. "We are confident that a long-term solution to the RSN problem will be reached."
What happens to the employees of the regional sports network?
What happens to the employees of these regional sports networks Who broadcast the games of these 42 franchises? Being taken over by another national sports broadcaster with local connections and taking the financial burden off Diamond is the easiest option, but who is willing to take on such a heavy burden? Each Bally Sports brand probably has hundreds of employees and if they are not getting paid then why should they be working? For now, the shipments are not at risk, but this is a temporary patch for a much bigger problem. Broadcasting rights to local sports and streaming services have become a viable way for networks to monetize. At the end of last year, MSG reports this the launch of a $20-$25 a month streaming service as a wireless way to watch the Knicks and Rangers. And it's still under development. As for Bally Sports, it looks like a difficult time is on the horizon.
---
We strive to report news about sports broadcasts as well as all sports. For more information on Bally Sports and others, visit more stories here.
https://deadspin.com/diamond-sports-group-bally-sinclair-tv-mlb-nhl-nba-1850228115 Diamond Sports Group files for Chapter 11 bankruptcy