Disney Dreamlight Valley Enchanted Adventure update patch notes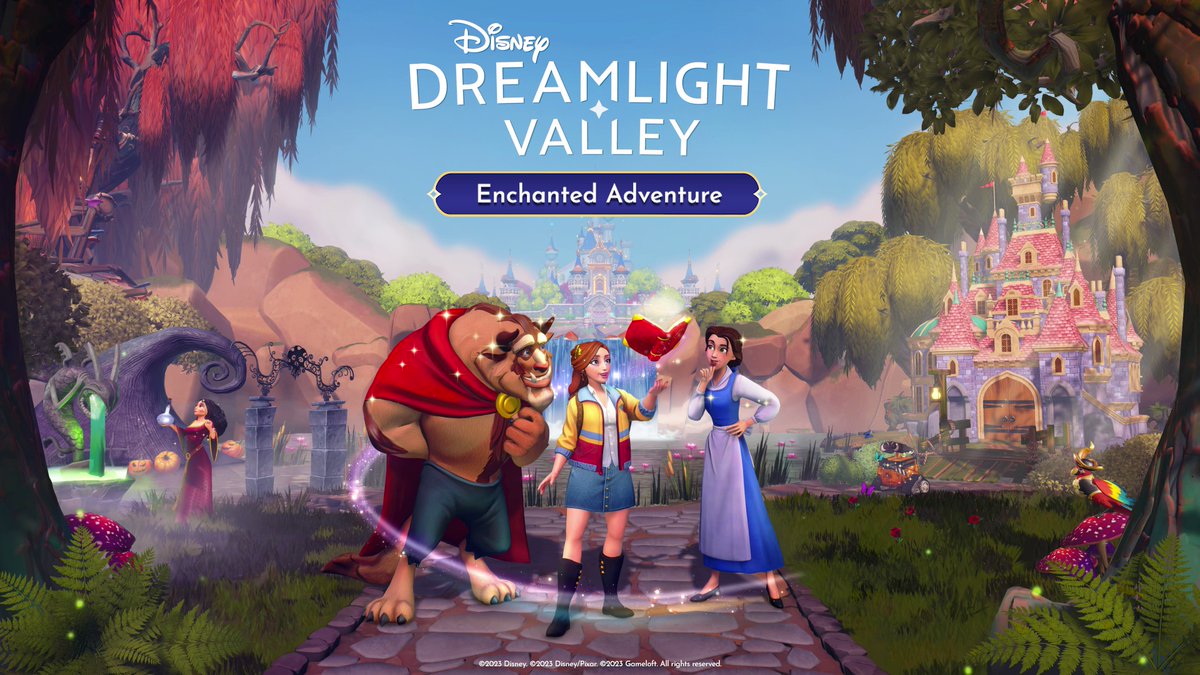 Disney Dreamlight Valley will release a new Enchanted Adventure update tomorrow, Gameloft has announced. We also have the patch notes.
A new Realm Door arrives with Belle and Beast joining the game. There are also new quests, new optional items and more.
NEW CONTENT AND IMPROVEMENTS: 
– A new imperial door is opening! Discover the enchanting Beauty and the Beast Explore the empire and discover its secrets.
– Two new characters! Belle and Beast arrive in the Valley, along with brand new friendship quests and items.
– Get ready to stretch your legs! The optional Ursula's Transformation Dream Pack appears in the Premium Shop and introduces a new dream style for Ursula, transforming her into her human form and offering exclusive quests, outfits, accessories and furniture.
– Trick AND Treat! The new Haunted Holiday Star Path focuses on spooky fun and includes a wide selection of costumes and decorations to help you prepare your valley for the Halloween season.
– New Quests! Help the Forgotten settle in the valley with a series of quests throughout the update.
– For a limited time, more optional items are coming to the Premium Shop that are sure to fit your seasonal mood, including an iconic hill, some Disneyland staples, and more!
– New weekly DreamSnaps challenges to help you get into the holiday spirit and show off your costume creativity.
– Bring on the sweets! Last year's in-game Candy event returns, giving you another chance to earn rewards by completing seasonal Dreamlight tasks, available from October 24th to November 1st.
– Increase your manual productivity! Crafting fences and paths will give you more units of the crafted item.
– Fill out these collections! Items previously only found in pouches are now available in the Scrooge McDuck's Store.
The most important bug fixes:
– Improved memory optimization for increased stability.
– Various stability and performance improvements to DreamSnaps.
– Quest "Sprout a Story": Fixed an issue that caused the storybook page in Mother Gothel's house to be inaccessible.
– What Remains Quest: Fixed an issue where players could not speak to the Forgotten
– "Boss Up" Quest: Fixed an issue where Scar's lure would disappear for some players.
– Mirabel Interference Quest: Fixed an issue where some players were unable to collect the Cashier Key required to progress this quest.
– "Eyes in the Dark" Quest: Fixed an issue where it appeared that the bridge would not lower over the river and the cutscene would not play.
– The Forgotten now change their appearance to match the player's avatar shortly after exiting the Wardrobe menu.
– Added new animation and VFX to The Forgotten.
– Various UI and localization fixes.
– Various visual and audio fixes.
– Various additional bug fixes and optimizations.
Disney Dreamlight Valley is currently available on the Switch eShop.