Dolphins' Mike McDaniel describes Tua Tagovailoa's head injury: 'It wasn't the same guy I'm used to'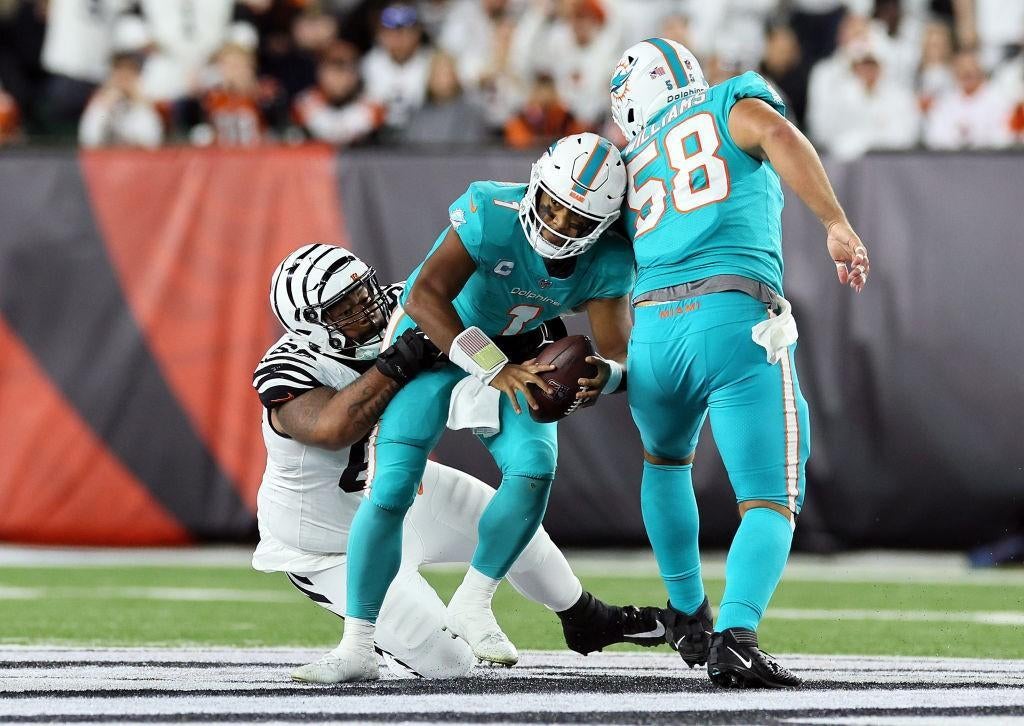 The Miami Dolphins have had many questions to answer about Tua Tagovailoa and his injuries over the past five days after the quarterback was taken off a stretcher and diagnosed with a concussion. Head coach Mike McDaniel was deluged with questions as he became the first of the Dolphins leadership to address the matter.
"It was a scary moment," McDaniel said at his post-game press conference Thursday night following Miami's loss to the Cincinnati Bengals. "He's been evaluated for a concussion and is on the concussion log… That was an emotional moment that's not part of the deal that someone signs up for, even though you know there's an opportunity in football to have something you be have to be taken on a stretcher.
"All his teammates, myself, we are all very concerned. The best news we can give is that everything has been checked he didn't have anything more serious than a concussion. He will fly back here with us on a plane."
The dolphins announced that Tagovailoa was conscious and all limbs were moving. Tagovailoa was released by Bengal defender Josh Tupou and while he was being brought down his back and head banged against the field surface.
McDaniel knew something was wrong with his quarterback the moment he was called onto the field.
"I saw him lying down. I saw that it looked like he was feeling some stress from the effects of the hit. And then when I got on the field, I knew right away that at least this was a concussion. ' McDaniel said. "I was worried about these other things as well. I was obviously very worried about his head, but you know you wanted to make sure all things spine and back related – you want to make sure that's okay.
"But it was very clear to me from the start that he had, I didn't really know how badly – but I did know he had the concussion. He asked about me and when he saw me I could just tell it wasn't the same guy I'm used to seeing."
Tagovailoa was controversially allowed to resume last week's game against the Buffalo Bills after suffering what was initially described as a head injury, later described as a back injury. He stumbled across the field after scoring, leading many to believe he had sustained a head injury. Tagovailoa left the game and returned to that game, but the NFLPA said afterwards they would review whether the Dolphins were following concussion protocol. Miami held on Tagovailoa had a back problem all week.
"We would have reported him for a head injury. That's why the NFL has these protocols," McDaniel said. "Every single game is played with an independent specialist who specializes in the specialty of brain matter."
McDaniel vowed if Tagovailoa had a head injury during the week he wouldn't let it happen. Tagovailoa would not have played in a short week with the protocols in place.
"As long as I'm training here, I have to distort the whole situation," said McDaniel. "If someone has a concussion and they go into the concussion protocol in any way and it's very strict. If people don't vary or go astray, we don't mess with it. As long as I'm the head coach, that won't be an issue for you to worry about."
https://www.cbssports.com/nfl/news/dolphins-mike-mcdaniel-details-tua-tagovailoa-head-injury-it-wasnt-the-same-guy-that-im-used-to-seeing/ Dolphins' Mike McDaniel describes Tua Tagovailoa's head injury: 'It wasn't the same guy I'm used to'