Family of woman killed in Maui fire sues state and county for negligence
The family of a woman who died trying to escape a Maui wildfire is suing the county, state and one of Hawaii's largest landowners for failing to maintain their fire-prone property.
The wrongful death lawsuit filed Monday in the state's Second Circuit Court is the first against the state and landowner Bishop Estate in connection with the Aug. 8 inferno that killed 115 people, left more than 300 missing and left the historic town Lahaina was destroyed. Hawaiian Electric Co. is also named as a defendant.
She accuses them of negligence, claiming they failed to properly manage the arid vegetation surrounding Lahaina and failed to provide residents with proper warning and evacuation routes. It is also claimed that the utility company failed to shut down the power grid before the wildfire destroyed Lahaina, the former capital of Hawaii.
"They could have escaped," said Anne Andrews, an attorney for the family of Rebecca Rans, 57. "There was a complete failure to prepare the land and take care of it."
The family is demanding an unspecified amount of damages. It is the first of 18 lawsuits, many against the utility, arising out of the fire in which a landowner is named as a defendant.
"As someone who has lived almost all of my life in Hawaii, I have witnessed firsthand how the island of Maui has been taken over by invasive, non-native and combustible grasses and scrub vegetation," said Jim Bickerton, another attorney for Rans in one Opinion.
"The combination of weather, uncontrolled vegetation, and decaying and neglected electrical infrastructure has predictably created a powder keg on Maui that is about to explode," he continued. "The risk wasn't theoretical — it was visible, noticeable and totally avoidable."
Hawaii's Attorney General received the complaint Tuesday and is reviewing it, a spokesman said.
A Bishop Estate spokesman, Sterling Wong, said in an emailed statement that "our hearts are broken with all of the fires on Maui and their 'ohana' or families," but declined to comment further while the fires are investigated.
Maui County did not immediately respond to a request for comment.
Hawaiian Electric previously said it cut power before the fire, but the complaint says it was far too late. The utility did not immediately respond to a request for comment on Tuesday.
According to wildfire experts, Hawaii's uncontrolled alien grasses have posed a fire hazard for years. The state has struggled to address the problem and improve wildfire preparedness over the past few decades, as lawmakers and officials have been consistently unable to fund projects that could have helped prevent the wildfire, one of three fires that broke out on Maui that day.
The complaint alleges that Hawaiian Electric has known about the fire hazard in the area since 2014 but waited until last year to make its first request to the Public Utilities Commission needed money to strengthen its power grid, despite numerous environmental reports detailing the problems.
The utility also did not anticipate a high fire risk leading up to the Lahaina fire, despite a National Weather Service warning beginning Aug. 4 and previous wildfires that broke out under similar conditions, the complaint said.
At the same time, county and state officials ignored reports of wildfires that detailed threats to the area and failed to properly plan several evacuation routes, contributing to the chaos that resulted in dozens of residents, including Rans, from were ravaged by the flames.
"Large landowners, including Bishop Estate, the state and Maui County, had responsibilities to reduce fire hazards in Lahaina and other vulnerable locations, but performed little or no vegetation management," the complaint reads.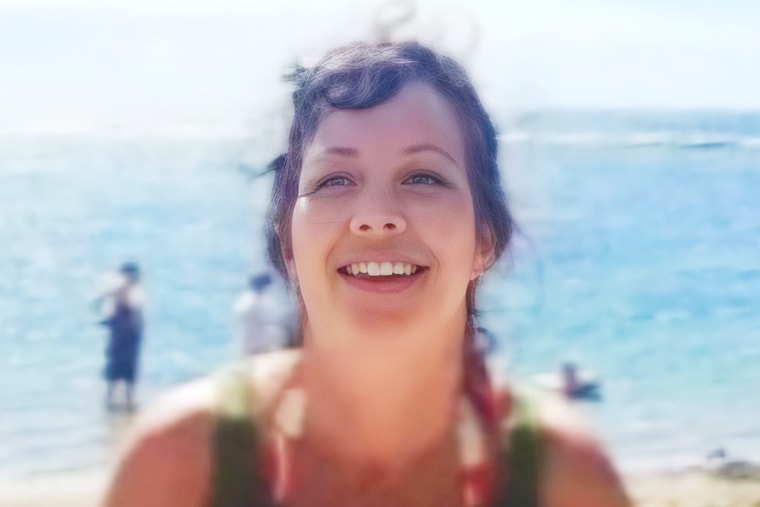 Rans, who was reported to have severe rheumatoid arthritis and could only walk short distances, died trying to escape the flames with her partner Doug Gloege.
Their bodies were discovered side by side days after the fire, the complaint said. Rans was found wearing a slipper, her body so badly burned that officials prevented her family from viewing the remains. All that survived was her favorite gold bracelet engraved with the word "Ku'uipo," which means "treasure" in Hawaiian.
Rans' remains were identified after her family filled out a missing persons report and provided a DNA sample.
"Becky was a total free spirit," said her sister, Kathleen Hennricks. "She's someone who went her own way and just had a wonderful sense of humor."
Rans moved to Maui more than 20 years ago after a divorce, Hennricks said, and quickly adapted to island life, swimming with dolphins and painting colorful landscapes.
Lawyers for the family said Rans and Gloege were most likely overwhelmed by a firestorm too violent to escape. Similar conditions also occurred in other wildfires, such as the 2018 campfire that killed 85 people in Paradise, California.