Fentanyl was found under the trap door of a Bronx daycare center after the baby's death
Investigators have found more fentanyl hidden under a trap door at the New York City day care center where a 1-year-old boy fell ill and later died last week and three other children fell ill due to apparent opioid exposure, police said.
Investigators discovered the trap door in the daycare's play area while executing a search warrant on Wednesday, the NYPD said in an update Thursday.
Concealed under the trap door, they found fentanyl, other narcotics and drug paraphernalia, the department said. Photos shared by police showed several bags apparently hidden under a floorboard. It was not immediately clear what other narcotics were involved.
The NYPD did not immediately respond to an overnight request for further information.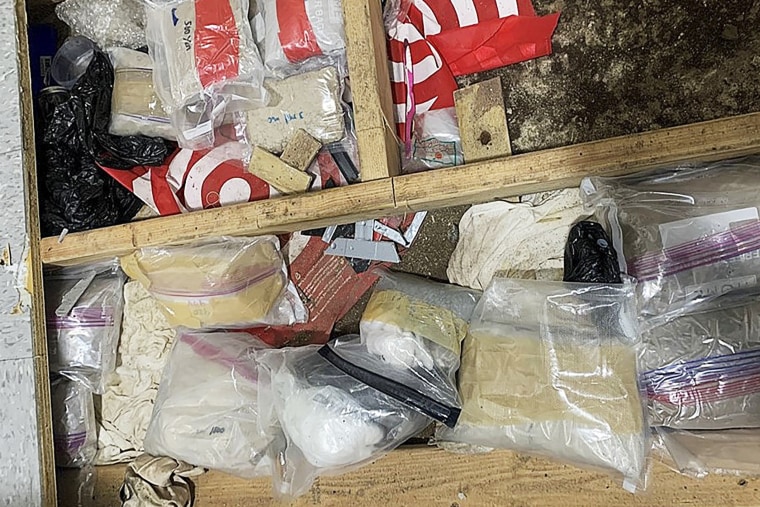 The discovery comes after Divino Niño daycare owner Grei Mendez, 36, and alleged accomplice Carlisto Acevedo Brito, 41, were federally charged earlier this week in connection with the death of 1-year-old Nicholas Dominici.
Both Mendez and Brito were charged with conspiracy to distribute narcotics resulting in death and possession with intent to distribute narcotics resulting in death in the Southern District of New York, according to a complaint unsealed Tuesday by a Drug Enforcement Administration agent.
The complaint alleged that drugs were also stored in a hallway closet on children's play mats at the facility. Two-kilo presses, which drug dealers typically use to package large amounts of drugs, were also said to have been found in the closet, as well as a third in the owner's bedroom.
Mendez and Brito, Mendez's husband's cousin who rented a room at the daycare, worked together from July to September, according to the complaint.
An attorney for Mendez, Andres Manual Aranda, told NBC News on Monday that Mendez had "no idea" there were drugs in the facility and that she called 911 when she realized the drugs were being used There was something wrong with the children in the September 15 incident. Aranda could not immediately be reached for comment early Friday.
The complaint alleged that she actually made three additional calls before calling the police at 2:40 p.m. ET. The first call went to another daycare worker at 2:39 p.m. The latter two went to someone she later described as her husband. The first call went unanswered and the second call lasted just over 10 seconds.
Mendez called her husband several more times after speaking to 911, the complaint states. And surveillance footage showed her husband entering the daycare before emergency responders arrived and leaving through the back alley two minutes later, apparently carrying two shopping bags "loaded with contents," it said.
The complaint said the husband's conduct amounted to an attempt to "remove materials from the daycare to prevent them from being discovered by law enforcement."
Authorities said a search of Mendez's phone also revealed that she deleted over 21,000 messages from an encrypted messaging application through which she exchanged messages with her husband from March 2021 until the day of the fatal incident.
The deleted messages noted that Mendez had told her husband that law enforcement was asking questions about him, the complaint says. He replied that she should tell them he was working while she told him to get a lawyer. According to the complaint, the messages were deleted before police arrived at the daycare.
Meanwhile, a review of Brito's electronic devices revealed that he had exchanged messages with others that suggested his "involvement in drug trafficking," the complaint says.
The NYPD said the investigation into the Sept. 15 incident is ongoing.
The Substance Abuse and Mental Health Services Administration has a 24-hour national helpline for individuals with substance abuse problems and their family members. The hotline, which offers help in English and Spanish, is at 800-662-HELP (4357). To find behavioral health treatment services, visit SAMHSA's website.