Genshin Impact Hypostasis Symphony Dissonant Verse Event Guide
Genshin Impact's Hypotasis Symphony: Dissonant Verse event is expiring 11/25, 2022, until December 5th, 2022. During the event, a temporary domain will open in Falcon Shores where you can fight hypostases of varying difficulty.
All players of Adventure Rank 20 and above can participate. Just open the event menu, select Hypostatic Symphony and click Go to challenge to go to the event-exclusive domain and get started.
How to complete the Hypostasis Symphony: Dissonant Verse event in Genshin Impact
Interact with the event domain in Falcon Coast and select a challenge to accept. A new Hypostasis will open every two days, with the final options being the Cryo, Pyro, Hydro, and Dendro Hypostases. There are two types of challenges: Standard Rating and Intensive Rating.
default score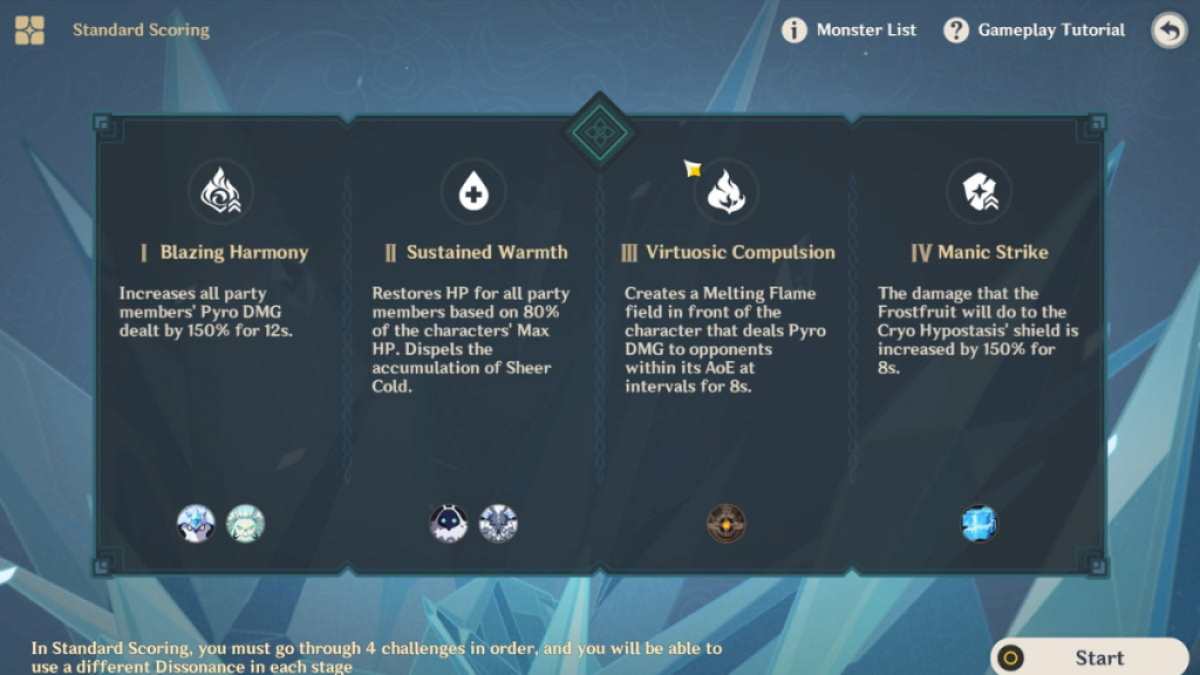 The default rating can only be completed once for each Hypostasis challenge. Click on challenge details start. You'll get an overview of the dissonance (buff) and enemies you'll encounter in each challenge. click beginning to assemble your team and begin the challenge. You can't switch teams midway, so you'll need to assemble teams capable of defeating the final boss – the Hypostasis.
Dissonance can be activated with T button on PC, and you can keep track of how many uses you have left on the left corner of the screen. You can use Dissonance 10 times per challenge (40 total times per default rating). You cannot swap the dissonance buffs. After completing all four rounds you will unlock the Intense Scoring Challenge.
Related: How to unlock Fall Sumeru Hidden Achievement Records in Genshin Impact
Intense scoring
After completing the default assessment, click challenge details again to begin the intense scoring round. You can complete this as many times as you like, but you can only complete rewards once by completing Normal, Hard, and Fearless difficulties. Completing Fearless difficulty will also automatically give you Normal and Hard rewards.
Intense Scoring has only one enemy – the Hypostasis boss. Check out the challenge details to get an idea of ​​how much stronger the boss will be. You can also choose a dissonance (buff) to help you. How many times you can use it depends on the difficulty you choose.
After completing Fearless difficulty, you can play through Extreme difficulty for fun. The extreme level of difficulty will time your fight so you can compare it to others.
Related: How to unlock The Marvelous Uses of Nitrogen Fixation Sumeru hidden achievement in Genshin Impact
Tips for completing the Hypostasis Symphony: Dissonant Verse event in Genshin Impact
Since each Hypostasis boss has a different mechanic, we highly recommend bringing the following team members to help you out:
cryo hypostasis

Bring a Pyro character to easily break shields in standard rating. The enemies are just slimes and hilichurls, mitachurls and lawachurls, so a super powerful shieldbreaker isn't necessary.
Bring a non-Cryo main DPS as the boss is immune to Cryo.
We recommend bringing a melee character with you for easy control of your charged attacks when rolling the fallen frost fruit towards the boss.

pyro hypostasis

Bring a character who can use Hydro quickly to destroy the Abyss Heralds' shields as well as the nodes that the Pyro Hypostasis summons. Barbara is a good choice if you don't have better options.
Bring a non-pyro main DPS as the boss is immune to pyro.

hydro hypostasis

Bring a character who can use Pyro quickly to destroy the Hydro Hypostasis summon before they reach the boss. Amber is a good choice if you don't have better options. Bennett isn't fast enough.
Bring a non-Hydro main DPS as the boss is immune to Hydro.

dendro hypostasis

Bring a character that can use Dendro to destroy the Dendro Hypostasis summon before they heal the boss.
We highly recommend bringing a character who can use Electro to speed up the boss cleaning process.
Bring a non-Dendro main DPS as the boss is immune to Dendro.
Check out our Genshin Impact Carefree Dreamland web event guide here on Pro Game Guides for another event taking place in conjunction with Hypostatic Symphony.
https://progameguides.com/genshin-impact/genshin-impact-hypostasis-symphony-dissonant-verse-event-guide/ Genshin Impact Hypostasis Symphony Dissonant Verse Event Guide