Germany requires proof of COVID boosted shot to enter bars, restaurants
German leaders announced stricter requirements for entering restaurants and bars on Friday in response to the spread of the omicron variant.
Citizens are required to present proof of full vaccination or COVID recovery to enter restaurants, bars, shops, theaters and cinemas. However, Friday's decision means that customers will have to prove they have had a booster shot or provide a negative test result along with proof of vaccination.
"These are strict rules, but they are pragmatic and are meant to relax existing rules," Prime Minister Olaf Scholz said.
As of Friday, 71.6 percent of the population had received the first full course of the vaccine and 41.6 percent had received a booster shot.
The mayor of Berlin, Franziska Giffey, said the new regulations would encourage booster injections.
"Half of the population will be augmented … in the next few days and be able to go to restaurants without checking in," said Giffey.
Additional COVID changes include mirroring other countries by shortening quarantine or self-isolation. People who are fully strengthened or who have been fully vaccinated or recovered in the past three months will not need to be isolated, even if exposed to coronavirus.
Those who do not meet these requirements may end their quarantine period or self-isolate after ten days if they no longer show symptoms. People with a negative COVID test can shorten the quarantine period to seven days.
Federal and state government officials are urgently recommending that people use protective FFP2 masks in stores and while using public transportation.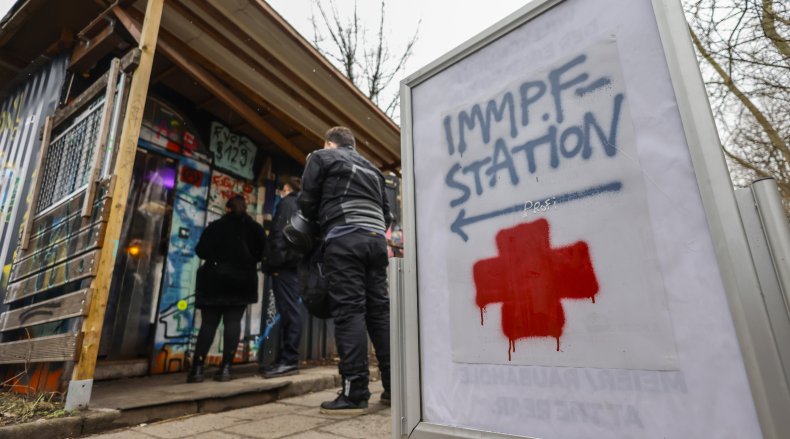 However, the eastern state of Saxony-Anhalt has said it will not introduce a new rule for now as its cases mostly still involve the delta variant, and Bavaria says it is skeptical.
Over the past two weeks, Germany's COVID-19 situation has been shrouded in fog because of very patchy testing and slow reporting during the holiday period. Official figures do not show the big picture, despite a steady increase over the past week.
On Friday, the Robert Koch Institute, the national center for disease control, reported an official rate of 303.4 new cases per 100,000 residents over the past seven days. An additional 56,335 new cases were reported in the last 24 hours.
In its weekly report on Thursday, the institute said omicrons accounted for 44.3% of cases tested for variants in Germany last week, up from 15.8% the previous week.
The prime minister brushed aside criticism that he did not provide enough leadership to carry out the mandate of universal vaccination, an idea he first supported before taking office last month. The governor of North Rhine-Westphalia, Hendrik Wuest, a member of Germany's main centre-right opposition party, said that state governments expected an "timetable" soon.
Scholz deflected the question of exact time. just said "this has to go fast, and it's going to happen, and I'm very confident about that."
"I would vote for such a vaccine mandate and support it as well," he said.
Scholz wants lawmakers to vote according to their personal conscience rather than the party line. The idea is for parliament to vote on proposals put forward by groups of lawmakers rather than the government.
There are divisions on the issue within Scholz's three-party government. It's also unclear how the mission will be designed.
The Associated Press contributed to this report.
https://www.newsweek.com/germany-require-proof-covid-booster-shot-enter-bars-restaurants-1666958 Germany requires proof of COVID boosted shot to enter bars, restaurants