GOP rivals yell and argue more about each other than Trump in Fox News debate
Eight Republican presidential candidates — minus lead candidate Donald Trump — squared off in the first Republican presidential primary debate of the season Wednesday night in Milwaukee.
Even though Trump skipped the Fox News event to conduct a one-on-one interview with Tucker Carlson on his X account (aka Twitter), the former president still managed to dominate the Fox News-hosted show in absentia.
The Republican candidates, who met on a stage in Milwaukee, Wisconsin, shot at Trump while trying to outdo one another – often loudly. And the shouting didn't just come from the stage, the raucous audience also joined in, often shouting down candidates who, you guessed it, spoke ill of the former president.
Present were Former New Jersey Governor Chris Christie, Florida Governor Ron DeSantis, Former UN Ambassador Nikki Haley, Former Arkansas Governor Asa Hutchinson, Former Vice President Mike Pence, Senator Tim Scott of South Carolina, North Dakota Governor Doug Burgum and entrepreneur Vivek Ramaswamy.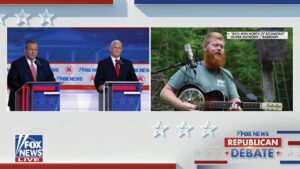 Fox opened the broadcast debate with the national anthem sung by Christian music star Natalie Grant, followed by an opening debate question centered on the unlikely hit song "Rich Men North of Richmond." But before the debate really got started, commentator Trey Gowdy, a former Republican congressman from South Carolina, delivered a brutal assessment of the candidates, pointing out what they had in common.
"They're all behind," Gowdy said, adding that all eight candidates would need to be brave to get noticed by Republican voters who favor Trump.
During the debate, Ramaswamy was particularly taunted when he criticized the other candidates and the "climate change agenda".
"Let's be honest as Republicans. I'm the only person on stage who isn't bought and paid for, so I can say that. The climate change agenda is a sham," Ramaswamy said, adding that it is also a "wet blanket" for the economy
Christie criticized Ramaswamy for his lack of political experience.
"I'm sick of a guy…sounding like Chat GPT," Christie, 60, said of Ramaswamy, 38.
Introducing himself to voters who might be wondering, "Who is that skinny guy with the funny last name?" Ramaswamy proudly described himself as an entrepreneur, not a politician.
Christie said the last presidential candidate to introduce himself this way was Barack Obama, and cautioned voters against voting for a repeat of this Democratic president.
"I'm afraid we're dealing with the same kind of amateurs on stage tonight."
Christie said the party must also stop supporting Trump "who flouts the Constitution." Christie said he didn't know how Trump's criminal proceedings would go, but "the conduct is under the United States Office." Christie was mocked by Trump supporters in the crowd, saying he supports their free speech. "Booing is allowed, but it doesn't change the truth," Christie said.
Ramaswamy said Christie sounded like he was "running for president of MSNBC."
In one of the few positive comments between the candidates, Christie praised Pence for rejecting Trump's request that Pence, in his role as US Senate President, try to overturn the results of the last election.
"Mike Pence stood up for the Constitution … He deserves our thanks as Americans," Christie said.
Ramaswamy took the opportunity to become the only candidate to double down and promise to grant Trump a presidential pardon if he won, earning another dig from Christie
"Here is the bottom line. "Somebody has to stop normalizing[Trump's]behavior," Christie said. "Whether or not you believe the criminal charges are right or wrong, conduct is under the Office of the President of the United States. And you know, that's the great thing about this country: booing is loud, but it doesn't change the truth."
Pence, meanwhile, said he was proud of the work he's done as vice president in supporting the Constitution.
"No one is above the law, and President Trump is entitled to the presumption of innocence … but the American people deserve to know that the President … asked me to put him above the Constitution." And I chose the Constitution, and I always will." He added that Kamala Harris also won't be able to change the 2024 election results.
Christie and Ramaswamy got into another argument over Trump and Ramaswamy's book. Christie said Ramaswamy was more critical of Trump in the book than he was during the campaign.
Meanwhile, Florida Gov. Ron DeSantis spoke out strongly against abortion.
"I will support the cause of life," DeSantis said. "We're better than what the Democrats sell."
He argued that he would also put America back on track after four years of Biden.
"Our country is in decline," DeSantis said. "We have to send Joe back to his basement so the Americans have another chance to be successful."
One of the boldest statements of the night came from Scott, who slammed teachers' unions for ruining education in America.
"The only way to change education in this country is to break the backs of teachers' unions. They are at the door of our children, locking them in failing schools and shutting them out from the greatest future they could have," Scott said.
To qualify for the Republican National Committee event, candidates had to score at least 1 percent in multiple early voting polls in the states of Iowa, New Hampshire, South Carolina and Nevada. (They also had to show that at least 40,000 individual donors had donated to their campaign committees.)
The candidates also had to sign a pledge that they would support the eventual Republican presidential nominee; They had to agree not to participate in any non-RNC sponsored debate for the remainder of the 2024 election cycle and they had to commit to sharing data with the National Committee.
Trump, who currently leads 30 to 40 points in nationwide polls, has been reluctant for months on whether or not he would participate in official Republican debates or not, but amid the RNC demands, Trump decided to, with Carlson, who was, his own Fired from Fox News earlier this year to go away.
With both Trump and Carlson setting their own goals, the two men found common ground in a largely friendly conversation Wednesday night.