During his time in Second City, Stephen Colbert once punched Jim Belushi in front of a live audience. The current host of CBS' The Late Show opened up about the "amazing" encounter in the second episode of the series "Strike Force Five" podcast.
During the episode, Colbert was asked about the most famous person he'd seen during his stay at Second City, the improv school that counts stars like Colbert, Amy Poehler, and Bob Odenkirk as alumni. After initially responding to Robin Williams, Colbert noted that the "According to Jim," "K-9," and "The Blues Brothers" star "stands out" because he likes "to slap people on stage."
"He slapped someone on stage to get a shocking reaction from the audience," Colbert said. "He's got these big old meat hooks of those hands. So he picked someone who made him feel like, "This guy isn't going to hit me back." And he would jerk her off."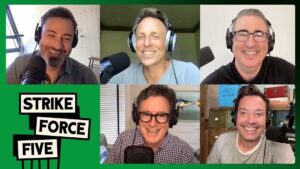 Though Colbert noted that he understood "1,000%" why Belushi was doing what he was doing, he also recalled the one time he stopped the younger Belushi from being on stage.
"One night, I think, it went a bit too far. Apparently, Mr. Belushi was unaware that it had gone too far. It was all a lot of fun," recalls Colbert.
On the night in question, the Second City group performed the impromptu game "Freeze Tag" to a live audience. The game, also called clap, switch or freeze, begins with two players re-enacting a scene. If another performer yells "freeze" backstage, both actors must freeze in their positions. The third offstage cast member then inserts himself into the scene, replacing one of the onstage cast members and beginning a new scene. During that particular game, Colbert called out "Freeze" after Belushi hit another player. Only this time he didn't take anyone's position.
"I said to the guy, 'Hit him back. This will never stop unless you hit him back.' "Like a father talking to a kid who's being bullied," Colbert said. After a huge audience reaction, the man Belushi hit refused to touch the star.
"So I turned to Belushi and said, 'So,' and I gave him the fastest shot I could throw at him from close range," Colbert said.
According to the late-night host, there was "chaos in the house." The two men had to be pulled away from each other and the lights went on in the theater. "We stand backstage and yell at each other. It was fantastic," said Colbert. "He was a little upset."
Oddly enough, that wasn't the only Jim Belushi story that "Strike Force Five" had up its sleeve. In the early days of Jimmy Kimmel Live!, Belushi was the guest while Mr. T co-hosted the series with Kimmel.
"And they didn't get along," Kimmel said.
According to the ABC host, Mr. T was doing his "tough guy" and Belushi wasn't going along with it.
"I don't remember exactly what he said, but the result was that the two of them faced each other and had a little argument. They were about to fight," Kimmel said. "It was immediately clear to me that Jim would overpower Mr. T. and that would mean the end of Mr. T."
Kimmel added that he believes Belushi has an advantage because Mr. T is "not that tall and much older." The late-night host later resolved the dispute. When Colbert asked him who he thought caused the incident, Kimmel immediately said, "Belushi, 100%."
Hosted by Colbert, Kimmel, Jimmy Fallon, Seth Meyers and John Oliver, "Strike Force Five" is a late-night podcast featuring the biggest names in the late-night scene about the ongoing WGA and SAG-AFTRA strikes. All proceeds from the recently launched podcast will go to unemployed employees of the hosts' respective shows.