Hot Wheels Unleashed 2: Turbocharged announced for Switch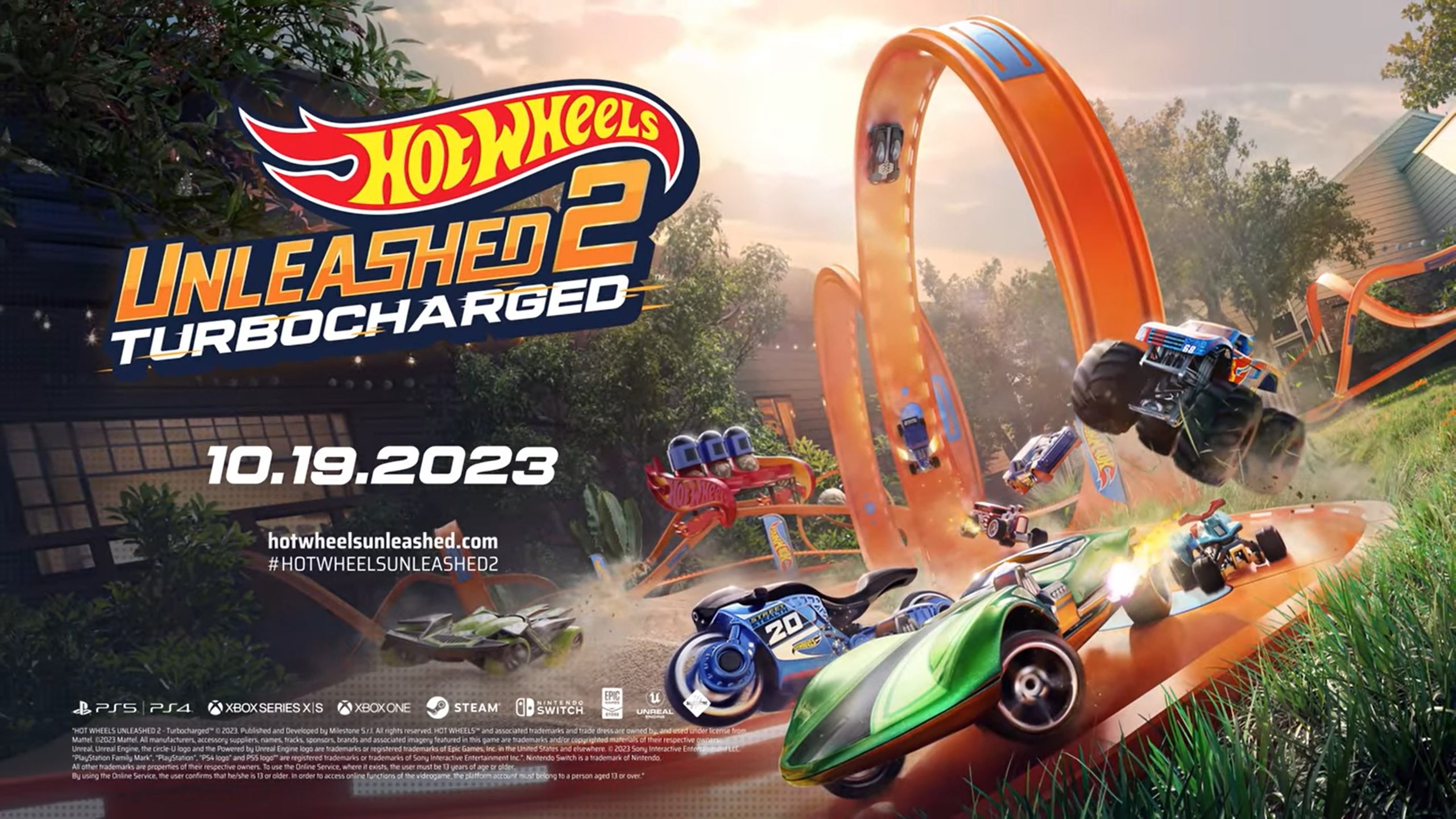 Original (May 31): Milestone officially announced today that it is developing Hot Wheels Unleashed 2: Turbocharged and will release it for Switch later this year. The announcement follows previous leaks around the game.
Hot Wheels Unleashed 2: Turbocharged will feature motorcycles and ATVs, new locations, new game modes, improvements such as the ability to create a party with friends, a story-driven career mode with four original characters and more. We have a number of details below.
First things first: Make room on your virtual shelf because you have access to more than 130 vehicles and even more variants! Yes, not just Hot Wheels Originals, but also Hot Wheels Monster Trucks and vehicles from the entertainment world. Now you can also drive motorcycles and ATVs, each with its own unique racing style to master each track in the most strategic way!

A brand new system defines the category of vehicles that can be upgraded with the special skill tree that directly affects their performance. Watch your car become unstoppable!

Whether it's the backyard of a suburban home or a mini golf course in a Wild West village, your courses will be surrounded by the most breathtaking environments! Discover 5 brand new locations, master their secrets and you'll feel at home both there and on the podium.

New Terrain is another fantastic new entry that will make your races even more exciting and challenging. Grass, sand and more directly affect the vehicle's handling. You should take this into account when choosing your vehicle. Strategy now plays an even bigger role!

Before you impress your opponents with a great victory, leave them speechless with new crazy moves! In addition to Drift and Boost, you can now also show off your Lateral Dash and Single or Double Jump. Use them wisely and at the right time to hit your rivals and knock them off the track… or simply to avoid those obstacles! And with the new jumps you can skip the traffic and find new secret shortcuts too!

Are you a daredevil who turns every race into pure adrenaline? Or are you perhaps the type of person who likes to test their limits? Did you say "fan of big crashes"? Well, HOT WHEELS UNLEASHED 2 – Turbocharged offers all of that and more. Different game modes for everything that means "fun" to you, offline and online.

The most renowned editors are back! Create the track of your dreams with the powerful track editor or use the best creations from the community!

And of course, beautiful tracks also require great cars. The new and improved Paint Editor is exactly what you need: new tools like the Sticker Editor let you design and save patterns and shapes to create your masterpiece. We are sure your imagination will come up with the best!

Literally. The new campaign mode offers a brand new and original story adventure! The city is under attack and only you can save it from the creatures. How? Easy to win exciting, special races and challenges! Okay, it won't actually be that easy… but it will definitely be exciting! So be ready to be not just a winner but a real hero!
Luisa Bixio, CEO of Milestone, said of today's announcement: "We are delighted by the enthusiasm of the press and players for the first Hot Wheels Unleashed, which became a global success and reached more than eight million players worldwide." Building on that solid foundation that earned us unanimous recognition. With Hot Wheels Unleashed 2: Turbocharged, we decided to create a brand new gaming experience to raise the bar for arcade fun even higher. Having a partner like Mattel by our side is a great reason to be proud and we are ready to achieve new shared goals even faster."
Mike DeLaet, global head of digital gaming at Mattel, added: "Having just celebrated its 55th anniversary, the iconic Hot Wheels brand continues to inspire the challenger spirit of consumers around the world in a seemingly endless variety of media – especially online Gaming." After the tremendous success of Hot Wheels Unleashed, we're excited to once again work with our talented partners at Milestone to bring fans an all-new game with next-generation graphics and even greater thrills."
Below you can find the first trailer for Hot Wheels Unleashed 2: Turbocharged.
Announcement trailer
---
Update (June 27): A gameplay trailer was released and we have it below.
Gameplay trailer
---
Update (September 15th): A second gameplay trailer was released, which we have below.
Gameplay trailer 2
Related