How to find the three hidden ghost snacks in Invasion at the House of Horrors – Kirby and the Forgotten Land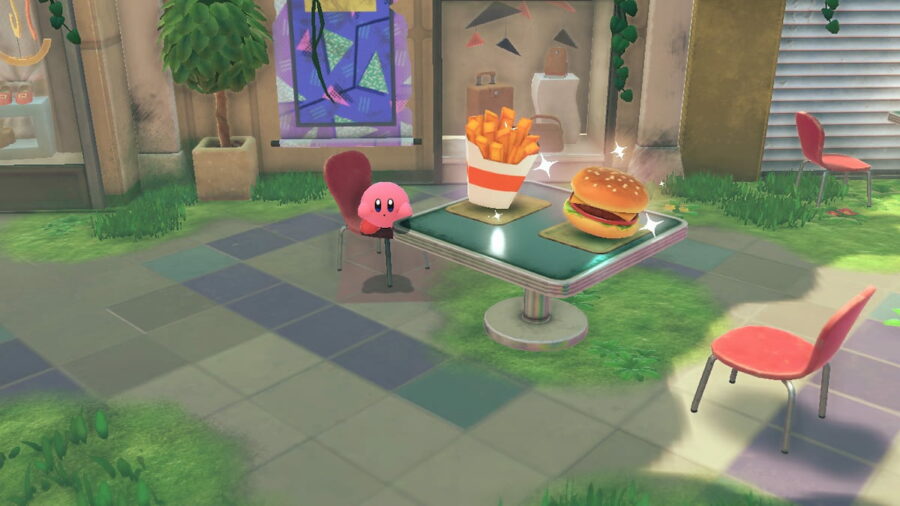 Screenshot of Pro Game Guides
Kirby is tasked with completing all possible missions in each phase of the latest entry in the series, Kirby and the Forgotten Land. Called on stage Invasion of the House of Secretsthe third stage in Wondaria staysthe players must find three Hidden Snacks to complete one of these missions.
Where are the three hidden snacks in Invasion of the House of Deadlock?
This stage can be tricky to navigate as much of it is played out in an almost pitch black room. Here's how to get to each of the snacks during this spooky phase.
Hidden Snack #1 – Candy Bar
The first hidden snack is secretly hidden behind a stack of multicolored hexagonal objects. As soon as the camera angle rotates, the chocolate bar will come into view.
Related: Where to find all hidden Waddle Dees in Invasion at the House of Horrors – Kirby and the Forgotten Land
Hidden Snack #2 – Macaroons
Another hidden snack is in the dimly lit room where Kirby uses the Lightbulb Bite Mode. It appears as red macaroon and is in the back of the room to the left of a door with three stars above it.
Hidden Snack #3 – Piece of cake
The Last Hidden Snack, a piece of cakecan be found later in the level behind a stack of smaller hexagonal objects.
Are you interested in exploring the world of Kirby and the Forgotten Land and want to read more? Check out the Pro Game Guides on where to find all the hidden Waddle Dees in The Wondaria Dream Parade – Kirby and the Forgotten Land!
https://progameguides.com/kirby-and-the-forgotten-land/how-to-find-the-ghosts-three-hidden-snacks-in-invasion-at-the-house-of-horrors-kirby-and-the-forgotten-land/ How to find the three hidden ghost snacks in Invasion at the House of Horrors – Kirby and the Forgotten Land