How to unlock all Of-Drink-A-Dreaming Recipes in Genshin Impact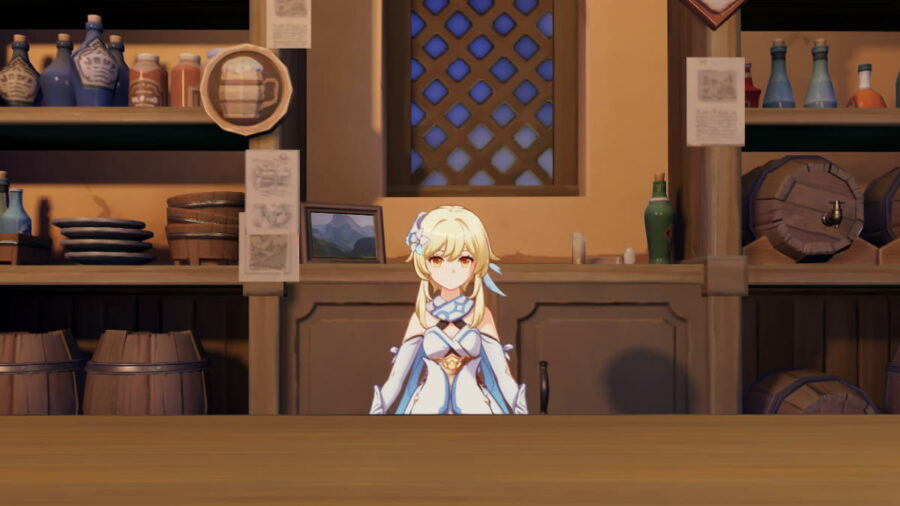 Screenshot by Pro Game Guides
Of-Drink-A-Dreaming is Genshin Impact's first bartender event, which gives you a chance to test your drink-mixing skills at Monstadt's very own Angel's Share. The event runs from Mar. 10, 2022, to Mar. 21, 2022.
How to Unlock Recipes
During the event, you can complete a series of Tavern Tales to make drinks for visiting customers. After completing all Tavern Tales, you also get the opportunity to unlock the rest of the 21 drink Recipes to obtain a limited event Namecard, the Celebration: Binge Vessel.
If you can't wait to complete all Tavern Tales to get the Namecard, you can intentionally fail the day's requests by making drinks not requested by the customer. It won't hurt your event progress, as you can try again as many times as you need to complete each request.
Related: Should I C6 Bennett in Genshin Impact?
All Of-Drink-A-Dreaming Recipes
Check out all the event Recipes below. Recipes initially marked with a ??? can be unlocked by completing Tavern Tales.
Coffee Foundation Recipes
Drink
Ingredients
Athenaeum
Coffee x3
Moonlit Alley
Coffee x1 
Milk x1 
Cocoa Paste x1
Golden Eden
Coffee x2 
Milk x1
Night of Swirling Stars
Coffee x1 
Milk x2
Caramel Pinecone
Coffee x1
Milk x1
Caramel x1
??? (Foamy Reef)
Coffee x2
Fizzy Water x1
Tea Foundation Recipes
Drink
Ingredients
Scholar's Afternoon
Tea x2 
Milk x1
Brightcrown
Tea x1
Milk x2
Boreal Watch
Tea x1
Milk x1
Mint x1
Laughter and Cheer
Tea x1 
Milk x1 
Cocoa Paste x1
Tart Brilliance
Tea x2
Lemon x1
??? (Love Poem)
Tea x1
Milk x1
Caramel x1
??? (Misty Garden)
Tea x3
Juice Foundation Recipes
Drink
Ingredients
Gray Valley Sunset
Juice x3
Sweet Cider Lake
Juice x1
Milk x2
Dawning Dew
Juice x2
Fizzy Water x1
Barbatos' Boon
Juice x1
Fizzy Water x1
Mint x1
??? (Snow-Covered Kiss)
Juice x2
Milk x1
??? (Birch Sap)
Juice x2
Lemon x1
Blend Foundation Recipes
Drink
Ingredients
Stroke of Night
Tea x1
Coffee x1 
Milk x1
??? (Dusk)
Tea x1
Juice x2
Check out our Genshin Impact Of-Drink-A-Dreaming Event Guide to discover how to initiate the event and mix drinks.
https://progameguides.com/genshin-impact/how-to-unlock-all-of-drink-a-dreaming-recipes-in-genshin-impact/ How to unlock all Of-Drink-A-Dreaming Recipes in Genshin Impact