'I own an underground Hobbit house, a tree house and a giant potato hotel'
When I was 28 years old, I built my first little house. It was in the early 2000s, when the tiny house movement began. Mine isn't fancy at all, it's just a barn I built for about $3,000.
At that time, I was doing different experiments for a year. I've been vegan and cut out sugar and don't drink alcohol, so I decided to give minimalism a try. I make $13 an hour working in a factory and my mom and I worked on building it over the weekend from used materials. When I was growing up, I spent a lot of time with my mother renovating and building the low-income housing my uncle owned, and that was really where I learned the basics of renovation and build.
A couple of growers rented me a piece of RV land, and when I moved into my little house, I immediately fell in love with the forced simplicity. A few weeks later, I decided to go look for land to buy. That was my first experience trying to find an affordable piece of land with a very modest income. I bought some tiny plots of land in Idaho, about half an acre, and my price was $5,000. There is a train track nearby but nothing else out there. When I put my tiny house out there a year later, I decided to make it off-grid because there was no local utility. That was the only time I questioned myself, because it's really hard to find water and solar energy.
Build a Hawaiian tree house
During that project, I also really wanted to build a tree house and in my mind I pictured it in the woods. So naturally, I decided to go to Hawaii, never been there! I found a guy who had a plot for sale for $8,000 on Craigslist, and since I didn't have that money at the time, he allowed me to pay in installments.
Shortly after I purchased my property in Hawaii in 2013, a listing popped up to tour the country with the Idaho Potato Commission and a giant 6,000 lb fake potato. I loved Idaho so much, so I applied and got that job, it was an amazing experience because I had to travel all over America One day we were going to be in a tractor parade in a town of 400 and then the next day we'll be in Times Square, New York. The potato itself was hollow, it had a door with stairs going down, so we left our luggage, bicycles and brochures inside. Once I see that you can open a potato, I want it in the backyard, next to my little house, someday.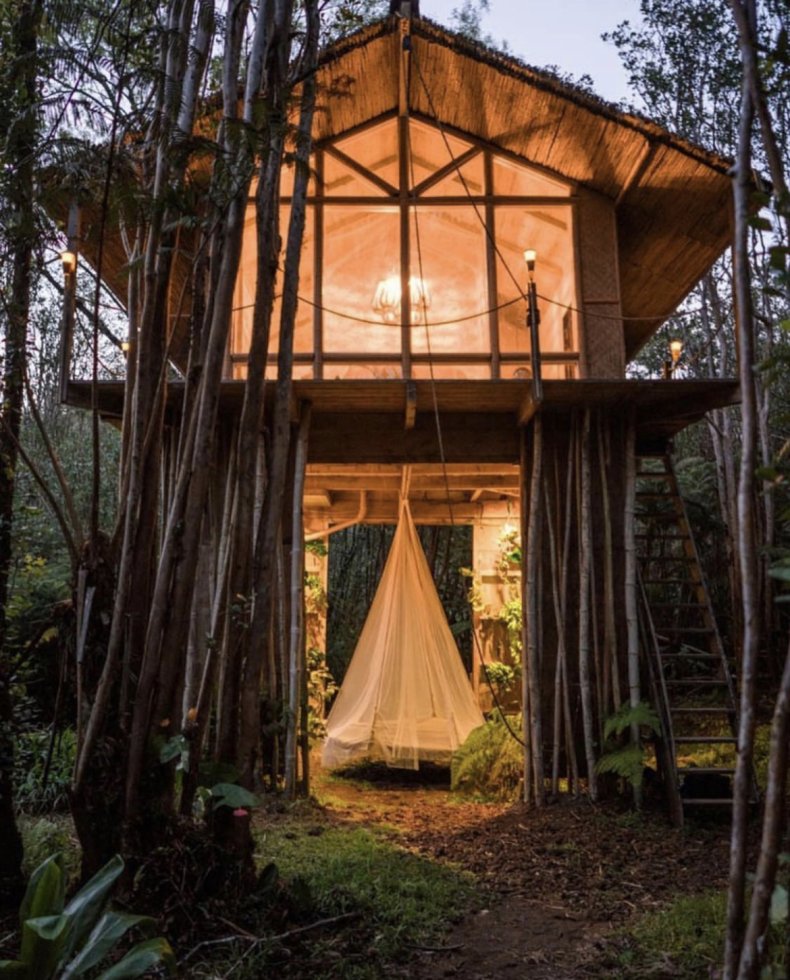 Between tours with the giant potato, I started working on my treehouse. The land is located in the rainforest about five miles from Volcanoes National Park, and the construction of this property took me a total of three months, with the help of my mom and dad. The places I stay are small so the treehouse is about 230 square feet and it's a square open plan space with a window in the front, a bedroom, a kitchenette, and an indoor/outdoor bathroom space. It also has a hanging bed underneath, which was not the original plan. Eventually I had to build a house on stilts that created a void underneath, but now the hanging bed is what everyone recognizes.
Underground hobbit hole and retired fire observatory
When we were building the tree house, my mom kept grumbling about having to climb the ladder, so I told her my next real estate project would be inside a hill. As a result, after the treehouse, the Hobbits went home.
I wanted people to be completely transported when they visited my property, so I wanted to find the perfect undulating hills for the Hobbit pit. I ended up buying a 5.5-acre piece of land for $18,000 in Chelan, Washington, near a huge, blue lake. I had an excavator dig the ground and then we framed the house inside the hill and he buried it.
Not wanting a path leading up to the Hobbit's pit, guests parked their cars at the bottom of the hill and walked up. That means everything has to be done up the mountain by hand, including the bathtub that weighs hundreds of pounds. However, I don't regret it, I think it looks great.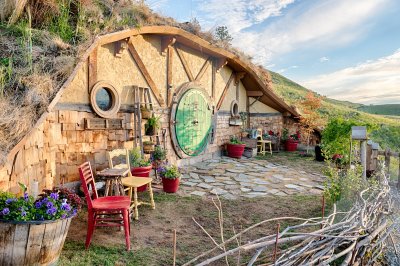 For every property I build, I'm usually on the land alone for a few months so I'll spend some time reading books on the subject. I read the first post Lord of the Rings books, but I'm not a fanatic at all, so the internet became my savior. I will go up Reddit and questioned whether certain items, like clocks, were in the Hobbit's hole.
My Hobbit's pit had a round gate and was dug deep into the hill, but I decided to imagine the Hobbit living there as a woodworker. The property has a small work desk where guests can actually rotate the blocks. There is also a wooden floor and a wooden bathtub.
I shot a pilot about making a hobbit hole for a television network and they gave me some money to film and build, but I bought the property and actually bought 40 more acres in the area. area. I'm planning on building three more hobbit pits, spending $50,000 on the actual house and then another $50,000 on each to build roads, septic, electricity and water.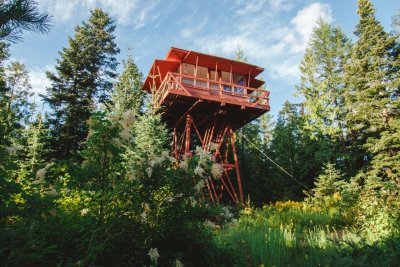 Both the treehouse and the hobbit pit are actually considered vacation rentals, so in 2016 I bought a retired firehouse in the Idaho Panhandle and renovated it. It's a 25ft tall tower built in 1954 and features shutters that open all around and an open space box design inside. There is a bedroom and kitchen in one space and then a separate fireplace and observation area. My mother, my brother and I also built a large outside deck and moved a dilapidated log onto it, we turned it into a wooden sauna with a fire pit outside. We even have a classic snow cat that takes people there in the winter.
Turn a potato into a hotel
During this time, I maintained a relationship with the Idaho Potato Commission and told them I wanted the potatoes when it retired. They ended up having to upgrade to a smaller fiberglass potato, so they gave me an old concrete one and even shipped it to my property. Now it is a roadside attraction and a hotel. I also have a cow that lives there and it's as famous as a potato!
The giant potato hotel is a room with a seating area and kitchenette, with a separate bathroom in a grain cellar about 50 meters away. It still looks like a potato on the outside, but it's actually very bright inside. I didn't add any windows because I don't want to assume it's not a potato, but everything is white and there's so much light in it, you don't feel claustrophobic at all. And, people describe the bathroom as a spa because it has a huge trough tub with plants; It was beautiful.
I can say I spent about $30,000 on renovating my potatoes and installing power and other infrastructure and when I opened it up in 2019 it went viral. The best comment I read said, "The moral of the story is this: you may be like a potato on the outside, but beautiful on the inside."
In renovating the potato, I knew it was my dream, but I didn't know if it would be as successful as my other three properties. However, within the first week of our launch, bookings skyrocketed. It's a real mix of guests; There were professors of agriculture who stayed and lots of young people under 25. I recently had a guest who just turned 26 and wanted to rent it out for her potato themed birthday party. Hobbit Holes get a lot Lord of the Rings or Hobbits Fire fans and keepers tend to be outdoorsy couples. Although I haven't reopened my tree house in Hawaii since the pandemic, the guests there are all on their honeymoons, which really works for the aesthetic.
This year, I worked on a ship-shaped house on a mountain lake in Salmon, Idaho. It was a property that someone else built that was shaped like a ship, but it was nicknamed the shipwreck house because it looked like a ship hit by a cannonball. I also have a prefab building that looks a bit like a wooden Airstream that came in from Estonia in January. It will be located by a lake in Oregon and will be a "boat-only" property. For that property, I also purchased a small 4-person sauna that will go on the nearby pier as a floating sauna.
Because of COVID, I overcompensated in 2021 and worked the whole thing. I put about 60,000 miles on my truck each year to drive to my property. It's been tough and I'm struggling with a bit of workaholic because I love it so much. Luckily, I have great local carers in each location who do a lot of things, because it's not just revenue, we have a lot of specials in each place.
I think with all four properties in operation, my total annual revenue is about $380,000. During COVID when one area is really strict, another is open and where I live is also very rural, so locals have rented them out. After the first few weeks of crazy cancellations, I didn't really feel the financial impact I thought I would.
I financed everything myself apart from a donation from the TV company. No bank will lend you a potato! But this year, I have partnered with two different finance partners for future projects and so far, things are going very well.
I still live in a small house, although it is not the original house. I built another one from a diagram of a small house on the same plot of land with potatoes and cows. I love that cow so much!
I like the unusual. I can see myself in a very old house or a house with a lot of character, but I have never been able to rent an ordinary house in the suburbs. I feel my soul is broken. When I first moved to Boise, I was viewing the property with my brother and I could feel my tears welling up, I just can't live like that; I would rather live in a van. So I think I'll always live in something unique or historic, but I doubt I'll be here in the suburbs of Boise for a very long time.
Kristie Wolf is a real estate entrepreneur living in Idaho. You can follow her on Instagram @kristiemaewolfe and learn more about her and her properties at kristiewolfe.com.
All views expressed in this article are those of the author alone.
As told Jenny Haward.
https://www.newsweek.com/i-own-underground-hobbit-home-tree-house-giant-potato-hotel-1661501 'I own an underground Hobbit house, a tree house and a giant potato hotel'