Information missteps have led to questions about Israel's credibility
In addition to its battle with Hamas, Israel is fighting another battle: convincing the world, and especially the United States, that this is a just war.
Israel's public relations machine has gone into overdrive in recent weeks to make clear that the attacks on Gaza were necessary and carried out in a manner aimed at minimizing civilian deaths. It has allowed journalists, including those from NBC News, to embed themselves with its soldiers in Gaza, ensured steady circulation of social media posts and made Israeli representatives available for television appearances.
However, in doing so, it has published several inaccurate or controversial information, including claiming that an Arabic calendar was a shift schedule for Hamas kidnappers and using curtains as evidence that hostage videos were filmed in a hospital.
The widespread reaction denouncing these questionable pieces of evidence has, according to some experts, weakened Israel's credibility and could lead to a "boy who cried at wolves" situation unless there is concrete evidence of a Hamas headquarters under Al-Shifa Hospital in Gaza is found to be one of Israel's key points of contention at this stage of the war.
"The irony is that they might find something and no one will believe them," said HA Hellyer, senior associate fellow at the Carnegie Endowment for International Peace, a think tank in Washington, D.C. "At that point their credibility is shaken."
This is not an impartial information war between Israel and Hamas. The latter is a terrorist group banned in the United States and Europe that carried out the October 7 attack in which around 1,200 people were killed.
Among a variety of false claims, Hamas claimed without evidence that Israel bombed Al-Ahli Hospital on October 17, killing 500 people. Israel denied this and said that a misfired rocket from Palestinian militants instead caused the explosion, a conclusion supported by evidence analyzed by NBC News.
And although some of Hamas' propaganda could be circumvented Western efforts to limit its reachHellyer, whose career has included senior anti-radicalization roles in the British government, said this information war should not be seen as a war between two equal parties.
"We don't take seriously what a terrorist group says, but we take seriously what an army says, especially one that is an ally of ours," he said. "So of course we set a higher standard."
Israel knows that the international debate matters. While the White House supports Israel's stated goal of destroying Hamas in response to the Oct. 7 attack that killed around 1,200 people, Biden administration officials have privately expressed concerns that the Israel Defense Forces are not doing enough To prevent civilian deaths, which have already occurred, according to Palestinian health authorities, more than 12,000, more than half of whom were women and children.
The pressure doesn't just come from the USA. This week, the 15-member UN Security Council voted to pause fighting. And around the world, hundreds of thousands of protesters were in the streets demanding a ceasefire.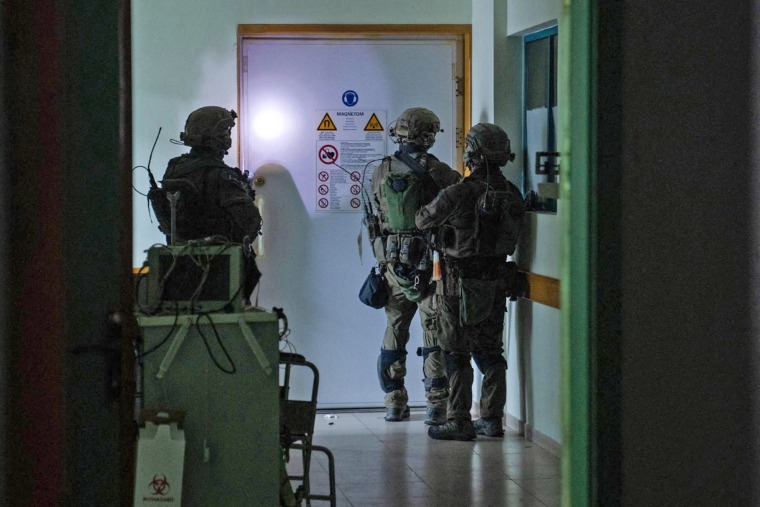 Surveys suggest so Much of the goodwill shown to Israel after the October 7 attacks has now ebbed in the face of images showing mass casualties and destruction in Gaza.
Nimrod Goren, a Jerusalem-based senior fellow for Israeli affairs at the Washington-based Middle East Institute, the oldest think tank focused on the region, said these changes are not going unnoticed.
"The impression is that Israel is taking into account American and other Western concerns in conducting its military operation to ensure that support continues and criticism does not exceed a certain limit," Goren said.
A wrong calendar and wrong curtains lead to ridicule
Much of Israel's public relations efforts have focused on hospitals, where IDF attacks have contributed to a rapid increase in the Palestinian death toll. Israel has alleged that Hamas is using the facilities as military bases, making them legitimate targets. Hamas has rejected these claims.
The Israeli military says it has found a tunnel shaft, a vehicle with weapons and other caches of weapons and ammunition in Al-Shifa. Israel said its soldiers found nearby the bodies of Yehudit Weiss, a civilian hostage, and Noa Marciano, a 19-year-old soldier, both abducted by Hamas on October 7.
But attempts to prove this have at times damaged Israel's cause.
In particular, IDF spokesman Daniel Hagari presented evidence that Al-Rantisi Hospital was used by Hamas to hold hostages. He pointed to a piece of paper and said that it had a duty roster for guarding the prisoners. "Every terrorist has his own layer," he said.
Above the document was written in pen: "Al-Aqsa Flood," Hamas's name for its Oct. 7 attack. However, Arabic speakers pointed out that the rest of the newspaper only showed the days of the week and no trace of the names of the Hamas hijackers described by Hagari.
Elsewhere in the hospital, he pointed out that curtains were hung on a wall with no windows. There is "no reason" to do this "unless you want to film hostages and deliver films," Hagari said.
Some people in the region pointed out that this is a common interior design theme in Palestinian households.
In response, the IDF told NBC News that it had made an "immediate correction" to Hagari's calendar comment and that any "suggestions that the IDF is manipulating the media are false."
"We are taking all necessary precautions to report as much information as possible," it said in a statement, "while ensuring the safety of our troops and our operational readiness."
Nevertheless, ridicule soon followed. Videos on social media mock increasingly ridiculous and mundane objects considered "IDF evidence."
Israel has previously been accused of spreading misinformation. Last week, Ofir Gendelman, Prime Minister Benjamin Netanyahu's Arab media spokesman, posted on Although countless people corrected him that the footage was actually from a Lebanese film, it had not been deleted as of Friday.
According to the International Committee of the Red Cross, attacking a hospital is a war crime unless a military or militant group uses it for operations. Even then, doctors and patients must be warned, with particular care taken to ensure that those remaining are not harmed.
Israel says it has warned doctors and patients at hospitals allegedly used by Hamas. However, many doctors say they are unable to transfer critical patients and are unwilling to leave them behind. Doctors in Al-Shifa have vehemently denied that it is being used as a base for militants.