Iranian president says Tehran will spend $6 billion on prisoner swap 'wherever we need it'
Iranian President Ebrahim Raisi said his administration will decide how to spend $6 billion in previously frozen funds set to be released under a prisoner exchange deal with the United States, telling NBC News' Lester Holt that Money will be spent "wherever we need it."
In an exclusive interview in Tehran, Raisi hinted that the Americans held in Iran would soon return home, saying that the U.S.-Iran prisoner exchange deal would be finalized "in due course" and that the American prisoners are in "very healthy" condition.
As part of the agreement, Tehran will have access to around $6 billion in Iranian oil revenues that were blocked from South Korean banks due to U.S. sanctions. But U.S. officials say Qatar's central bank will monitor the funds and that Iran can only use the money for humanitarian purposes in accordance with U.S. sanctions.
But Raisi said Iran had "authority" over how the funds were spent. "This money belongs to the Iranian people, the Iranian government, so the Islamic Republic of Iran will decide what to do with this money," he said, according to an Iranian government translator.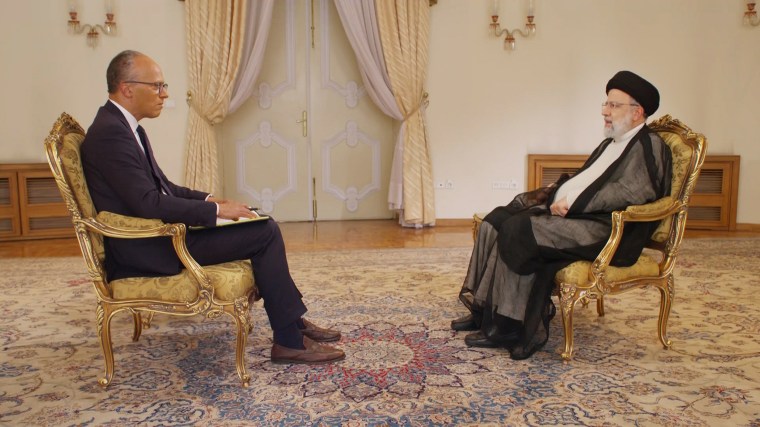 Asked whether the money would be used for purposes other than humanitarian, Raisi said: "Humanitarian means everything that the Iranian people need, so this money will be budgeted for those needs and the needs of the Iranian people will be met by the government decided and determined." Iranian government."
The prisoner swap calls for the release of five American citizens held in Iran in return for five Iranians imprisoned in the United States and also gives Tehran access to the $6 billion in oil revenue that has been blocked.
As a first step in the agreement, the five American prisoners were placed under house arrest on August 10, with their release conditioned on the transfer of funds from South Korea to the Central Bank of Qatar.
The Biden administration told Congress on Monday that it had taken concrete steps to clear the way for the prisoner swap, issuing a waiver allowing international banks to transfer the $6 billion without the threat of U.S. sanctions to transfer to Qatar.
Although Raisi said the five American prisoners are doing well, their families say they were subjected to lengthy interrogations and ill-treatment. Siamak Namazi, who has been imprisoned in Iran since 2015, said he was held in solitary confinement for the first 27 months of his detention. Babak Namazi, his brother, said that Namazi was beaten.
Iran says it treated the Americans lawfully and humanely and rejects accusations from the United Nations and human rights groups that the Americans were detained on false charges.
NBC News first reported on the prisoner exchange negotiations in February. For more on this story, tune in to "NBC Nightly News with Lester Holt" Tuesday nights at 6:30 p.m. ET/5:30 p.m. CT or your local programs.