Is this a video of Russian nuclear weapons moving towards the Russian-Finnish border?
Claim:
A video filmed after Finland joined NATO shows Russian nuclear weapons near the Finnish-Russian border in Vyborg, Russia.
context
The video is not from Vyborg or anywhere near Russia's border with Finland. The video was shot in another Russian city where equipment for the Russian Strategic Missile Forces is regularly transported to and from military parades in Moscow.
On April 6, 2023, a Twitter account associated with pro-Russian disinformation – @Spriter99880 – tweeted the alarming news that Russian media had reported that after the latter country joined NATO, strategic nuclear missiles were discovered in transit to Vyborg, Russia, on the border with Finland.
This claim is false for several reasons. First up is the actual location where the video was shot. Several Internet sleuths geolocates the location of the videoand placed it in a town called Kolchugino northeast of Moscow.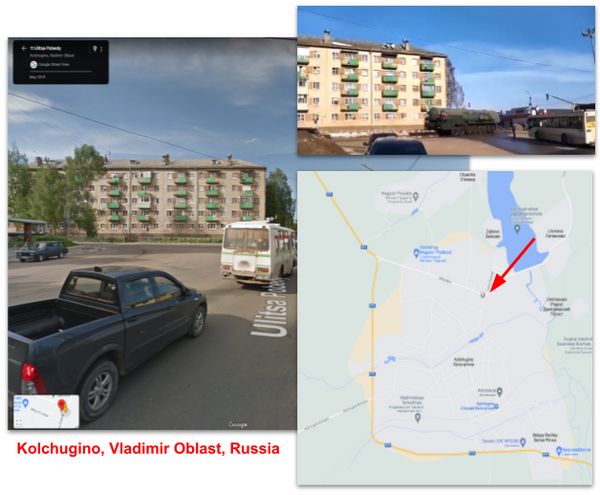 Kolchugino is a problematic location for a video allegedly showing nuclear weapons moving towards the Finnish border, as it is a day's drive (without nuclear weapons) from Vyborg: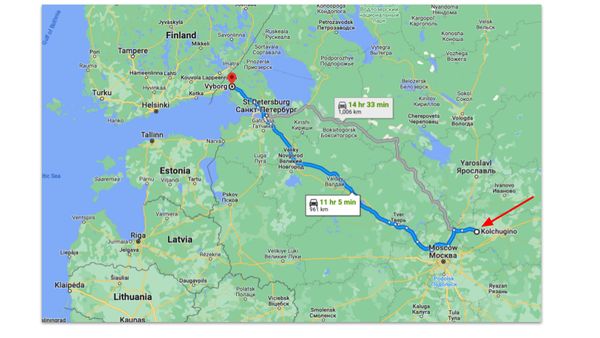 A video of nuclear missiles filmed in Kolchugino is problematic as a source of saber-rattling propaganda for yet another reason – the transit of nuclear-capable missiles not only through the same city, but also through the same intersection appears to be an almost annual occurrence. Due to the flag the military vehicles carry, they belong to Russia's Strategic Rocket Forces (SRF).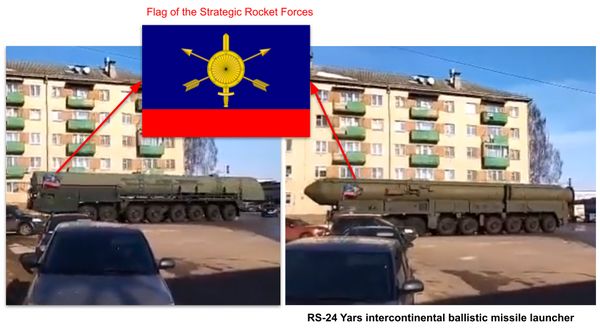 At least some of the large missile systems in the video are consistent with what was identified B. the missile launch system RS-24 Yars, which can be used to launch nuclear warheads. As described In the Ukrainian media, these units represent the ground segment of the Russian nuclear triad:
The Strategic Rocket Forces (SRF) of the Russian Federation are a separate branch of the Russian Armed Forces armed with ICBMs with mobile and stationary nuclear warheads. These form the ground component of the nuclear triad, which also includes submarines and long-range strategic aircraft armed with such missiles.
Their passage through the city is typical of parades, not nuclear threats. Every year in May, the Kremlin holds the victory parade in Moscow to commemorate the Allied victory in World War II. The parade often features Russia's most formidable military weapons, and therefore always includes SRF troops and equipment. Countless videos on Russian-language social media and Youtube show that SRF often, if not always, follows a route to and from this parade that takes them through Kolchugino.
For example, a May 2015 video is described (via Google Translate) as "Return of equipment from the parade to Moscow through Kolchugino 05/13/15" and shows generally the same crossing and equipment as the viral video in 2023:
Other angles of the 2015 procession were captured including This one here on the Russian-language version of Facebook. Video from a year later, also in early May, shows generally the same conglomeration of vehicles driving through a town identified as Kolchugino:
Videos like this one from Kolchugino can be found from the past to 2012.
They are not unique, nor are they responses to the geopolitical crises caused by Russia's large-scale invasion of Ukraine in February 2022. In particular, however, this video does not show events anywhere near the Russian-Finnish border. Therefore, the claims about these videos are "false" in April 2023.
Sources
"56.309722° 39.378333°." Twitter, accessed April 10, 2023.
"INCORRECT!" Twitter, accessed April 10, 2023.
"Russia begins drilling with Yars ICBM launch systems with claimed effective range of 11,000 km." Ukrainska Pravda, accessed 10 April 2023.
Russian Victory Day 2022 in full: Military parade in Moscow while Putin delivers a speech. www.youtube.com, accessed April 10, 2023.
Возвращение Техники с Парада в г. Moskva Cherez Kolchugino 13.05.15. www.youtube.com, accessed April 10, 2023.
Ракеты в Кольчугино. vk.com, accessed April 10, 2023.
Тополя в Кольчугино. www.youtube.com, accessed April 10, 2023.
Ядерные Ракеты в Кольчугино..3gp. www.youtube.com, accessed April 10, 2023.