Israel says video shows Hamas forcing hostages into Al-Shifa hospital
Israel sought to bolster its position that Hamas is using Gaza's main hospital as a militant base by releasing a video on Sunday evening that purportedly shows tunnels beneath the medical complex and – for the first time – hostages taken there by the militant group .
Two of the clips show Israel saying Hamas militants forced hostages into the premises of Al-Shifa Hospital on the morning of the Oct. 7 terror attack. NBC News confirmed through archive photos that the first clip does indeed show the hospital's reception area. Both are timestamped shortly before 11 a.m. on October 7th. However, NBC News cannot confirm the accuracy of these timestamps, when the videos were recorded, or who appears in them.
At a news conference Sunday evening, officials also released images of Hamas fighters carrying captured Israeli military vehicles to the hospital the same day. They also released footage that they said showed an underground tunnel beneath Al-Shifa.
Overlaid with computer graphics labeling the surrounding area, the film appeared to show the tunnel with reinforced walls, a spiral metal ladder and a fire door. Hamas denied building tunnels under medical facilities.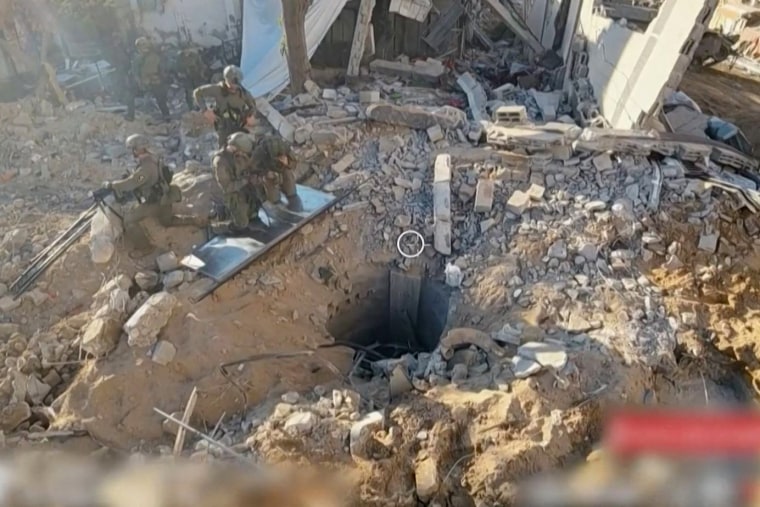 The IDF also said that an Israeli soldier, Cpl. Noa Marciano, whose body was found in Gaza last week, was actually killed by Hamas in Al-Shifa. The militant group had claimed it was killed in an Israeli airstrike.
NBC News has not verified the claims.
The footage is Israel's latest attempt to link Hamas to hospital facilities following international condemnation of Israeli attacks and raids that killed doctors, patients and civilians sheltering there. The United States has supported its assessment that Hamas is using the hospitals as a cover, although the facility's doctors and Hamas have denied this.
Follow live updates
The images "prove that Shifa Hospital was used as a terrorist infrastructure," said a joint statement from the Israel Defense Forces and the Israeli Security Service on Sunday evening.
The Palestinian Health Ministry said videos of hostage-taking at Al-Shifa Hospital in Gaza showed that doctors there "provide medical services to all who need them, regardless of gender and race."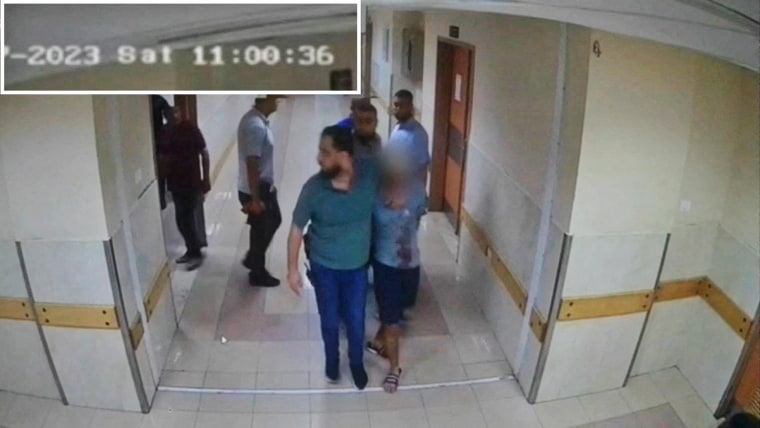 Hamas dismissed the significance of the video and said it had openly transferred some of its prisoners to hospitals after they were wounded by Israeli airstrikes.
The militant group, banned as a terrorist organization in the United States and Europe, launched the surprise attack on October 7, killing 1,200 people and kidnapping about 240 others, according to Israel. Israeli airstrikes and ground strikes killed more than 13,000 Palestinians and displaced more than 1.6 million people in the Gaza Strip for more than 10 weeks after the attack, according to health officials in the besieged enclave.
Israel's attacks on hospitals were one of the most controversial narratives of the war. The military claims Hamas operated a command center beneath Al-Shifa Hospital, something both Hamas and hospital staff have denied. His attacks on these and other medical facilities, which allegedly targeted these militants but resulted in the deaths of patients and medical staff, were heavily criticized by humanitarian organizations as war crimes.
Israel has mounted a public relations offensive to prove its point, although some of its claims have been disputed and only raised further questions about the legitimacy of its tactics.
Still, the footage released Sunday is "quite damaging to Hamas," said Michael A. Horowitz, a Jerusalem-based analyst and intelligence chief at Le Beck International, a risk management consulting firm specializing in the Middle East.
"Hamas could have gone to any number of hospitals closer to the border if the purpose had only been to provide medical assistance to the hostages – some of whom do not appear to be seriously injured," he said. "The fact that they specifically took her to Shifa Hospital, even for a short period of time, means that they were very confident that no information would leak out."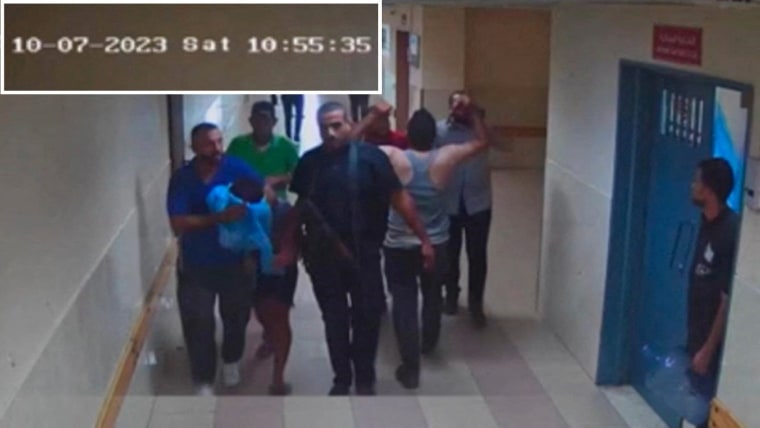 In the first video, four plainclothes people, at least one of whom is armed with what appears to be an automatic rifle, drag another person into the hospital as staff and other bystanders appear to back away in surprise. The timestamp of this video is 10:53 a.m. (3:53 a.m. ET).
In a second clip, time-stamped less than two minutes later, about a dozen people crowd around an injured person who is being taken out on a stretcher. Four of the group wear medical scrubs, and one of them directs the patient, who appears to be bleeding from the arm or stomach, into another, invisible room.
In the remaining group not wearing medical clothing, at least two were carrying what appeared to be automatic rifles. Some of the people look very similar to those in the first video, and some of them appear to be in heated discussions with the doctors.
A clock on the wall shows the time just after 4 p.m., although the second hand does not move, suggesting that the clock is broken and this time is not accurate. The IDF and Israeli security services said these images showed "hostages kidnapped from Israeli territory," a Nepalese and a Thai citizen, "surrounded by armed Hamas terrorists" who "forcibly transport them into the building."
"These findings prove that the Hamas terrorist organization used the Shifa Hospital complex as terrorist infrastructure on the day of the massacre," it said, adding that the videos "add to previous evidence that Hamas used the hospital compound as infrastructure for used their purposes." to prevent terrorist activities systematically and continuously."
The Palestinian Health Ministry in the impoverished and densely populated Gaza Strip, a Hamas-controlled enclave, said the videos released by Israel merely showed doctors treating patients, regardless of who they were.
"If the information in the video is accurate, it means that the hospital has provided the required service through the best portal, which is critical care," it said in a statement. It added that Israel "bears full responsibility for the deterioration and collapse of health care" in Gaza, "resulting in the deaths of hundreds of wounded and sick people who could have been treated and had their lives saved."
Izzat Al-Rishq, a member of Hamas's political wing, said on the messaging app Telegram that his group had always said it had "taken many of the occupation prisoners to hospitals for treatment," especially "after some of them were injured ." a result of bombing by crew aircraft."
While Israel said it began bombing Gaza on the morning of October 7, it is not clear whether this happened early enough to account for the injuries suffered by the people seen in the video.