Japanese Americans were imprisoned in a desert. Survivors fear a wind farm will eclipse the past.
JEROME, Idaho — Behind the barbed wire, the little boy pressed his ink-covered index finger on the mint green exit card. And a photo was taken of his frightened face.
Paul Tomita was four.
It was July 4, 1943. Independence Day in Minidoka, a camp in the vast Idaho desert where over 13,000 Japanese-American men, women and children were imprisoned during World War II as a security risk because of their ancestry.
The wallet-sized paper meant the frightened boy in the photo was able to walk after 11 months in a cramped barracks with his father, mother, two sisters and grandmother.
Eight decades later, he returned with West Coast pilgrims who believe the life-changing atrocity should be remembered. But now another government decision is looming as a new threat – a wind project that pilgrims fear will destroy the experience they want to preserve.
If approved by the Bureau of Land Management, the Lava Ridge Wind Farm would build 400 turbines across 118 square miles near Minidoka, where survivors say they are witnessing another attempt to bury the past.
"If Minidoka was a white monument to white soldiers who died in some war, do you think they would offer Lava Ridge free land to build their windmills there?" Tomita said. "No way."
The camp in the desert
Two months after the Japanese attack on Pearl Harbor on December 7, 1941, President Franklin D. Roosevelt signed Executive Order 9066.
Approximately 120,000 people of Japanese descent were removed from their homes and imprisoned in camps as potential threats to the United States
Thousands were elderly, disabled, children or small children. Desperate families sold their belongings and packed up what they could. The luckier ones had white friends who took care of houses, farms and businesses.
In Minidoka, they lived in wooden shacks covered with tar paper, braving the summer heat and winter cold across 50 square miles of remote high desert. In cramped quarters without much privacy, women waited until night to use the latrines. Up to eight family members share the room on cots without mattresses. The children ate hot dogs for Christmas dinner.
Under armed watchtowers, the residents of Minidoka worked in the fields and grew crops for little money. But they built a community that was essentially a prison camp.
They founded churches and planted gardens. They created a city of sorts with stores, watch and radio repair shops, a clinic, a barber shop, an ice rink, a swimming pool, and a baseball stadium.
Today, only a few original structures remain, commemorating a chapter in U.S. history that the government worked to erase before issuing reparations and declaring the camps national historic sites decades later.
Now a new project with a different kind of fencing is planned for the extensive public area, which is dotted with sagebrush and slate grass.
Wind project rejected
Because the Biden administration wanted to combat climate change by authorizing 25 gigawatts of renewable energy on public lands within the decade, a company called Magic Valley built a wind farm that would be the second largest in the U.S. and produce up to 1,000 megawatts.
Lava Ridge would build massive turbines in parts of three counties and double Idaho's wind energy production.
"There is a tremendous need in Idaho and across the West, a market-based need for clean energy… that is being demanded by utilities, businesses, state leaders and really many Americans who are trying to move this country toward energy independence." said Luke Papez, project manager at Magic Valley, a subsidiary of New York-based LS Power. "This is a very good website to find a project."
In the face of global warming, wind farms have been portrayed as opportunities for increased economic activity, new local tax revenues — and an important tool for the White House's clean energy goals.
"Renewable wind projects are a critical part of the Biden-Harris Administration's commitment to confront climate change, promote clean air and water for our current and future generations, create thousands of good-paying union jobs, and advance our nation's clean transition "Energy future", Interior Secretary Deb Haaland said in a statement.
Magic Valley now hopes to receive BLM approval next year and begin construction in 2025 and begin operations in 2026.
But in the high desert, where the company would build hundreds of miles of temporary fences and roads and hundreds of concrete pads for turbines, opposition is almost universal.
There are fears that the isolated landscape that draws travelers will be permanently scarred, that explosives used in the construction will damage an aquifer – and that the project will cast shadows on the desert that survivors of Minidoka visit.
As the BLM moves toward a final decision, survivors and descendants of Minidoka declare the site a place of healing, a reminder of the traumas their families still cannot resolve and resolve.
"I have no intention of taking sides in history," said Republican Rep. Jack Nelson of Idaho. "But the reason we study history is so we don't do something like that again."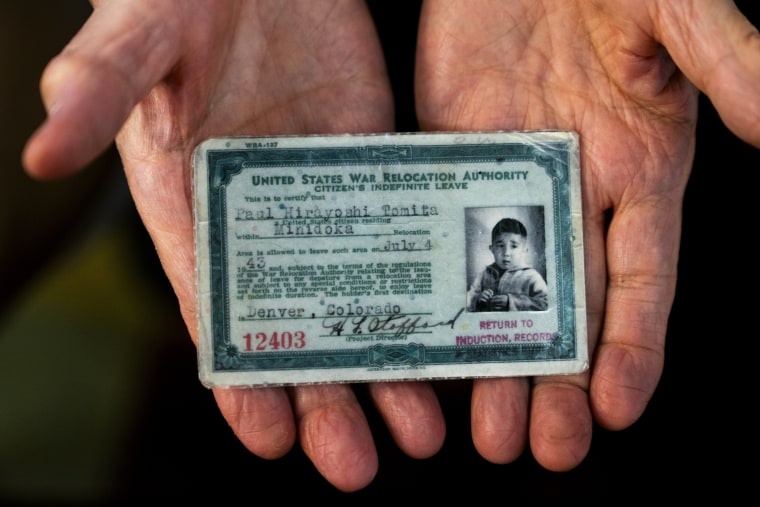 The boy in the photo
During his eleven months in the desert camp, Paul Tomita longed for his home in Seattle, surrounded by lush greenery. He asked his mother: What did we do wrong to end up here? When do we go home?
"Of course my mother had to sing and dance to it," remembers Tomita, now 84. "Even though I was so young, I knew something was wrong."
Tomita's family and thousands of other Japanese Americans were under the control of the Army's War Relocation Authority. "They told us when we could eat, when we could sleep, when we could do everything," he said.
The persistent dust in their single room aggravated his asthma and sent him to the hospital barracks repeatedly.
When thick desert dust blew through holes in the family's barracks walls, his mother dipped newspaper in water to patch up the largest holes. But the material dried and crumbled.
"Dust on the face, dust in the ears, dust in the nose, dust in the mouth," Tomita remembers.
Ultimately, Tomita said, the U.S. soldiers on the other side of the barbed wire knew that the Japanese Americans at Minidoka posed no threat. "Even if we get through the fences," he said, "where should we go?"
Go away but never forget
While Tomita's family was incarcerated, his father applied for a job on the East Coast with the Office of Strategic Services – a forerunner of the CIA.
His mission: to translate US propaganda into Japanese leaflets calling for surrender and dropping them in the South Pacific.
In order to live outside again, Tomita, his older sister and his younger sister, then two years old, needed a holiday card with a fingerprint and a photo.
After the war ended, the family returned to Seattle, where neighbors had secured the typesetting equipment that enabled them to resume the family printing business.
When the children started secondary school, their mother gave them their Minidoka leaving cards.
After earning a master's degree in rehabilitation counseling from Oregon State University, Tomita provided consulting and rehabilitation services to corporations and government agencies on the West Coast. He and his wife adopted a daughter, who is now 53 years old and has a child of her own.
In July, Tomita brought a copy of his exit card with him when he returned to the camp for an annual pilgrimage. He wants future generations to be able to visit this place treasured by Japanese Americans.
"Because they dumped us there," he said. "Whether you like it or not, it is our sacred land."
For more from NBC Asian America, Sign up for our weekly newsletter.