Knicks fans shout 'Shut The F — Up', others laugh as New York Mayor talks about Dr.
Knicks fans burst out laughing when someone shouted out candidly during New York City Mayor Eric Adams' speech about Martin Luther King before the game.
Adams shared the remarks in honor of Dr. King ahead of the New York Knicks' Charlotte Hornets Monday.
"We celebrate the life and times of Dr. King during some of the most difficult times," said Adams, standing center court at Madison Square Garden. "As the civil rights war raged, Dr. King wanted the ball in his hand and he sacrificed his life to ensure that our country would be a better place for all of us. "
Then someone in the arena shouted "shut up!" when other fans laugh. Adams continued through his speech. It's unclear if he heard taunts from the crowd.
"Right now, we want the ball in our hands again as we deal with COVID, as we deal with crime, as we deal with uncertainty," continued Adams. "Let's win this for Team New York and Team America."
The mixed reception at the game could show how residents feel about his time as mayor so far.
During his third week in office, Adams faced a number of challenges, including an increase in COVID-19 cases. While the mayor believes schools should remain open, low attendance rates after the winter break may push the city to shift towards distance learning.
Adams has also been creating heat for defended a new law allowing noncitizens to vote in local elections. Many top in New York Republican Party member called the bill "dangerous" and "unconstitutional" and moved to block the law with a lawsuit.
The Knicks would go on to end their three-game winning streak with a 97-87 defeat to the Hornets.
Some fans online blamed Adams for the loss.
"Eric Adams walked up to that court and then the Knicks were washed," Twitter user @umrivision said.
Twitter user @LeeFeiner said, "this is what happened when you asked Eric Adams to set the tone for an event."
New York Daily News Correspondent Stefan Bondy said that Adam's "swag" "wasn't enough to draw attention to the Knicks."
Before the game started, Adams and the National Basketball League (NBA) Commissioner Adam Silver presented New York Urban League President and CEO Arva Rice with the Knicks Community Hero Award ahead of the game.
Adams then joined MSG Network game commentators in the booth to talk about being a lifelong Knicks fan.
Adams, a Queens native, said he grew up watching the Knicks and legendary players like Walt Frazier and Earl Monroe on the field.
"I love the Knicks and it really inspires us today," he said.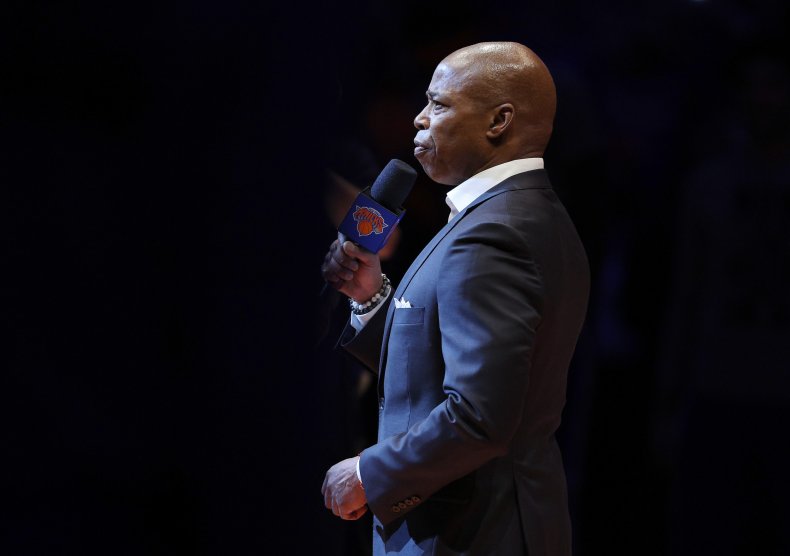 https://www.newsweek.com/knicks-fan-yells-shut-f-others-laugh-new-york-mayor-speaks-about-dr-king-1670134 Knicks fans shout 'Shut The F — Up', others laugh as New York Mayor talks about Dr.