Lauren Boebert takes a DNA test to prove former wrestler Stan Lane isn't her father
Congresswoman Lauren Boebert of Colorado has taken a DNA test on former professional wrestler Stan Lane to prove he is not her birth father, after doubts were raised about a court-ordered paternity test conducted decades ago.
"I can confirm that Stan Lane is not my biological father. Personally, I've never publicly claimed he's my father — but that claim certainly exists," Boebert said in a statement The daily beast. "The Toby Keith song 'Who's Your Daddy' comes across a little differently now."
Boebert's mother, Shawn Roberts Bentz, had long claimed Lane was Boebert's biological father. Bentz and Lane had a brief relationship in the 1980s when he was a tag team wrestler for the American Wrestling Association and Jim Crockett Promotions.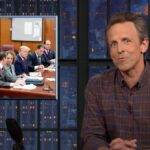 "This situation and the numerous false allegations made against me over the years have been distressing to me and my family," Lane said in the statement. "I feel that my otherwise good reputation has been significantly damaged. I and other close members of my inner circle have also been implicated."
A court-ordered paternity test conducted in the 1980s proved Lane was not Boebert's father. However, Bentz requested an investigation into the case after learning that the lab worker who processed the sample had been convicted of fraud for accepting bribes to exchange paternity test samples in a separate case. Both Lane and Boebert agreed to do a second DNA test.
"The results came back on May 11, 2023. They concluded that I had a 0.0% chance of being the biological father," Lane said. "After we both reviewed the results, Lauren and I agreed that this matter is resolved and I accepted Lauren's apologies on behalf of her and her mother."
"It was a bit like you, that's it, OK!" Boebert told Daily Beast. "He was wrongly attacked and he didn't deserve it."
Lane said he wishes Boebert the best and "as she continues the search for her birth father, I hope she finds the answers she's been looking for."