Man shoots and kills teenage daughter he thinks is intruder
A man shot and killed his daughter Wednesday after thinking she was an intruder in his home.
Columbus Police The Ohio Department said in an incident report that at about 4:28 a.m. local time Wednesday, they were called to a residence on the 5400 block of Piper Bend Drive following reports of an explosion. guns.
When officers arrived at the home, they found a 16-year-old woman, identified as Janae Hairston, with a gunshot wound. Local Emergency Medical Services (EMS) were also on the scene and took Hairston to Mount Carmel East Hospital, where she was described as in "critical condition".
The Columbus Police Department said Hairston died in the hospital around 5:42 a.m. local time.
Columbus Police Department Confirmed Newsweek that Hairston's father was the one who fired the deadly shots at his daughter.
While talking to Newsweek, Detective Darren Egelhoff of the Columbus Police Department confirmed that Hairston's father shot his daughter after he mistook her for an intruder.
According to Egelhoff, Hairston snuck out of the house a few hours before the shooting at around 2 a.m. local time. Egelhoff explained that Hairston turned off the house's alarm system shortly before leaving.
Hairston's father, who has not been identified by police, realized the house's alarm system had been disabled when he awoke in the middle of the night. Egelhoff explained: "When he tried to reset the alarm, it informed him that the front door was partially open.
Hairston's father eventually closed the front door of the house and a shooting ensued.
The The Columbus Dispatch received a 911 call from the incident, called by Hairston's mother shortly after her daughter was shot.
Follow The Columbus Dispatch, the 911 call lasted more than eight minutes, and both Hairston's parents could be heard begging their daughter to wake up and repeatedly asking police how soon they would arrive. Officers from the Columbus Police Department arrived at the residence about five minutes after the call was made, the Columbus Dispatch reported.
The The Columbus Dispatch also reported that Hairston was a 12th grader at Canal Winchester High School.
According to the Columbus Police Department, no charges have been filed following this incident. The case was then sent to the Franklin County Prosecutor's Office for further review, the department said in the incident report.
The Franklin County Prosecutor's Office declined to comment on the case after Newsweek reach out.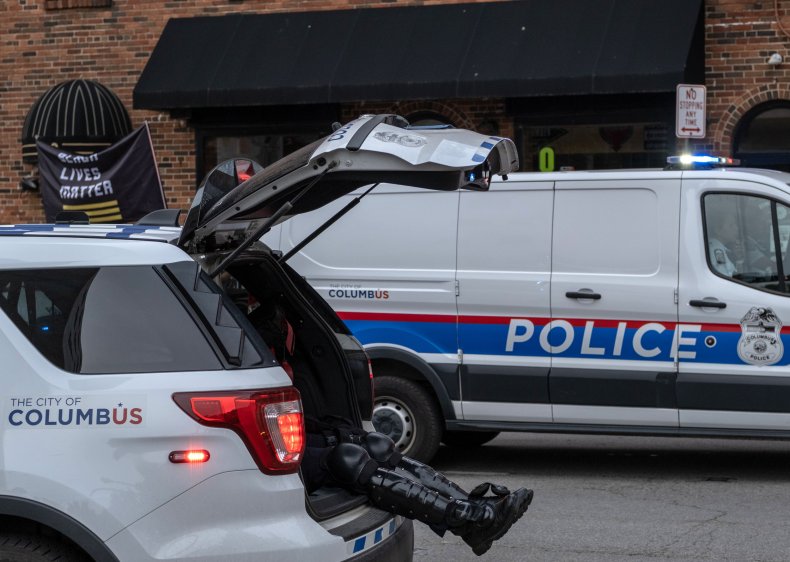 https://www.newsweek.com/man-fatally-shoots-teen-daughter-he-thought-was-intruder-breaking-home-1664368 Man shoots and kills teenage daughter he thinks is intruder