Meet the Hollywood extra who stormed the Capitol and ended up on the FBI wanted list
Editor's Note: The following is adapted from "Sedition Hunters: How January 6th Broke the Justice System," a forthcoming book by NBC News justice reporter Ryan J. Reilly. The book, which will be published by Public Affairs on Oct. 17, tells the inside story of the online sleuths driving the FBI's sprawling investigation into the Jan. 6 attack on the U.S. Capitol.
Sergeant Aquilino Gonell of the U.S. Capitol Police seemed to be everywhere on Jan. 6. He was on the inauguration platform, taking hits from the mob, and in the tunnel, taking hits there too, where a rioter yelled, "You're gonna die tonight" and kicked a police shield.
"I could feel myself losing oxygen and recall thinking to myself, 'This is how I'm going to die,'" Gonell would later testify.
Around 11:00 p.m., the Dominican Republic immigrant and Iraq War veteran headed back to the tunnel, in search of an ID belonging to a dead rioter that police had tried, unsuccessfully, to revive.
In a few hours, the crew in charge of the inauguration scaffolding platform would come by to check the damage and find a "complete disaster." There were trash and weapons everywhere, along with hats, personal items and several lone shoes. Men were using leaf blowers to help clean up, but that was recirculating the tear gas, causing workers to cough. "You can just see this place was a war zone last night," said Steve Ott of Scaffolding Solutions, as his team assessed the state of the inauguration platform. "Unbelievable."
Gonell snapped several photos of the scene that night. In the small space between the double set of golden doors of the tunnel — where Metropolitan Police Department Officer Daniel Hodges was crushed by a riot shield held by a rioter with long hair and transition lenses as Hodges screamed out in pain — Gonell snapped a photo of a bunch of debris on the ground: water bottles, broken sticks, a cord, a mini bullhorn, and a crumpled-up red-and-white scarf.
In 2017, the town of Skellefteå, Sweden, mailed out 934 of those scarves as Christmas gifts to people who had moved away from the region. One of them had ended up in the Capitol tunnel. A man whom the online "Sedition Hunters" would dub #SwedishScarf had dropped it.
Barricading Senate offices
Through the shattered window, inside room ST2M of the U.S. Capitol, rioters had overturned a table and barricaded a door with a blue couch. The mob had taken over a suite of Senate "hideaway" offices, private spaces where senators can relax and refresh themselves during marathon voting sessions.
In a town where government workers, contractors, politicians and journalists alike sometimes boost their status with a bit of unnecessary mystery, Capitol "hideaway" offices are an alluring tale. For decades, the press has written fun features about the existence of the offices, titillating readers about being let in on the secret lives of the country's most powerful people.
In the QAnon and Pizzagate era, when delusional Americans believed that a pizza shop had a basement full of sex-trafficked children groomed for elite pedophiles, and with election deniers sharing maps of the tunnels that connect the Capitol to the surrounding office buildings, the playful coverage of these "undisclosed locations" suddenly seemed a lot less cute.
Inside the hideaway office suite, a man with a pink respirator and an American-themed hat held a broken table leg.
"I need to know right now who's following me. Who's with me?" said the man who came to be known as #SwedishScarf, who had taken on a leadership role. He'd already lost the rare, red garment in a Capitol tunnel, but had done a few wardrobe changes, including wearing an America-themed scarf and wearing a Trump flag as cape. Earlier, as several rioters who helped lead the mob charging the police line, he wore a stolen police helmet.
Now, inside the Capitol office suite, as another rioter yelled out, "We need more bodies in here!" and lured people in through the window, #SwedishScarf wanted music. He suggested "Fortunate Son" by Creedence Clearwater Revival. Trump, who inherited the equivalent of at least $413 million from his father, had unironically placed the song in regular rotation on his campaign playlist, but #SwedishScarf had a suggested adaptation. "It ain't me, it ain't me, I ain't Joe Biden's son," he sang.
#SwedishScarf made preparations for the push. Danny Rodriguez, a MAGA fanatic from California who went to Washington predicting a bloody revolution, stood up on a chair nearby to address the mob. "They have shot and killed a girl," he said, referring to Ashli Babbitt. Some of the rioters left, but many didn't seem fazed.
A woman in a pink hat and sunglasses poked through the broken window. Striking the tone of a chaperone leading a group of eighth graders on a tour of the Capitol, she laid down the law.
"People should probably coordinate together if you're going to take this building," she said. "We're in, we've got another window to break to make in-and-out easy, and this window here in the other room needs to be broken."
People started handing things out the window — a tabletop, furniture legs — that were used as weapons against officers in the nearby tunnel. The rioters inside the conference room grabbed a table and moved it into the hallway to protect themselves in case the cops on the other side busted through the door. They broke the conference room door off its hinges, and someone handed it out the window. Then they started trying to break into a locked room ahead.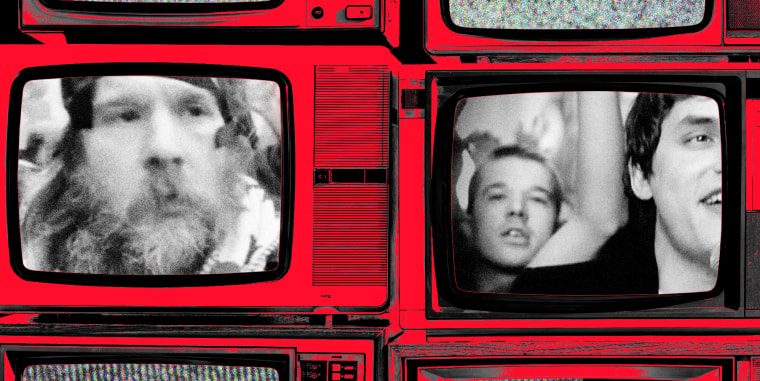 From Rage Against the Machine to MAGA
"You are not going to take away our Trumpy bear!" yelled Gina Bisignano, a Beverly Hills cosmetologist wearing a Louis Vuitton sweater and holding a bullhorn outside the broken window, as rioters flooded inside during the attack. "You are not going to take away our votes!"
"George Soros, you can go to hell!" she said.
Bisignano knew Rodriguez and Ed Badalian — another Jan. 6 rioter and Trump supporter who organized paintball training sessions after Trump's election loss, in preparation for battle — from Trump events in the L.A. area. She said she briefly met the man known as #SwedishScarf at a prior rally too, and then they spotted each other during the Capitol attack. She knew him as "Jeff." She thought he was cute.
Back in California, after the riot, "Jeff," Rodriguez and Badalian had come over to her house where "Jeff" unplugged her Amazon Alexa devices and "indicated through miming" that Bisignano should not speak out loud.
"I want to help you delete everything and to transfer the files to a secure hard drive," Jeff had written on one of Bisignano's notepads.
Bisignano — who was featured on TMZ a month before the Capitol attack, and gave her full name and Instagram handle during the attack — was low-hanging fruit for the FBI. She was arrested not long after the attack, the day before Biden's inauguration. Rodriguez, who drove a stun gun into the neck of MPD officer Michael Fanone, was identified with the help of online sleuths in February 2021, and arrested in March.
Months later, a federal grand jury would indict Rodriguez and Badalian, along with another defendant, whose name was redacted because he wasn't in custody. But matching up the actions spelled out in the indictment with the actions sleuths had documented left no doubt: This was #SwedishScarf.
In the hunt for Capitol rioters, this was a rarity. The sleuths were driving the investigation, gathering the names of hundreds of Jan. 6 participants who had not yet been arrested. But here, the FBI knew something the sleuths did not: #SwedishScarf's real name.
What sleuths did learn about #SwedishScarf's background proved very intriguing. Facial recognition run by online sleuths and reviewed by NBC News revealed that #SwedishScarf appeared as a background actor in a number of music videos, including a video for LeAnn Rimes, the 2003 John Mayer song "Bigger Than My Body," and "Bad Day," the 2005 earworm by Canadian singer Daniel Powter. He also appeared in the 2011 film "The Artist." When Justin Bieber made a cameo on the show "CSI," #SwedishScarf popped up in the background.
Bisignano later revealed to me that she had a romantic interest in Jeff and that they'd kissed when he came back over to her place for a second time after Jan. 6, this time without Rodriguez and Badalian. "Jeff" arrived on a skateboard, Bisignano said, and used the callbox downstairs to get buzzed in. "Jeff" told her that he didn't have a phone, that he was off the grid. "I thought it was very inconvenient to date somebody without a telephone," she said.
In early 2023, Bisignano testified in Badalian's trial as part of her plea agreement, although her testimony wasn't very beneficial to the government. After the trial, Badalian told me that an FBI agent had mentioned (mistakenly, he thought) #SwedishScarf's real name during his testimony. His ears had perked up, he said, because he heard it as something like "Paul Pelosi," as in the name of the 82-year-old husband of Nancy Pelosi, the woman he'd wanted arrested on Jan. 6. Paul Pelosi's name had been in the news: a few months before Badalian's trial, a 2020 election conspiracy theorist named David DePage broke into Pelosi's home, took Paul Pelosi hostage, and then attacked him with a hammer when the police showed up.
The sleuths got to work, trying any variation of the name they could find. Polacek, Pelishek, Palosik, Paloczyk, Palosyk, Paloczek, Peloshek, Paloshek, Palocsik, Poloczek, Pulisić, Pulisich, Paulisic, Pulišić, Paulisick, Pulizic, Paulissich, Poulisis, Pulicich, Palasik, Palochik.
Nothing. Soon, there was a breakthrough. A Swedish filmmaker I'd spoken with was working on a documentary about #SwedishScarf, and he'd updated the credits on the film's IMDB page. The credits identified #SwedishScarf as Paul Belosic, listing him in the role of "self" in the forthcoming movie "The Swedish Scarf." Belosic's full category of roles as a background actor wasn't listed on his IMDB page, but it noted he'd worked as a production assistant in a 2003 TV movie called "Maximum Thrust" and played the role of a "clean-cut" airman in a 2004 short called "Radius," which only seemed to be available on DVD.
Soon I was on the phone with Bianca Nasca, a love and sex coach from Hollywood. Back in 2021, she'd identified Belosic in a tweet that most sleuths had missed. She filled me in on how she'd known Belosic since middle school, how they'd roomed together as young adults, and how they'd done some extra work in Hollywood together too. They'd filmed some beer commercial — she couldn't recall whether it was Budweiser or Miller Lite — and a Rob Zombie music video too, she thought.
She said Belosic was adaptable and known for his ability to get access to big events. "He basically could get in anywhere: Oscar parties, the Vanity Fair party, you name it. Paul didn't need an invite, he didn't need a wristband, he just got in," Nasca said.
Nasca said she was a "backseat Democrat" until Trump, when she felt like she needed to start paying attention. She'd known Belosic as a libertarian, as someone who liked the idea of being away from it all. He talked about building an Earthship, an "off-the-grid-ready" home designed to resist extreme temperatures. She said she tried to convince him not to vote for Trump in 2020, to no avail. When she realized he was going to vote for Trump that year, "I couldn't even hear him out," Nasca said. She cut off the conversation, and then they didn't talk again for a bit, until the start of 2021.
"I think he wished me a happy New Year, like, five days before the insurrection," Nasca said. "That was it. I haven't heard from him ever since then."
Nasca had spoken with the FBI repeatedly, spoke with another reporter based in Los Angeles and had filmed scenes for Mattias Löw, the Swedish filmmaker working on the Swedish Scarf documentary. FBI special agents, Löw told me, had even flown out from Los Angeles to meet him at the airport when he'd flown into New York, questioning him about any contacts he'd had with Belosic. For now, #SwedishScarf was still on the run.
Something caught my eye as I looked into Belosic's background: He'd been at a protest concert the band Rage Against the Machine held across the street from the 2000 Democratic National Convention. After the concert, police said, masked individuals began throwing items at police, who cut off the power and then responded with force.
"They came in with tear gas, they came in with rubber bullets, shooting at us," Belosic told one reporter. "There was nowhere to go here. Everything was blocked off. It was chaos."
He told the Village Voice he'd been struck in the back with a police baton after he and several others were cornered by law enforcement under a freeway overpass. "We had a right to be here," said Belosic, then 26. "Instead, it was chaos."
If you pulled it all together, it was grist for a conspiracy theory: a Hollywood actor, previously part of a group of black-clad protesters that battled police at a concert for a leftist band, had — 20 years later — allegedly helped incite the mob on Jan. 6, leading Trump supporters into battle. That he was indicted by a federal grand jury would do little to dissuade those who believed the FBI to be master manipulators. Why hasn't he been arrested? they'd ask. Why is the FBI hiding his name?
The sleuths wished that the FBI would just rip the Band-Aid off and publicly name Belosic, with one saying it was "somewhat baffling" that they wouldn't just name someone who'd already been charged, and who, prosecutors had stated in court, was believed to have fled the country. There didn't seem to be much reason to keep it secret: Belosic clearly knew he was wanted, and throwing some publicity at the case might help the bureau determine his whereabouts. Plus, publicly stating that the FBI was on the case would help take the wind out of the sails of at least one lingering potential future conspiracy. They didn't need another Ray Epps.
The FBI referred a request for comment to the U.S. Attorney's Office, which declined to comment citing "ongoing matters."
Editor's note: Paul Belosic was added to the FBI Wanted List in September 2023 after prosecutors moved to have his name unsealed on the court docket. The FBI noted he was also known as "Jeff" and "Thomas Redding," a stage name he sometimes used, and that he "has ties to, or may visit, Southern California, Mexico and Southern Europe." Belosic faces charges of conspiracy; obstruction of an official proceeding and aiding and abetting; tampering with documents or proceedings; obstruction of law enforcement during civil disorder; theft of government property; destruction of government property; and entering and remaining in a restricted building or grounds.
Adapted from "Sedition Hunters: How January 6th Broke the Justice System" by Ryan J. Reilly. Copyright © 2023. Available from PublicAffairs, an imprint of Hachette Book Group, Inc.