NBC responds to Jimmy Fallon's poisoning allegations on The Tonight Show
In response to a Rolling Stone report published Thursday that claimed the work environment at "The Tonight Show Starring Jimmy Fallon" was compromised by toxins, an NBC spokesman said the network was "incredibly proud of 'The Tonight.' Show'" and that "a respectful atmosphere is offered." The working environment is a top priority."
"Like any workplace, we had employees who raised issues; these were investigated and action was taken where appropriate," the statement said. "As always, we encourage employees who feel they have experienced or observed behavior that is inconsistent with our policies to report their concerns so we can address them appropriately."
An insider familiar with the situation expanded on the network's statement, emphasizing that the majority of "The Tonight Show" employees are happy with their day-to-day lives and that the Rolling Stone article – which interviewed two current and 14 former employees – this reflects the perspectives of less than 1% of the late night program's current nearly 300 employees.
The insider claimed that Fallon and showrunner Chris Miller – the ninth series in as many years – remain steadfast in their commitment to promoting a positive work environment.
This reaction, of course, contradicts Rolling Stone's report. The article, titled "Chaos, Comedy and 'Crying Rooms': Inside Jimmy Fallon's 'Tonight Show,'" states that many of the more than 50 past and present unnamed employees contacted for this article noted "Fallon's immense talent and praised his comedic performance". Not a single one of them has agreed to comment on the record or say positive things about working on 'The Tonight Show.'" The article also didn't mention any employees who had negative comments about Fallon or the taped series.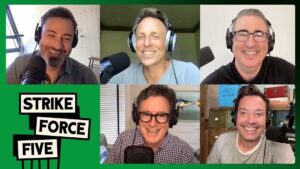 The detailed report claimed that the long-running late-night show takes place in a toxic workplace and that Fallon himself is a leader who throws "hissing fists" and makes combative sounds while being suspected of being drunk during rehearsals to be. Accusations in the article range from three employees who had suicidal thoughts due to their working conditions to others who used patrons' locker rooms as "cry rooms."
At the center of these allegations is Fallon himself. The article detailed how the employees were dependent on their host's whims late into the night. Fallon is accused of writing "passive-aggressive" notes about employees' work, such as: "Are you OK?" Seriously, do you need help?" One person described working with Fallon as follows: "Everyone "We were walking on eggshells, especially the showrunners."
The article also addressed rumors that have been swirling about Fallon's drinking on the road since 2015. Several employees claim that Fallon's mood depended on whether or not he had a hangover the night before. He is also accused of smelling of alcohol and appearing to be drunk on set during a rehearsal in 2017.