New Zealand beat England by 1 run in Wellington to become fourth team in Test history to win after the union
New Zealand achieved one of the big wins in Test match, beating England by 1 run in Wellington and becoming only the fourth team to win after a win.
The win split the two-game series 1-1 but the bigger question for England is skipper Ben Stokes' fitness less than four months before the Ashes series against Australia on home soil.
England batted first after losing the toss, declaring at 8-435 before leading the Black Caps to 209. They forced the follow-on but New Zealand hit back to make 483 and set a target of 258.
England started Day 5 1-48 and needed 210 to win the series. They got as close as they could before James Anderson edged in on the keeper to let the tourists off for 256 on the tee.
However, in a dramatic first session, England lost four wickets for 27 runs in just under eight overs.
That included a nightmarish call for a fast single from former skipper Joe Root, which resulted in star batsman Harry Brook running for a diamond duck without facing a ball.
But Root and Stokes then rallied into a great partnership.
Stokes is a match-winning all-rounder, but he retired from bowling due to an ongoing problem with his knee.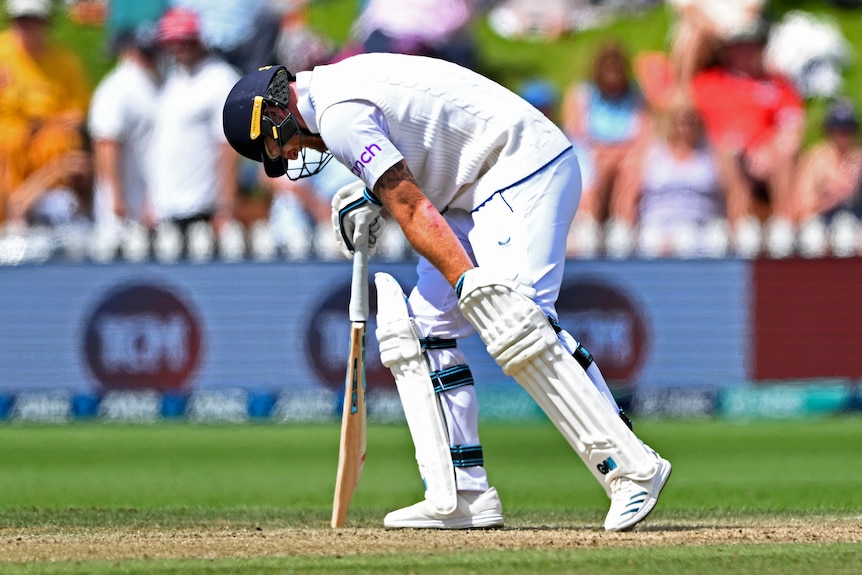 In Wellington, Stokes got himself into a bid to break through on day three as New Zealand hit back after the follow-on.
However, his spell only lasted two overs and he was later spotted limping on the field. Stokes came in at 5-80, with the tourists needing another 178 for the win, and Stokes dug in while playing a couple of shots.
It quickly became apparent that Stokes had serious knee problems. He reverted to a method where he stood and attempted to hit fours. On the other end, Root would only take a single if Stokes could saunter through.
The pair began to rectify the situation, with England sitting 5-168 at lunch and needing 90 more to win.
Finally, a struggling Stokes attempted to heave Neil Wagner into the middle of the wicket and skied to Latham for 33 balls from 116.
This gave the home side an air of victory, and the Black Caps were right in after Wagner struck again nine balls later, with Root losing five runs before a second century for the match after mistimed a shot to the side of the leg and one Fang had offered to Michael Bracewell.
Ben Foakes and Stuart Broad then took the target under 50 but more nervous times were ahead.
Broad (11) played an aggressive inning but fell to paceman Matt Henry, who was trapped at the third man on the boundary after trying to ramp him.
Foakes was joined by tail-ender Jack Leach. Foakes turned down a series of singles as he attempted to farm the strike, but he almost paid for his approach when his deep mid-wicket shot fell just short of an out-of-position bracewell for four.
The crowd, dominated by English fans, cheered as each run drew closer to the finish line.
Skipper Tim Southee got back on the attack five minutes before the tea break and England needed just 14. He started with a wide, then Foakes clipped him with two and then a single before Leach dug out a final delivery.
It was 10 to win, with delayed tea – and it was left to Wagner to try to make the decisive breakthrough.
Leach survived a review after avoiding giving the keeper an advantage.
Southee returned and a two for Foakes brought England's goal to seven. But eventually the England wicketkeeper batsman decided a four too many and potted Wagner at depth for 35.
It was up to Leach and veteran James Anderson to get the runs.
Leach survived playing the ball between fielders for a single Sky, and Anderson smashed a prancing delivery from Wagner dead.
The 40-year-old number 11 then got the crowd on their feet by pounding the ball to the limit on the side of the leg.
Southee came back and a leach drive was stopped by a diving Matt Henry. England needed two, and they almost had one when the referee failed to call a wide ball.
Eventually, Anderson was strangled in the side of his leg and goaltender Tom Blundell threw himself to the right to grab a diver, giving Wagner his fourth wicket and sparking wild celebrations from the Black Caps.
https://www.abc.net.au/news/2023-02-28/new-zealand-beats-england-in-test-classic-in-wellington/102032690 New Zealand beat England by 1 run in Wellington to become fourth team in Test history to win after the union