Pokemon Scarlet & Violet – What is Cyclizar? Is it related to Koraidon & Miraidon?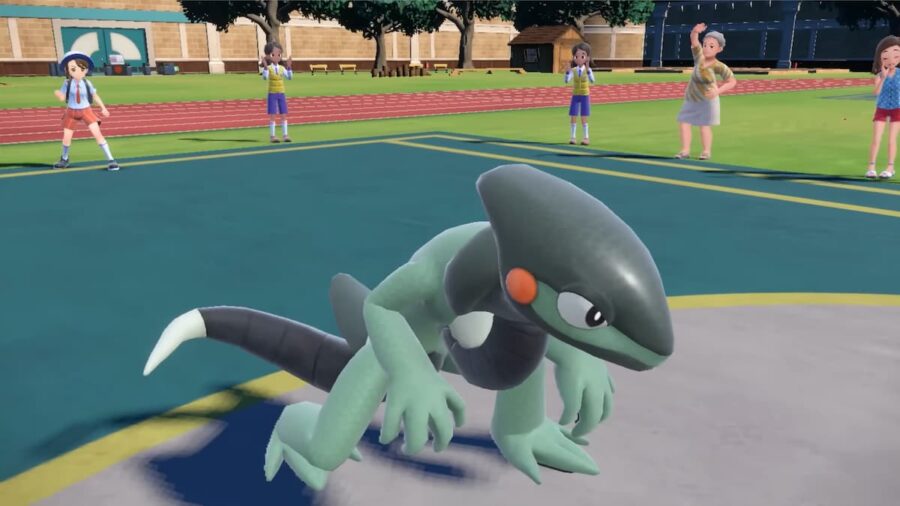 Image via Nintendo
Nintendo gave fans another look at Pokémon Scarlet and Violet at the closing ceremony of the Pokémon World Championships 2022. There was some new information, and most importantly, a new Pokémon was revealed. The Pokemon Cyclizar was shown both in combat and in the game's overworld.
Cyclizar bears a strong resemblance to the two title legends, Miraidon and Koraidon. It shares the wheel-like chest and lizard-like appearance of the two. Cyclizar was also revealed to be a rideable Pokemon, similar to the two Legendaries. Nintendo revealed more about the Pokémon's abilities Twitter.
This Pokemon can be used to traverse the game's vast open world. While it hasn't been confirmed, it's very likely that Cyclizar is a pre-development of Miraidon and Koraidon. Cyclizar could be a scenario like Cosmog and Cosmoem from Pokémon Sun and Moon, where players can meet the pre-evolution at the beginning of their adventure and watch the Pokémon evolve into its legendary form throughout the game.
Related: All Pokemon confirmed for Pokemon Scarlet and Violet
What type is Cyclizar?
Cyclizar is a Dargon and Normal type Pokemon. This is a unique and strange pairing, but one that's sure to change when the Pokemon inevitably transforms into Koraidon or Miraidon. Although its typing is weird, it's still very useful in battle and it's sure to have some powerful dragon-type attacks.
Interested in other helpful Pokémon Scarlet and Violet guides and want to read more? Check out how does four-player co-op work in Pokémon Scarlet and Violet? on Pro Game Guides!
https://progameguides.com/pokemon-scarlet-and-violet/pokemon-scarlet-violet-what-is-cyclizar-is-it-related-to-koraidon-miraidon/ Pokemon Scarlet & Violet – What is Cyclizar? Is it related to Koraidon & Miraidon?