Putting pressure on the US and the West to support democracy in Myanmar
After the military coup in February, the people of Myanmar are fighting for democracy, organizing demonstrations and civil disobedience demonstrations across the country.
After ousting the democratically elected National League for Democracy (NLD) from office, the military junta, led by Senior Lieutenant General Min Aung Hlaing, took increasingly violent measures against the uprisings. Pro-democracy demonstrations in this South Asian country of 55 million people formerly known as Burma, border. both China and India.
But the US and other Western nations remain largely on the sidelines, while neighboring India and China do not have close ties.
Meanwhile, Myanmar suffered the battle.
Since coming to power, the junta has detained more than 8,389 and killed an estimated 1,437 of its citizens in response to protests, according to the Association to Support Political Prisoners. This continued brutality and a stagnant economy have created a humanitarian crisis.
A protest leader called for help, while continuing to defy the military.
"We need to send a message to the world about Myanmar's terrible human rights abuses," Myanmar protest leader Khin Sandar told Reuters. "We want our rights back. We want revolution. We express our sorrow for the fallen heroes."
While protesters and activists remain determined in their fight, some worry that their efforts to promote democracy will not be enough. Stakeholders at all levels are competing for more international support.
"This is absolutely an outrageous, unacceptable act of the military," said Thomas Andrews, United Nation Special Rapporteur on Myanmar, told Al-Jazeera.
He added: "There is a need to lay out a set of concrete actions that can and should be taken. "Then we have to move as aggressively as possible to see that the international community takes those actions."
He said the world must send a clear message.
"The people of Myanmar need to know that we are with them," Andrews said.
In response to the coup and continued violence, the United States publicly condemned the military leaders and issued a number of sanctions against officials in the new military government.
"The US government will soon launch a new strategy at the request of Conference", Priscilla Clapp, Former Chief of the US Mission to Myanmar, told PBS.
"They are finding it very difficult to find a way to cut some of the revenue from oil and gas," she said. "It's not that simple, so we have to be careful, but there are ways to squeeze them, and that's certainly the main thrust of US policy, to squeeze their military more and more. ."
Unfortunately, strong statements and sanctions from the US are unlikely to change the situation on the ground, said Peter Mumford, head of Southeast Asia and South Asia at Eurasia Group.
"I think there's really little that the US can do to change what's happening with Myanmar," he told CNBC. "And there's the question of how far the US and other countries will actually want to go with sanctions – out of concern that could have a negative impact on people."
While the US has advocated through sanctions and condemnation, other countries such as neighboring India, the world's largest democracy, and China have been more cautious in favoring one side.
As two of Myanmar's main global trading partners, officials in New Delhi and Beijing are working to normalize relations with both the new junta and members of the ousted government.
Last week, Indian Foreign Minister Harsh Vardhan Shringla visited Myanmar for the first time since the military coup. He has had meetings with senior officials including Senior Lieutenant General Min Aung Hlaing, as well as officials from civil society and political parties including the National League for Democracy.
He called on the Myanmar government to release political prisoners and hold elections. The government agreed to the request, but said the process would not begin until 2023.
The reports confirm a similar cautious strategy from Beijing, whose economic activity is taking place in the country. They recently transferred military equipment to the Myanmar military government, amid public claims that they had persuaded Min Aung Hlaing to dissolve the NLD.
"China is willing to contact and communicate with all parties on the basis of respecting Myanmar's sovereignty and the will of the people, and play a constructive role in easing tensions," Foreign Minister Wang Yi said. speak.
Many in Myanmar have questioned the neutral stance of both India and China, accusing them of being complacent on the issue.
"We want the Indian government to put more pressure on the military to stop killing and shooting protesters, and restore democracy," James Fanai, chairman of the Chin Refugee Commission in Myanmar, told Reuters. ".
Anti-China sentiment has also increased since the coup, when activists called for Beijing's silent response. This led to many protests at the Chinese Embassy in Yangon and several Chinese-sponsored factories being smashed and set on fire.
The protesters condemned foreign officials for choosing their economic interests over human rights and the "will of the people".
In response to China's strategy, protest leader Ei Thinzar Maung posted on Facebook, "If you want stable business in Myanmar, then respect [the] Myanmar people. "
Neighboring countries have also taken a position. The foreign ministers of the Association of Southeast Asian Nations (ASEAN) have agreed not to invite Senior Lieutenant General Min Aung Hlaing to a leadership summit in October because of slow progress in restoring peace in the country. , according to diplomatic sources.
"Myanmar's participation in summits should not be represented at the political level until Myanmar restores its democracy through an inclusive process," Indonesian Foreign Minister Retno Marsudi tweeted later. conference.
A spokesman for Myanmar's military government blamed "foreign interference" for the ASEAN decision.
Tatmadaw officials have dismissed these international criticisms, showing little willingness to engage with foreign countries or negotiate with the ousted government.
"We have carried out our duty according to the law. NLD extremists and their supporters have chosen to act in terror rather than carry out or deal with the law," Min Aung Hlaing said in a statement. public expression. "They incite to become anarchists and carry out armed insurrections. They think of antagonizing those who do not support or share their views."
The military denies wrongdoing and claims to act in the best interests of the Myanmar people. It calls the death figures from the AAPP "exaggerated".
"We have to try to bring them back to a stable condition," Min Aung Hlaing said of the protesters.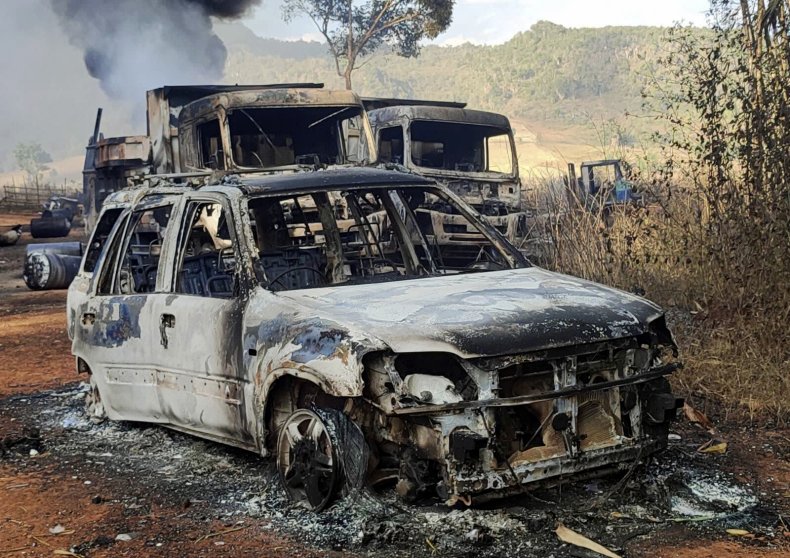 https://www.newsweek.com/pressure-builds-us-west-support-democracy-myanmar-1665989 Putting pressure on the US and the West to support democracy in Myanmar