Quinn Ewers injury update: Texas QB out against West Virginia and eyeing return to rival Oklahoma, report says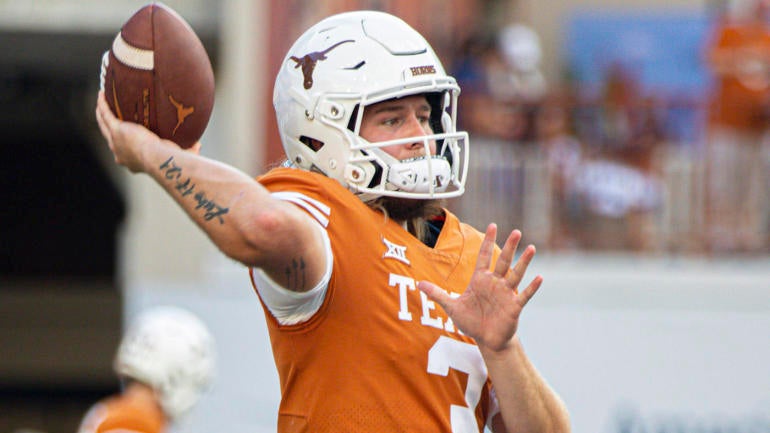 USATSI
Texas quarterback Quinn Ewers will be unavailable for the Longhorns' game against West Virginia on Saturday, but wants to be ready for the Red River Showdown with Oklahoma on Oct. 8 after falling in a 20-19 loss to No. 2 Alabama on September 10th according to ESPN. A return against the Sooners would mean a total of three missed games for the redshirt freshman, who picked up the injury during an otherwise promising performance against the Crimson Tide when he was forced onto the turf in the second quarter.
Ewers was seen throwing during his pre-game warm-up during his rehabilitation period and was a limited participant in drills, according to multiple reports. He also traveled with the team and dressed for Texas' 37-34 loss at Texas Tech in Week 4 and is expected to be back on the sidelines in Saturday's Week 5 game against West Virginia.
The initial expectation was that the former overall No. 1 contender from the Class of 2021 would be out 4-6 weeks with the injury, and the starting job stayed with the backup Hudson card while Ewers has worked through the injury. Ewers had to beat Card during preseason practice for the starting job, and the Longhorns' offense has had mixed results with Card at the position.
Ewers looked great in his six quarters before the injury this season. During a Week 1 win over Louisiana-Monroe and two quarters against Alabama, Ewers completed a combined 25 of 36 passes for 359 yards, two touchdowns and one interception.
https://www.cbssports.com/college-football/news/quinn-ewers-injury-update-texas-qb-out-vs-west-virginia-eyeing-return-to-face-rival-oklahoma-per-report/ Quinn Ewers injury update: Texas QB out against West Virginia and eyeing return to rival Oklahoma, report says