Rain and snow this morning, stormy conditions this afternoon
Track another storm for Wednesday that will bring some snow and more rain…
TODAY: AM rain/snow exits at 10am, stormy. Hi 41. Wind: NW 10-15 mph. Gusts to 25 mph.
TONIGHT: Partly cloudy, stormy. Lo 30. Winds: W 10-20 mph. Gusts to 35 mph.
TUESDAY: Partly cloudy, windy. Hello 44. Winds: W 10-20 mph. Gusts to 30 mph.
After yesterday's continuous rain in the afternoon and evening, a last rain shower ended the storm this morning. It will be humid for the morning commute, with temperatures in the mid 30's. Some cold air at the tail end of this storm could momentarily turn the rain to snow, causing poor visibility in some spots during this morning's drive. This doesn't look too impressive, however, as temperatures remain above freezing and snow has a hard time sticking. The rain/snow will stop by mid-morning leaving a stormy afternoon with skies having trouble shaking the clouds. The highs today will be in the low 40s.
Breezy weather will continue tomorrow with temperatures in the low to mid 40's throughout the day. The weather pattern remains active through Wednesday, with another storm brewing on the east coast. This one will have some more cold air to work with, meaning we'll start a period of steady snow on Wednesday morning. We should switch to rain in the afternoon, however, when warmer air starts moving north again, but not before a few inches of snow accumulates. Snow will likely start during the morning commute, with steady snow possible into the afternoon. Given the winter pattern so far, don't get your hopes up, snow lovers. However, this storm offers a good chance of seeing some steady snow falling, even if it's just a few inches. Behind the storm, temperatures are near seasonal averages towards the end of the week, with another front sweeping past on Saturday with the possibility of some thunderstorms or rain showers. The weekend looks milder too. We will continue to update you, especially about Wednesday. Stay tuned.
-Meteorologist Brett Thackara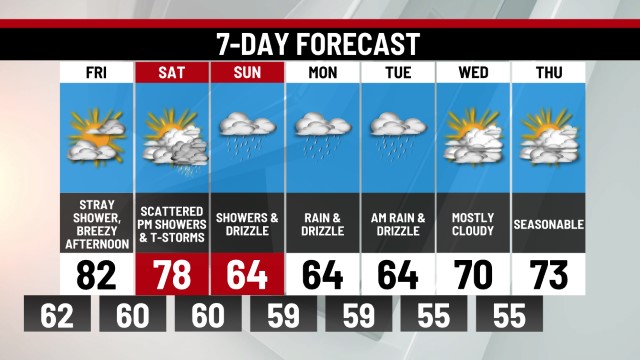 https://www.abc27.com/weather/forecast/rain-and-snow-exit-this-morning-blustery-conditions-this-afternoon/ Rain and snow this morning, stormy conditions this afternoon