News
Rashida Tlaib slams Israeli police's "false, cruel" storming of Al-Aqsa Mosque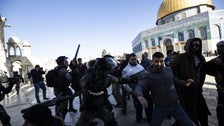 MP Rashida Tlaib (D-Mich.) condemned the Israeli police's violent storming of the Al-Aqsa Mosque during the holy month of Ramadan, calling the actions "wrong" and "cruel".
As thousands of worshipers gathered for morning prayers at the holy site early Friday, Israeli police fired tear gas and stun grenades at the mosque's grounds and entered the building Hundreds of Palestinians arrestedreported The Associated Press.
Israeli authorities said young Palestinians threw stones at a gate leading to the Western Wall, a sacred Jewish prayer space. Palestinian witnesses told the news agency a small group threw stones at Israeli police, who then attacked the compound.
Medics with the Palestinian Red Crescent said over 150 Palestinians were injured, reports Al Jazeera. This was announced by the Israeli authorities over 300 people were arrested.
Almost a year ago, the Israeli armed forces rose up a similar attack on believers in Al Aqsa during Ramadan. It sparked a deadly 11-day conflict in which Hamas fired rockets at Israel, killing 12 people, and Israel launched airstrikes on Gaza. Killing of over 240 Palestinians.
Police said the mosque reopened in time for Friday midday prayers, according to the AP. Thousands more believers were expected. It is the beginning of a holy week in Jerusalem, with Ramadan for Muslims coinciding with the start of Passover for Jews and the approaching Easter for Christians.
Tlaib's tweet specifically condemned US "unconditional assistance" to the Israeli forces. Last year, just days after the deadly conflict, Biden approved over $700 million in arms sales to Israel.
https://www.huffpost.com/entry/rashida-tlaib-israel-police-al-aqsa-mosque_n_6259b7afe4b052d2bd61cca8 Rashida Tlaib slams Israeli police's "false, cruel" storming of Al-Aqsa Mosque