Roblox Bear Codes (March 2023)
Try not to look over your shoulder while running in this Roblox Bear horror survival game. You must be aware of your surroundings as there are puzzles to be solved to escape the clutches of the murderous teddy bear chasing you. Use your flashlight to your advantage and regain a few crucial seconds before you get mauled!
The codes you can redeem in Roblox Bear are primarily for cosmetic items like skins for your character, these skins don't add any stats or boosts to your character but are fun to wear while running for your life .
Terrible games can be found on Roblox if you are in the mood to scare yourself or if you want to scare other players. The codes that you can claim for these horror games will give you the advantage especially in the early stages of the game like Roblox Nanny Codes, Apeirophobia Codes, Escape the Darkness Codes, Roblox Guesty Codes and Roblox Banana Eats Codes.
List of all Roblox bear codes
Updated March 18, 2023

Added a new code!
Roblox Bear Codes (Works)
Here's a look at all the working Roblox Bear codes.
HUNGRY PATRICK– Redeem for Fortunate Trinket's Gear (New)
VALENTINE'S DAY– Redeem for a Valentine's Skin (New)
Roblox Bear Codes (Expired)
These codes no longer work in Roblox Bear.
FEST22– Redeem for Advent plush
Spooky Treats– Redeem for a Trick or Treater skin
2 YEARS– Redeem for an Anniversary skin, gear and 222 quidz
CURIOUS—Redeem for 200 coins
alpha bear– Redeem free skin
WHIP– Redeem for 500 quidz
A YEAR– Redeem free skin
HALLOW2021– Redeem for Skin
FEST2021– Redeem code for Snow Globe Bear Skin
NO LOVE– Redeem code for rejected bear skin
HOLY22– Redeem for a free Sam skin
Patrick– Redeem the code for a free St. Patrick's Day skin
CHRISTMAS2020– Redeem the code for a free Gingerbread Skin
HALLOW2020– Redeem a code for a free skin
Roblox Bear Frequently Asked Questions
Here's everything you need to know about Roblox Bear codes.
How to Redeem Roblox Bear Codes
If you want to redeem codes in Roblox Bear, follow our guide below.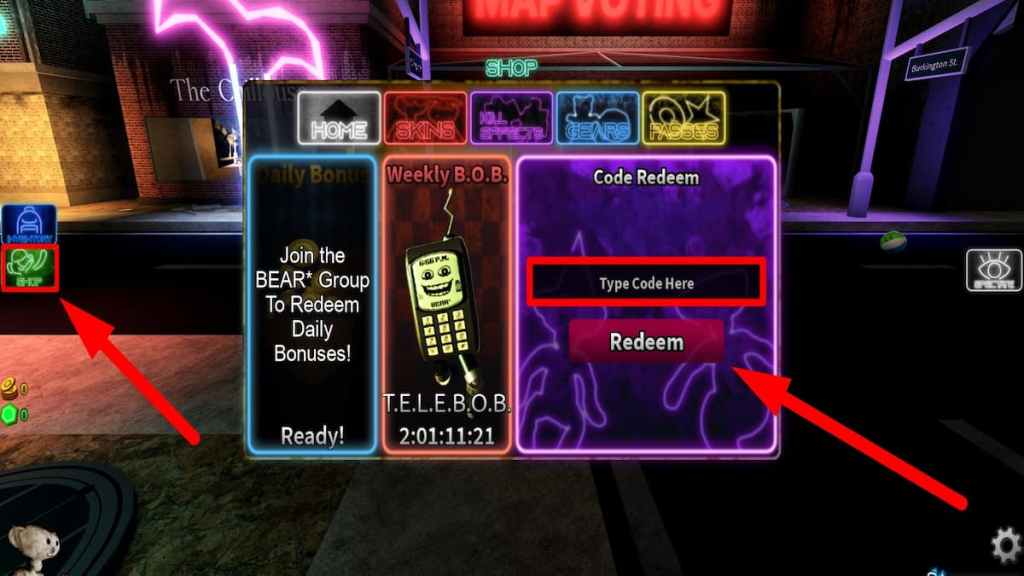 Start a server that doesn't put you in a match and Click the SHOP button on the left side of the screen.
You can enter all the codes in the MAIN tab where it says Enter code here.
copy and paste Enter the work codes in the text box above and click Redeem.
You should received confirmation that your code worked.
How can you get more Roblox Bear codes?
To get the latest codes from developer Cheedaman for Roblox Bear, follow him on his social media accounts like Twitter @CheedRblx and their BEAR* Company Discord Server. We at Pro Game Guides have the latest codes for you, so make sure to bookmark this page and come back for the latest codes as soon as they are released.
Why aren't my Roblox Bear codes working?
There are several reasons why your Roblox Bear Codes might not work. The following codes may already have expired. Codes in most Roblox games can only be claimed for a limited time. The developer determines that. Make sure to claim the codes in our working list to not miss out on special rewards and freebies. The codes you are attempting to redeem may contain spelling and punctuation errors. To avoid mistakes when entering the code in the text field, rather copy and paste the code from our list.
What are the controls in Roblox Bear?
You must know the controls to escape and dodge the bear in Roblox Bear. You can also play this game on a controller, so follow our guide below to best understand the controls to win every game.
personal computer
"Shift key– Sprint/run fast
"F" button – Flashlight on and off
controller
"B" button– Sprint/run fast
"X" button– Flashlight on and off
What is Roblox Bear?
Roblox Bear is a horror survival game in which you have to survive being killed by the terrible bear. You will spawn as a killer bear or a survivor in every game. There is a time limit for each round you play. You will score higher the longer you last each round and the more you outlast other players in the game.
If you're looking for codes for other games, we've got loads of them in our Roblox Game Codes post! You can also get a lot of free stuff through our Roblox promo codes page.
https://progameguides.com/roblox/roblox-bear-codes/ Roblox Bear Codes (March 2023)