Ryan Walters warns 'don't test me' after sacking Tulsa superintendent
Deborah Gist's surprise announcement this week that she is stepping down as superintendent of Tulsa Public Schools appeared to deflect a threat from Oklahoma's top education official to take over the district — at least temporarily.
At a meeting of the Oklahoma Board of Education on Thursday, Ryan Walters, the state's director of public education, stalled on his earlier suggestions that the district should lose its accreditation — effectively shut down — or that the state take over control should.
Instead, the board that Walters chairs voted to require more reports and plans from Tulsa County, the state's largest county, and to review its accreditation in four months.
"I would say to Tulsa Public Schools and their leadership, don't test me," Walters said. "I'm willing to do whatever it takes for these kids."
Walters, an ardent Republican official who has become heavily involved in the Kulturkampf in his seven months in office, had spent weeks attacking Gist, arguing that the district she oversees has a majority of black and Latino students and more than three quarters are economically disadvantaged is "uniquely bad". He pilloried the district for poor academic performance and accused it of financial mismanagement. One of his main demands was the abolition of Gist.
On Tuesday night, Gist announced that she would be stepping down "heartbroken" next month in hopes of averting Walters' impending takeover.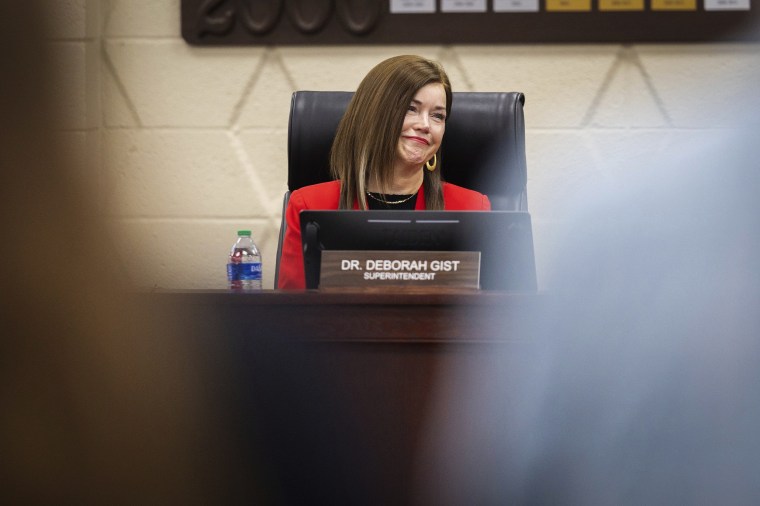 In an interview after Thursday's vote, Gist said she was relieved that the district's accreditation remained intact, but was concerned that Walters' threat of drastic action was still looming.
"This is about Ryan Walters using Tulsa and me as political footballers and pushing his personal and political agenda," she said.
The Board of Education voted to keep Tulsa Public Schools' current accreditation status "with deficiencies," meaning the district has specific issues it needs to address. The board also voted to require the district to create a professional development plan to train teachers in the science of reading and a correction plan for failing schools. And the district must submit monthly in-person reports to the state agency for the next four months.
Gist, who grew up in Tulsa, was an education officer in Rhode Island — the same role Walters holds in Oklahoma — before returning to her hometown. she was one Advocate for educational reform who conducted more aggressive teacher evaluations, but after attending Tulsa Public Schools in 2015, she became more closely aligned with teachers' unions pushed for better funding and pay.
Last week, she told NBC News in a phone interview that she took the job in Tulsa because it was the county that made her want to be an educator. She called it a "blessing" and a "dream job."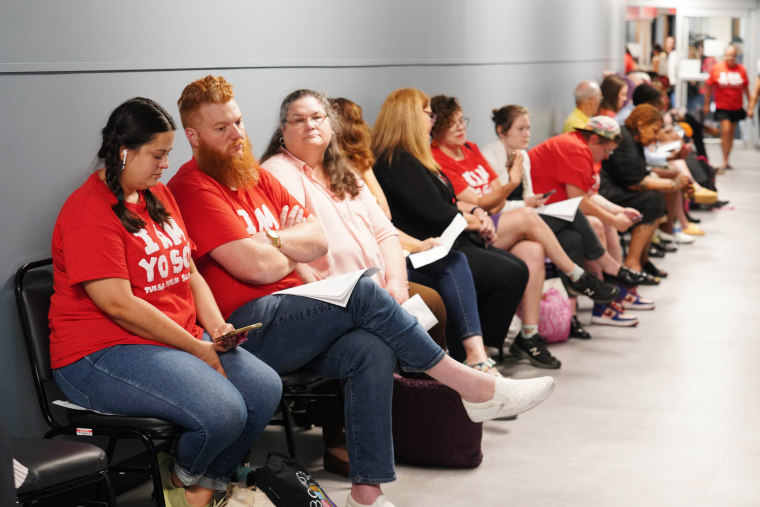 But this week, Gist said she decided to step down because she felt it was the best thing she could do to ensure the locally elected school board retained control of the district. She also feared that without due process, Walters could strip her of her teaching license or strip her of the district's accreditation.
"This district is my home," Gist said in an interview after the state board voted. "These are the schools that raised me, that made me – not just as an educator, but the person I am today. And nothing is more important to me than serving the students, and unlike Ryan Walters, I am not willing to put my own interests ahead of the needs of Tulsa's children."
Gist has only had one meeting with Walters, she said, and it was this month at her request. She said it lasted about 30 minutes and focused primarily on financial issues and that Walters did not address the issue of student performance.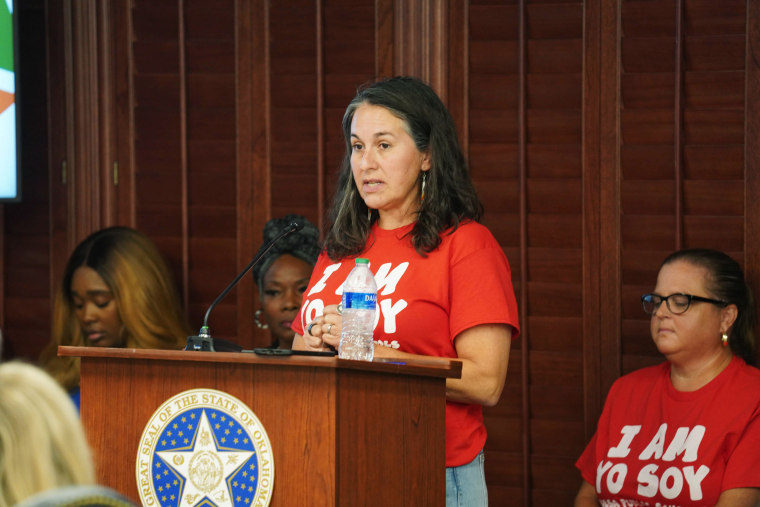 A spokesman for the Oklahoma Department of Education said Gist controls whether the two meet and accused her of being "openly hostile."
"With her departure, we are optimistic that this is a step in the right direction," spokesman Dan Isett said.
At Thursday's Education Committee meeting in Oklahoma City, Tulsa School Board member Jennettie Marshall pleaded with the state to "give us mercy" and allow the district to work with its new interim superintendent on initiatives to improve school performance services to start.​​According to state certificates 2022only 13% of the students in the Tulsa County meet state test class standards, compared to the statewide average of 28%.
After the vote, some of those who spoke during the public comment period said they were glad the State Council "is stepping in and delivering consequences," but many defended Gist and criticized Walters' approach.
"I've seen a lifelong Tulsanian and a lifelong educator fall by the sword to save our district from what is sure to be a botched and disastrous takeover by someone who has no interest in our children other than as a pawn in their political career," he said Ryan Daly, a father from Tulsa. "That's strong leadership," he added, addressing Walters directly. "You are not a strong leader."
Walters didn't initially respond, but Isett later wrote via email that Walters "did exactly what he promised — stood up for the children of Tulsa."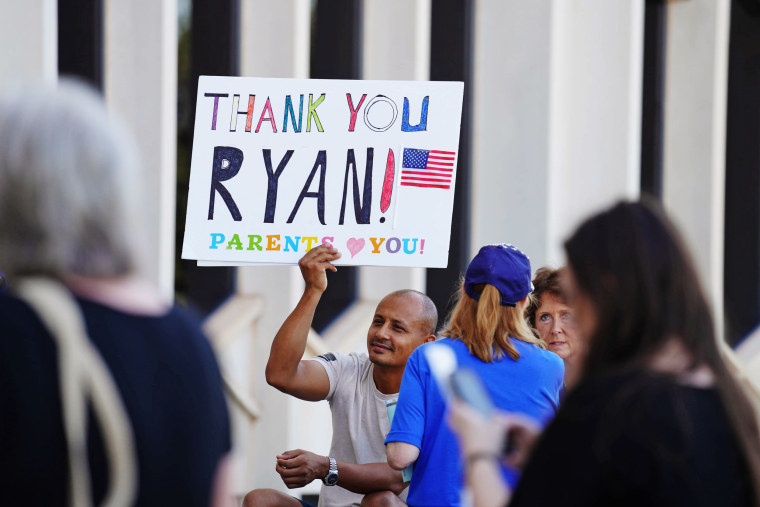 Carmon Drummond, a Tulsa mother who describes herself as a conservative Republican, also addressed her comments to Walters.
"You have to stop talking and start listening," she said. "If you come to Tulsa and want to hold town meetings with parents and learn more about the issues and challenges of TPS, I'm sure a lot of people will come and talk about it. There are problems at TPS, but a state takeover violates the fundamental constitutional principle of our government, which is local control."
Back in Tulsa, high school kids staged a strike Thursday in support of the district.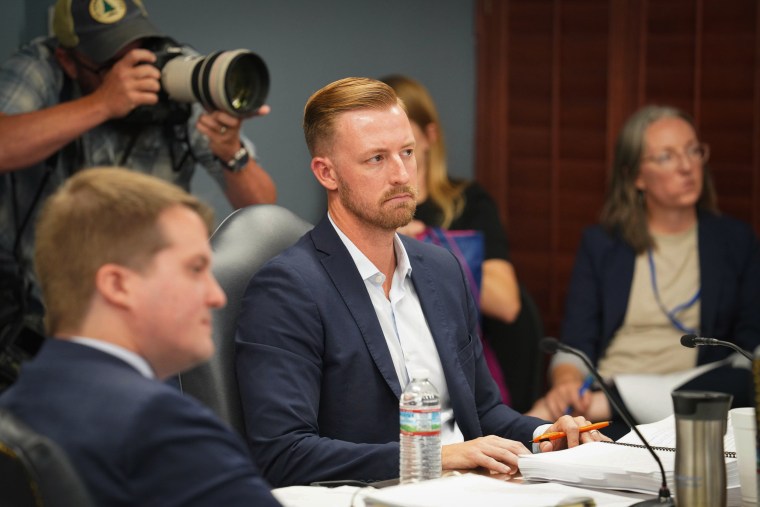 Before the education committee meeting, Janice Danforth, head of the Tulsa branch of Moms for Liberty, a conservative activist group, said she was glad Walters held Gist accountable for "lack of leadership."
"We've gotten to a point where courage counts," Danforth said, adding that she's had several conversations with Walters about concerns about school library books. "And he's brave and fights for what he thinks is right. And I stand by his side because I feel the same way."
Walters, who has also advocated restricting library books with sexual references and has called for the Ten Commandments to be posted in public schools, introduced two new requirements at Thursday's board meeting that would apply to all counties in the state.
The Board voted to require districts to report any programs funded directly or indirectly by a foreign government and to provide the state with any informal guidance it has given employees on LGBTQ-related issues.