Shredder's Revenge will be released as a physical Anniversary Edition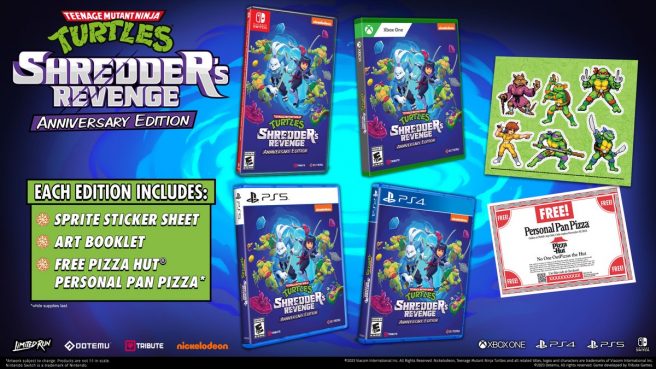 Teenage Mutant Ninja Turtles: Shredder's Revenge There's already been a physical release in the past, but it's getting an updated version in the form of the Anniversary Edition. Processing is carried out by Limited Run Games in North America and Merge Games in PAL regions.
The TMNT: Shredder's Revenge Anniversary Edition includes the base game and the Dimension Shellshock DLC. This includes Survival Mode, two brand new playable characters, Usagi and Karai, exclusive color palettes and more. Limited Run Games also includes a sprite sticker sheet, an art booklet and a personal Pizza Hut skillet pizza voucher. There's also a Classic Edition Anniversary Edition up for grabs, which includes a retro saver, a VHS-style box and a strategy guide.
Here's an overview of the game itself:
Teenage Mutant Ninja Turtles: Shredder's Revenge features groundbreaking gameplay based on timeless classic brawling mechanics, brought to you by the beat 'em up experts at Dotemu (Streets of Rage 4) and Tribute Games. Fight your way through beautiful pixel art environments and kill tons of hellish enemies with your favorite turtle, each with their own abilities and moves – making each run unique! Choose a fighter, defeat your opponents with radical combos and experience intense battles full of breathtaking action and incredible ninja skills. Stay sharp as you face off alone against Shredder and his loyal Foot Clan, or grab your best friends and play with up to 6 players simultaneously!
Limited Run Games is already accepting pre-orders for the new physical release of Teenage Mutant Ninja Turtles: Shredder's Revenge Anniverasry Edition Here.
Related